Accelerating Business Growth with CRM

Headquartered in Virginia, SalezShark enables the businesses to build long lasting relationships with their clients by empowering their CRM with Relationship Cloud and Customer Intelligence.
As a growing business, it is crucial not only to identify prospects but to build a customer relationship with your current customers. You've heard the mantra 'Listen to your customers. Hear what they say'. But do you do it? It doesn't matter if your organization employs over 100 people or hardly a handful, the way you take care of your customers directly reciprocates into business conversions. Today, where technology plays a prominent role in every aspect of life, using a system that helps you establish a close-knit connection with your customers can significantly benefit any businesses' growth rate.
Customer Relationship Management (CRM) is certainly among the most valued systems for businesses that help in garnering and analysing customer data to be able to foster a stronger connection between a company and its consumers. A simple Customer Management Software can substantially improve the efficiency of your workplace by helping you bring new customers on board alongside helping you retain the existing ones.
Customer Intelligence
Customer-facing roles such as sales, support, and account management are acutely aware of the significance of customer intelligence. Without it, you are only left with assumptions, history, intuitions or gut feel, none of which have proven to be a reliable engine for continued growth. CRMs offer customer intelligence to create value from the customer data, converting raw data to a comprehensible and actionable intelligence. It not only boosts campaign-specific metrics, but also helps improve customer retention, acquisition, and satisfaction, as well as profitability, revenue, and customer value.
CRMs offer customer intelligence to create value from the customer data, converting raw data to a comprehensible and actionable intelligence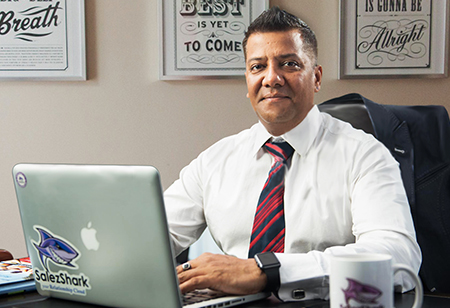 Ajay Chauhan, Co-Founder & CEO, SalezShark
Reduced Cost & Time
CRM empowers an organisation to embrace the digital route. Such digital record management needs no infrastructure, networking or a set-up. It eliminates the need to hunt for information from multiple sources and reduces the upfront costs and time by streamlining business processes with quick access to information. Moreover, it increases productive time which leads to reduced errors. Besides this, access to customer information from anywhere, anytime also helps to undertake better business decisions in time.
Seal More Deals
Today, sales team in any organisation has to go through volumes of data to discover correct routes to make sales. CRM allows teams to access and organise information about your prospects in great detail. It leverages them to easily identify and categorize leads to present pitches to the target audience. Winning on such sales pitch upturns profit and opens new doors to more leads.
Customer Retention
Last stage in the customer service lifecycle is to retain a valuable customer. Through CRM, a sales representative can evaluate if the product/service offered meets the exact requirement of a customer or not. CRM has various in-built service and support tools that encourage a representative to change the entire product/service approach to retain an unsatisfied customer. This sophisticated tool inarguably, plays a major role in transforming a displeased client into a happy and loyal customer.