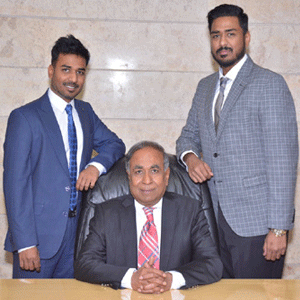 (L-R)Ankit Patel (Executive Director), Suresh J Patel (Chairman & Md), And Bhavin Patel (Executive Director)
The world's chemical industry is expected to hit $5.1 trillion by 2020, according to a report from Solidiance. This makes it an exciting time to join the chemical realm, especially the heritage end-to-end solution providers such as Bodal Chemicals Limited, where you can begin your career humbly and subsequently prosper it boundlessly. Established in 1989, Ahmedabad-based Bodal is one of the world's largest manufacturers and exporters of Specialty Chemicals,Dyes, Dye-Intermediates and water purification chemicals like Trichloroisocy an uric Acid (T.C.C.A), which boasts of its wide industrial applicability horizon.
While riding along a high growth curve with end-to-end solution-offerings, this integrated & innovative company has grown its manpower many folds in the recent past to have the current 1300+ people on board. Scaling up abreast of this growth-pace, Bodal's efforts in strengthening its dedicated training & grooming unit that ensures a favourable atmosphere for its employees to build sparkling careers has also been well appreciable. It in fact has paid off big time, which is why the company dedicates the credit back to the support of team members and management professionals, who work diligently to take the organization to new heights year after year.
As the trend continues, Bodal is all set to further grow its workforce, offering enormous growth opportunities for them amidst a favourable work culture, which makes the firm one of the best companies to work for in this niche domain. No wonder it has an extremely low attrition rate. To comprehend the strategies behind devising such an employee-friendly & growth oriented workplace, CEO
Insights interviews Ankit Patel,Executive Director, Bodal Chemicals Limited.

"Bodal is all set to further grow its workforce, offering enormous growth opportunities for them amidst a favourable work culture "

What are the major factors about Bodal Chemicals that play a major role in attracting both fresh and experienced talents to the company and also retaining them?
The opportunities that we provide to our people are immense. It's not only that the sky is the only limit, but they are also provided with ample freedom and proactively crafted training at a very young age. This helps them explore their full potential, which is normally all young professionals are seeking. In the last one month, we have added 100+ members to our family. The majority of the recruitments were due to expansion projects.

At present, we have the manpower of about 1300+ people, in addition to 900+ people on contract. There is no specific written-down retention strategy, but we have a great culture that ensures an excellent working environment and maintaining close-knit personal relationships with our people. Our employee turnover rate is a strong testament to this fact. Even while the industry is facing a very high employee turnover, our employee turnover ratio is around five to eight percent.

It's in fact a great time to be in this is industry. What are the growth opportunities that your employees can avail within your organization?
Each employee has the freedom to speak and express himself for his own career growth. Every individual in the company can opt for the new assignment by discussing it with the management. Indeed, many of the self-starters leverage this type of opportunity and avail exceptional career growth within the organization.

Do you provide your employees with any additional benefit? How do you enable them to balance their personal & professional lives, and also update themselves with the latest technologies & trends?
In addition to basic statutory benefits, we are also providing free Mediclaim coverage to not only our employees, but also his/her spouse. When it comes to helping our employees balance their personal & professional lives, we have deployed a flexible work system, which gives
them room to perform their personal and professional duties without fail.

Updating with the latest trends and technologies is some thing inevitable. Hence, our workforce gets ample opportunity to constantly interact with the experts of the external world, especially when they work on special assignments related to technological up-gradation.

What additional benefits do the female employees get in your company?
The entire manufacturing sector talks about the widest gender gap it has. In truth, from 20 percent in 2008-09 to below 17 percent in the present day, the female participation has been steadily declining. Though we have only a few female employees in our company, besides the standard practices, we continually strive to improve that number by making the timing for female employees completely flexible, considering their dual role of life – as professional and as home makers.

Key Management:
Suresh J Patel, Chairman & Managing Director
Suresh is the visionary behind the company's success story. Under his aegis and guided by his more than two decades experience in the production and marketing of Dye Intermediates, the company today embarks over Rs.1131 crore (2017-18) turnover.

Ankit Patel, Executive Director
Possessing a Master's Degree in Business Administration from the U.S, Ankit joined Bodal Chemicals 11 years back. He heads the Basic Chemicals, New Projects & Corporate Communication Divisions, while also being a board member of prestigious organizations like YPO and Indo-Canadian Business Chamber.

Bhavin Patel, Executive Director
Bhavin Patel joined Bodal Chemicals 14 years back. He heads the Dyes Stuff Divisions and Water Purification Chemicals division. He is possessing Bachelor Degree in Science.

Headquarter:Ahmedabad

Offerings:
•Specialty Chemicals
•Water Purification Chemicals
•Dyes
•Dye-Intermediates
•Other Basic Chemicals