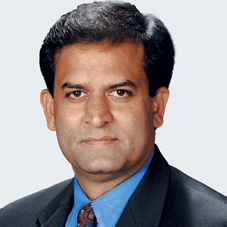 Each of our work can become difficult at some point or the other, hence establishing a culture that doesn't add to the work-stress is vital for both the employee & employer. Therefore, flexibility is a state of need and not a state of entitlement. A strong proponent of this philosophy is Lennox India Technology Center(LITC), the global design centre of an innovative & costeffective HVACR systems & solutions provider headquartered in Texas. LITC has established a loyaltyinducing culture that alleviates any workrelated stress and is consistent with its values & employees' needs. This 500-peoplestrong company delivers projects on a platform of Integrity, Respect & Excellence towards its employees, vendors, suppliers & customers.
Ashwin Upponi(VP - Project Management) has gained nearly two decades of industry experience in diverse domains including Technology Center Development Service, Business Process Re-engineering, Productivity Management, Global Sourcing (Asia, Eastern Europe, Latin America) and others. Leveraging this extensive expertise, he has been playing an instrumental role in expanding LITC's headcount by 50 to 100 employees annually. Ashwin illustrates the numerous people-centric HR policies LITC has implemented to build a fun & productive environment in an exclusive conversation with CEO Insights.
Kindly tell us about the secret behind Lennox India's stressfree workculture.
Although the general shift time is 9.30 am to 5.30 pm, we permit our employees to come and go in their flexible work hours apart from the work from home option. Additionally, employees can take breaks in between to destress themselves by playing indoor games(TT & Foosball) available in the facility and play badminton & football on weekends using our tie-ups with grounds/courts. When employees extend their work timings, LITC appreciates them with Spot Awards(e-vouchers/Movie
vouchers,family dinner vouchers & more), Door step drop at home (gender neutral), dinner reimbursements and a fruit & nut basket from the manager.
Besides Maternity & Paternity care leaves and special leaves like bereavement, marriage & short-term disability, we also offer perks like internet reimbursements, interest-free loans, Car Leasing Policy and reimbursement of professional certification. Not only we have tied up with a renowned childcare center within our campus with company sponsored seats, but also allow employees to bring their kids to office whenever required. As a cherry on top, our leadership team is easily approachable and ready to allocate their time and attention to even the smallest needs of our employees.
Our leadership team is easily approachable and ready to allocate their time and attention to even the smallest needs of our employees
Please tell us about the factors that play an instrumental role in attracting & retaining employees?
Being a product based company in the exciting domain of HVAC, our people get to have hands-on experience with latest technologies & practices. Besides facilitating our people to dabble on latest technologies, we also organize events like LennoJam(all employees attempt to ideate design thinking solutions), Design War (employees redesign an existing product)and facilitate them to collaborate with global stakeholders.
We support their career movement within organization, internal job rotation, conduct other level based/modified learning programs, self development programs and various clubs (LII Young Professionals Association, LII Women's Business Council, Society of Women Engineers, Toastmasters and other clubs of passion). Our internal portal Career Journey helps employees build & achieve career goals, gain clarity on their development plans and have development conversations with their managers.
Protecting our employees with Life Insurance and supporting them & their family with healthcare benefits, we reimburse their Gym/Fitness center membership, purchase of gym equipment & sports membership and help employees above age 30 to avail free check-up at renowned diagnostic centers.
Briefly tell us about your company's hiring and retention strategies.
We have a robust hiring process to ensure that we get the right talent, who is a perfect fit for our culture, proactive, multiskilled and keen to learn new technologies & take ownership. Our employee engagement activities are customized based on work groups, teams or a specific business unit to ensure maximum participation. We even have a program called Employee Engagement Matrix to understand employees'concerns, identify potential employee attrition and help them.

How do you spark enthusiasm among employees by organizing outings, promotions and others?
Everyone attain equal amount of opportunities & challenges to grow up in their career, wherein the promotions are purely based on individual's performance and not their minimum tenure. We conduct FRIYAY events (conducted on last Friday of every month, this event is filled with funny & exciting competitions, music & more) and PARIVAAR (an annual dinner event for announcing annual award winners where employees' families also join).

We also conduct yearly indoor championships & outdoor interdepartment matches along with LIVEWELL, a 100-days fitness program where employees engage in various workshops, competitions & challenges. Last but not least, LITC's CSR committee(consists of nearly 50 employees and conducts around 20 CSR programs annually) is completely employee-owned with employee-driven campaigns, where employees gather every month to present their ideas for a CSR activity.

Key Management:
Ashwin Upponi,VP - Project Management
Kickstarted his career in 1986, Ashwin has sharpened his Project Management, Crossfunctional Team Leadership and Product Marketing skills by working with various organizations across North America, Asia (China, India, Japan, Indonesia, South Korea) and Europe.

Office: Texas (headquarters) and Chennai
Offerings: Controls Engineering, Mechanical Engineering, Information Technology, Finance and Business Analytics

Employee Testimonials
To define LITC in one line, I'd say that when you get up in the morning, you feel excited to go to office rather than thinking, 'oh my god why can't this day be a weekend or public holiday". I feel LITC doesn't just give you a job but rather a career to you. Ramsundar K, Finance