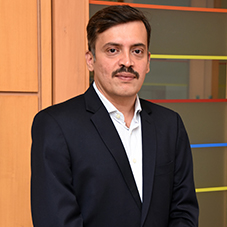 Manoj Bhat (CFO, Tech Mahindra) is a finance maven with an awe-inspiring story! In his professional journey spanning over 23 years, Manoj has played multiple leadership roles in Finance, Accounting, Corporate Planning & Development, Legal, Merger & Acquisitions (almost 18), and Strategy among many others.
Since 2006, Manoj has been pivotal in architecting Tech Mahindra's organic and non-organic growth initiatives. The highlight of his professional journey was in 2009-10 when he played a crucial role in structuring the complex acquisition of erstwhile Satyam (Mahindra Satyam) and more importantly, its successful integration and turnaround. Rewarding moments like these have added to his professional experience and credentials.
In an exclusive colloquy with CEO Insights, Manoj has passionately articulated more about his story. Here are the snippets:
What are your primary areas of focus at Tech Mahindra as its CFO?
My first and foremost focus as a CFO is to enable a connected experience for all stakeholders through the power of technology and insights. As a CFO, I believe that one should have a great appreciation of multiple domains and geographies. One must be able to identify the best opportunities and manage diverse risks. My focus is to give strategic financial insights and guidance that enables business leaders to make the right decisions. Also, with business cycles becoming shorter and complex, balancing risks and returns becomes an integral part of the role.
Do you want to share about any of the growth strategies that you follow?
Yes, our growth strategy is called 3-4-3 (3 Mega Trends, 4 Big Bets, 3
Objectives), which is focused on helping companies Run Better, Change Faster and Grow Greater. As part of this strategy, we have invested in competency development, skill sets and growing markets (both organic & inorganic). Overall, our focus is to retain the essence of the broader strategy, while reinforcing certain elements that can fetch good dividends across diverse markets.
Brief us on the various technologies that you leverage at Tech Mahindra?
From a broader perspective, we have invested in Enterprise Resource Planning (ERP), visualization tools, dashboards, Business Intelligence (BI) tools, and other aspects across all our 160 subsidiaries. We, however, are focusing more on Automation through Machine Learning (ML) and Artificial Intelligence (AI). For instance, we are developing Bots specifically to address employee queries and concerns in real-time. Other than that, we have built an interface between two systems via AI & ML so that they can execute processes without human intervention. The eventual goal of these initiatives is to enable predictive and automated decision support platform which will help provide continuous insights to our business leaders.
My first and foremost focus as a CFO is to enable a connected experience for all stakeholders through the power of technology and insights
Recently, Tech Mahindra won more than a $1 billion contract from its largest customer AT&T. How do you ensure to keep-up this relation?
Through this deal, we aim to assist AT&T in successfully transforming their business. Being a digital transformation provider, we envisage a cloud-first future, wherein we harness the best of AI, ML and other technologies for our client's business operations. We also hope to increase our technology base through partnerships. For instance, we have the TechMNxt program which brings-in best technologies from the
startup world across our services and offerings, so that our customers can have the best of both the worlds – Tech Mahindra's stability and the power of cutting-edge technologies.

What are your plans for Tech Mahindra?

Telecom is about 42 percent of Tech Mahindra's overall revenue. We are greatly invested in digital technologies in terms of point of sale, modernization, and many other aspects across the high-potential telecom sector. 5G is a big bet we have taken, and we are well-positioned to enable its adoption by our customers globally. We have already invested in the Enterprise 5G space that focuses on the ability of 5G to deliver transformational Enterprise IT services. Also, we are focusing on automation through AI which delivers efficiency and fast turnaround time (TAT).

Do you participate in any conferences or forums?

Yes, I do engage with few startups personally, as well as attend forums where I garner novel perspectives and feedback from different people. This is because I strongly believe that this helps in the evolution of our thought process across varied fields and having new perspectives greatly helps us in expanding our horizons.

What's your take on managing the work-life balance?

While it is a continuing challenge, I believe that work-life balance can be achieved if you have a strong team with a strong process framework. It is imperative to find some quality time to relax out of the hectic work schedules. Thanks to my extremely supportive family – my pillar of strength, I've always been able to successfully handle any sort of work-related stress or pressure.

Key Management:
Manoj Bhat, CFO
Holding a Bachelor's Degree in Technology from IIT Mumbai and PGDM from IIM Bangalore, Manoj outclasses as a versatile leader with rich experiences of working at Perot Systems, HCL Perot Systems and currently, Tech Mahindra.

Favourites:
•Hobbies: Travelling, Reading, Watching a Good Movie & Playing Badminton
•Cuisines: Indian & Chinese
•Travel Destination: Goa
•App: Finance Application & Blogs