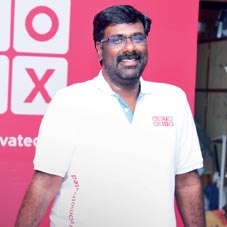 Kalyandhar Vinukonda,
Founder & CEO
It's been a couple of years since the Karnataka State Pollution Control Board (KSPCB) pushed service centers into offering water washes only if they have treatment plants. But despite the mandate that aims to protect the water bodies within the water-scarce city, service centers continue to waste hundreds of liters of water to just wash a vehicle. The Founder & CEO of AutoBrix – a tech-savvy car washing company, Kalyandhar Vinukonda is on a mission to host a paradigm shift in this water-wasting culture by revolutionizing the way car washing happens in our country. Back-lifted by state-of-the-art technologies, AutoBrix limits the water usage to a nominal 100 milliliters!
A tech-savvy entrepreneur, Kalyandhar is a highly successful strategy expert who possesses a wisdom of more than 15 years, spanning across building businesses and transforming expired business processes using the advantage of technology. While he has done it for many Fortune 500 companies in the past, he is using his spell for himself for the first time with AutoBrix, leaving behind a $200k job. Kalyandhar and his wife, Pratibha Shalini Yellay co-founded the company in 2018, thanks to Kalyandhar's business strategies, Pratibha's wisdom in operations & marketing, and the priceless insights from his brother, an automotive industry wizard who has been working with Ford for the past 30 years. Within two years, AutoBrix has saved more than 80 million gallons of water – an amount that could fill Bangalore's both HSR and Bellandur lakes. Realizing Kalyandhar's vision, the company today provides a better standard of living to its more than 1500 people, with its operations across Bangalore, Chennai, Hyderabad, Mumbai, Pune, Delhi, and Gurugram; not to mention its diversification into a wide range of car care services. CEO Insights interviews Kalyandhar to explore more about his amazing anecdote.
What inspired you to give-up a $200k job to start a car care business?
We live in a world where groceries get delivered at your doorstep. While the launch and doorstep-delivery of mobile phones happen on the same day, it's an irony that a 150-years old industry like Automotive doesn't bring its services to you. We are here to host a paradigm shift in this culture by providing automobile care services to our customers at the convenience of their home, office, or any other location they prefer. Our passionate, well-trained and experienced professionals heavily leverage technology to identify problems at the root and communicate with our professionals to carry necessary tools to complete the service.
How unique is your business model different from the existing ones in the industry?
The existing business models in the industry basically revolve around integrating garages and providing mechanic services. But how many times do we service our cars in a year? Most of the people service their cars not more than twice a
year, spending around Rs.12000. But we start with the most essential need of a car owner. Our business model focuses on convenience-based car wash services – a need that recurs at least once a month, especially in the Indian cities. Our ticket size is just Rs.800, while having eight touch points in our service.
Our passionate, well-trained and experienced professionals heavily leverage technology to identify problems at the root and communicate with our professionals to carry necessary tools to complete the service
Started as a car wash, today, your company exists as a one-stop shop for all services pertaining to cars and bikes. How did you build your marketing infrastructure?
I believe in organic growth. Right from our inception, we keenly focus on marketing our services and leveraging big data. The industry needs data to upsell its services & products. With us, for the first time in our industry, customers actually pay to provide data. For example, let's assume that there is a car owner named Jyoti located in Mumbai. The marketers need to know her name, phone number, car model, and when was the last time she got her car serviced. While other companies spend thousands of rupees to buy this data, the same Jyoti chooses our services for Rs.800 and provides all this information. This enables us to upsell quite seamlessly. We today have built a robust infrastructure to provide all services under one roof, which unfortunately is an unprecedented territory for the whole world. We believe that we hold the potential to become a global brand.
Team AutoBrix
Building an organization from the scratch demands a lot of time and effort. How do you maintain your personal and professional life balance? How has been the support from your family?
Luckily, I am not a young entrepreneur who just got exposed to the intense environment of running a business. I and my partner have a cumulative professional experience of close to four decades. Since my business partner is also my life partner, we don't have to draw such lines of business. It's a precious advantage one can possess. She is the real engine that runs the company and heads the day-to-day business operations. But I can't deny the fact that initially, both our families were a bit apprehensive about us leaving our financially secured jobs behind. But having seen our journey, perseverance and the outcome, they are extremely supportive today.
What are your future plans?
We are constantly adjoining more services to our offerings. In the process, we transform the lives of people around us by ensuring that they are learning a skill professionally. While the market is overwhelmed with cars that
incorporate high-end technologies and sensors, it's of paramount importance to have the right technical knowledge and experience. There is an array of Dos and Don'ts. Hence, we have built a robust training infrastructure through which every one of our employees goes through.
Pratibha Shalini, Co-Founder & COO
Additionally, we make sure that their earnings are way better than the industry standard, and have also designed several incentive plans for them. Going forward, the short term goal is to be present in at least 100 cities in India, which will be a long stride towards hosting the paradigm shift.
Kalyandhar Vinukonda, Founder & CEO
Kalyandhar is a BE in Electronics and Communication Engineering from Andhra University and an M.S in ERP Technology from Kingston College, Canada. He boasts of his strong professional technology experience that spans across two-decade and organizations like TCS, Thomson Reuters, and Accenture.
Favorites:
Hobbies:
Playing Cricket and Watching Movies
Food:
South Indian Chicken Biryani
Travel Destinations:
Salzburg
Pratibha Shalini, Co-Founder & COO
Shalini is an MCA from Andhra University. She is ardent advocate of problem solving, driven by intellectual curiosity to find answers to the most pressing questions. She worked in Oracle for 15 years and has strong experience of team handling, achieving targets and finding the solutions.
Favorites:
Hobbies:
Reading books and watching Movies
Food:
Anything in Veg
Travel Destinations:
Maldives
AutoBrix in Spotlight
:
AutoBrix provides auto services at the convenience of its customers' home, office, or any other location which they want. The well-trained, highly experienced, and passionate AutoBrixians provide the auto services at the doorstep of the customers, using technology as an enabler. They bank on world-class technologies to identify problems at the root and then communicate with the backend professionals to carry necessary tools to complete the service. AutoBrix currently caters to its customers in Bangalore, Chennai, Hyderabad, Mumbai, Pune, Delhi, and Gurugram.
Clients Talk:
• "Best app for bike and car servicing. Install it and you don't have to worry about the service anymore. It also provides doorstep services, making this app a unique one. Now servicing is on your fingertips,"
~ Kunal Kadam, Gachibowli (Hyderabad)
• "The Best app! Auto services are being made comfortable at your doorstep. Now, you don't have to worry about dragging yourself to the service center, waiting for hours, and return to see a huge bomb-bill without knowing what actually changed,"
~ Dipika Shaha, Whitefield (Bangalore)