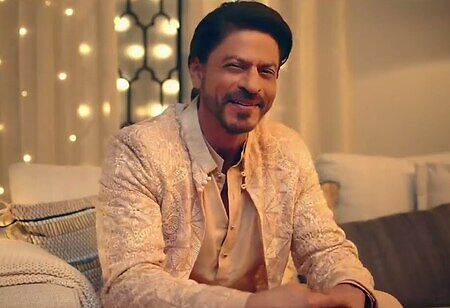 Diwali is just around the corner and Cadbury has done it again with an advertisement that's relatable to the audience. This time, the US-based confectionary brand ad is 'Not just a Cadbury Ad', as it stars Bollywood star Shah Rukh Khan as the brand ambassador of hundreds of local businesses which took a massive hit from the infamous coronavirus.
Micro, Small and Medium Enterprises (MSMEs) are a silent voice resonating volumes in contributing to India's economy. Yet in vain whose efforts are often overshadowed by large-scale enterprises. MSMEs take in more youth for employment as they employ around 120 million people, according to the Confederation of Indian Industry's most recent study (CII). They contribute 6.11 percent of manufacturing GDP (Gross Domestic Product), 33.4 percent of manufacturing output, and 45 percent of India's overall exports, according to the research. In fact, the report indicates that roughly 20 percent of the troops are stationed in rural areas, thus they make a substantial contribution in those areas as well.
Although they whisk immense effort to stay in the market, they suffer from many factors that were existing way before the coronavirus could take its turn on affecting their business. Often they tend to lag behind having cutting-edge technologies at their disposal either due to the unfriendly budget that these technologies are priced at or worse, most MSMEs are seldom aware of the kind of technologies that are out there. With existing problems, the coronavirus ended up forcing many MSMEs to hit rock bottom and some were even forced to call it quits. Hence, Cadbury made an ad to voice out the plight from actual business owners echoing the bleak reality of what they have been through during the sudden outbreak of the COVID-19 pandemic.
From 'Storytelling' to 'Storydoing'
Anil Viswanathan, senior director of marketing, Mondelez India, and his team are shifting the needle in India from 'storytelling' to 'storydoing' with brand activities that go beyond advertisements. Its most recent ad, 'Not Just A Cadbury Ad,' exemplifies the Humanizing principle in action.
'Not Just A Cadbury Ad' used artificial intelligence to generate hyper-personalized ads for local businesses in roughly 260 pin codes as part of the brand's 'Iss Diwali Aap #KiseKhushKarenge?' campaign last year. It combined creativity and technology with a specific goal in mind and that is, to promote local businesses during a period when they were the hardest hit by the pandemic and lockdowns. Cadbury's new worldwide brand positioning is centered on genuine, low-key gestures of kindness and charity, which is reflected in the campaign.
Local shops will be able to create a version of these advertising for their stores utilizing the AI-powered technology developed by Re.ai in the 2021 edition, in addition to the hyper-personalized brand films that will reach end customers.
MSMEs that are pinned on Google Maps can then use WhatsApp to publish their custom-made ad featuring Bollywood superstar Shah Rukh Khan. Khan will be shown in these commercials encouraging customers to shop at various local establishments.
Over 2,000 grocery, retail, consumer electronics, home decor, clothes, furniture, and jewellery establishments will participate in the promotion, which will be emphasized by pin codes in the north, east, and west zones.
Mondelez India's agency partners, Ogilvy India and Wavemaker, intended to build scalable ways for small companies to communicate with their customers through this campaign.
"Big brands have the media budgets that they can spend on communication strategies and solve their business problems. Small enterprises, on the other hand, are not like that. That was essentially the seed of the concept", conveys Viswanathan. But that's not all, as Shah Rukh Khan became the brand ambassador of small businesses.
Brand Brands Shah Rukh Khan as the Brand Ambassador of Small Businesses
Khan appears in the commercial as the brand ambassador for hundreds of local companies that have been harmed by the COVID-19 outbreak.
Not only that, but the 'Not Just A Cadbury Ad' commercial employed machine learning to reproduce the actor's face and voice to promote local businesses.
"As it's impossible to cover every store, we offered individuals the power to make their own version of not just a Cadbury ad," the video says, explaining how company owners can easily customize and distribute the video on multiple social media sites.
The video has received over 50,000 views since it was published online, with many people appreciating the company's approach.
Viswanathan goes on to say that thanks to the program, the company's Diwali sales were 25 percent higher than expected last year. "It was critical to maintain the campaign with additional levels of engagements in order to preserve the idea, purpose, and business", adds Viswanathan.
According to those who worked on the campaign, when technology is used for the right reason and in the right way, it may help brands expand their ideas in previously inconceivable ways. The campaign's goal is to highlight what makes technology important and useful. The brand intends to magnify the message and work by using Rephrase.ai's facial re-enactment technology.
The joint effort of the idea of kindness and helping people, as well as the brand's choice of celebrities to carry that message, has made 'Not Just A Cadbury Ad 2.0' the talk of the town.
"Big enterprises and brands that suffered during the pandemic have recovered" began the 2.18-minute video, which went on to feature some of the numerous shops and small business owners.
The campaign comes at a time when Khan's found himself in the thick of a controversy that's captured national attention. After suffering backlash online following Khan's son's alleged involvement in a drug-related case and arrest earlier this month (on October 3), a few firms suspended and delayed advertisements featuring the Bollywood star. They swiftly renewed their marketing efforts, though. During our coverage of these events, brand experts told Storyboard that the breaks are just transitory and that Khan's authority will not be harmed. Indeed, his popularity appears to have skyrocketed in recent days.
The timing of the campaign, according to Viswanathan, posed a 'slight risk'. However, he claims that after much deliberation, the teams came to the conclusion that Khan only adds value to an initiative like this one.