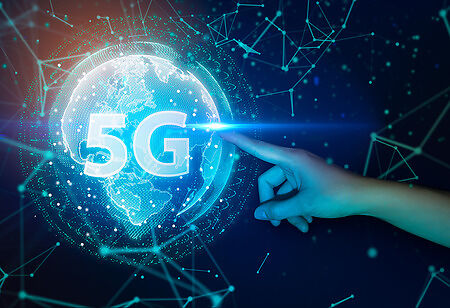 In Prime Minister Narendra Modi's vision, the primary stage of India's digital transformation is for every Indian to carry a smartphone and for every field to be serviced by drones. The program's most crucial goal is to transform technologies into digital ones that will close the digital gap, usher in digital inclusion, and be low-cost, inclusive, and largely homegrown. 5G technology aids in the accomplishment of this digital revolution. Let's first take a closer look at the four pillars of digital India before delving deeply into 5G technologies:
Pillars of Digital India
Cost of the devices: With the AatmaNirbhar Bharat initiative, India has considerably lowered the price of digital devices. The number of mobile manufacturing units in the nation has increased from two in 2014 to 200 at the moment. India is currently ranked second in the world for mobile device production and is a significant mobile device exporter.
Digital Connectivity: In 2014, India achieved internet progress with six crore broadband connections and 80 crore internet users. One hundred doctors' offices were linked up, and as of the last survey, 1, 70,000 offices are linked up to the OFC. Internet usage is higher in rural areas than in urban areas.
Cost of Data – Data now cost Rs. 10 per GB in 2022 compared to Rs. 300 per GB in 2014. The average amount of data utilized per person each month is 14 GB, and the cost of data has decreased, resulting in significant monthly savings for citizens.
Idea of Digital First –Many individuals believed that the country's rural poor couldn't accept digital technology. But the general public, especially the rural population, has proven these beliefs false. Rural Indians are quickly integrating the internet and digital technologies into their daily life.
Catalysts Behind India's Digital Transformation
During the COVID pandemic, when people believed that life and the economy would almost come to an end, India offered much-needed assistance to the poor with the click of a button. Doctors treated patients via telemedicine, and the internet was made available in even the most remote areas to support education and allow office workers to work from home. The people of the nation now have a stage and market, thanks to Digital India, where they can present their goods and find new clients.
The government is committed to providing internet to everyone and has offered policy support for 4G saturation in all villages. The government has the vision to supply electricity, water, and cooking gas to every household in the nation. The government has undertaken several regulatory and policy measures to increase openness and lessen uncertainty in the telecom industry. It is said that India could not capitalize on the first three industrial revolutions. Nevertheless, it would capitalize on the fourth industrial revolution and take the lead globally.
Steps Taken by the Government for Digital Revolution by 5G
The Department of Telecommunications and the Cellular Operators Association of India together conducted the IMC 2022 opening ceremony, where the 5G services in India were introduced (COAI). India has achieved tremendous success in the digital revolution to empower society and position itself as a global economic powerhouse under the leadership of the Prime Minister and with collective efforts. It is being heralded as the Techade of India and self-assured in a technological revolution. India's digital infrastructure will become robust and yield significant socioeconomic benefits with the introduction of 5G technology. ​​
Prime Minister Narendra Modi urged the commercial sector, state governments, and central ministries to use diverse 5G use cases to improve citizen services, speed up job possibilities, and boost productivity and efficiency. He carefully observed the innovative use cases presented by TSPs, Industry, and Startups at their various pavilions. He observed the Remote Ultrasound Robot Demo, Connected Ambulance, Community Clinic, and Fixed Wireless Access (FWA) for Rural Broadband Connection.
A dashboard for the 5G core for public networks created domestically was displayed by one of the exhibiting businesses (large networks). Only a few counties have developed a core appropriate for public networks. High-security routers and an AI-based cyber threat detection platform were also exhibited. According to C-DoT, the trial program for Tejas' 4G radio equipment and native 4G core with BSNL was a huge success. The Chandigarh BSNL network has 5G NSAcore deployed. VVDN and Wisig, two local partners of C-DoT, have developed 5G radio equipment to offer an end-to-end solution alongside C-DoT. The 5G NSA call was also shown by C-DoT within the pavilion.
Global Leaders' Opinions on India's Fastest 5G Rollout
Ericsson global chief Borje Ekholm says, "India has one of the fastest rollouts in the world of 5G, and by 2023-end, India will be ahead of most countries. India has a strong pool of good software engineers."
He adds, "We already have almost 25,000 employees here in the country. We continue to grow, strengthening our presence in R&D, Software development, service delivery, AI, automation, and other areas. We provide the critical infrastructure, software, and hardware that build 5G networks. So we're quite excited about our presence in India. Notably, telecom service providers in India started providing high-speed 5G services in the country from October 2022 onwards."
General Atlantic's (India) Managing Director, Sandeep Naik, says, "India is a top-growing economy, and foreign direct investment worth $100 billion is estimated to flow in India over the next ten years."
Nestle India, Chairman, and Managing Director, Suresh Narayanan says, "The specter of inflation, especially food inflation is still there. We cannot wish it away, and we cannot assume that it is not going to be haunting us for a while. This clearly has implications in terms of price values, cost, incomes, expenditures, and all of that. The fact that we are a consumption-driven economy gives us a lot of hedge in terms of some of the global volatilities that we have."