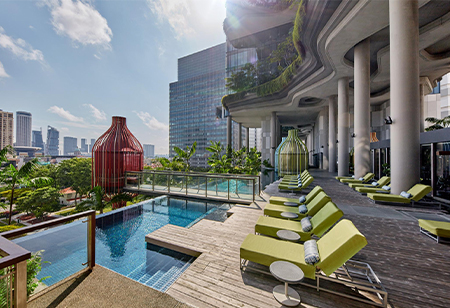 The Winter is almost upon us, and busy professionals worldwide are planning to savor winter days. Winter Wellness Retreat models, Winter Travel Destinations, and dining and traveling habits of Technological Maestros, who spent most of their year competing in the cut-throat technology market, are all grabbing attention. According to the classic watchword, 'You got to play to win.' Here is the excerpt from CEO Insights' recent interviews with tech-ade leaders, wherein they talk about their favorite travel destinations, cuisines, and much more.
Manikandan Bala, Senior Vice President, Elekta
While interacting with CEO Insights magazine, Bala says, "Currently, driving is one of my hobbies. I hit the road quite often and explore locations. Roads take us to places, and the mission excites me. I hit the road whenever I get free time. Accompanied by that, I am a mature photographer who loves natural photography. Outside India, I fell in love with the beautiful rivers, mountains, and bridges of Interlaken in Switzerland. In India, my favorite destination is Leh-Ladakh. Besides, I like to explore food. Indian, preferably South Indian, is my favorite cuisine. I also love Italian."
Vishal Dhupar, Managing Director—South Asia, NVIDIA
"Firstly, as an army officer, I've enjoyed traveling in India quite a lot. I had the advantage of being exposed to many states and cities, and the culmination of the Indian race in different cultures and states has always been fascinating. I've enjoyed the East, up North, and the South. Europe also attracts a lot of my attention, majorly in terms of experiencing how multiple cultures have come together over a period of time.
When asked about his favorite cuisine, Dupar says, "Obviously, we all grew up in India and hence love our fresh food. We love our spices. Our mothers have always given us tasty, healthy food. I also enjoy a lot of Thai food because, again, the ingredients are similar. It's fresh and has got the right texture and the right spices. I also love Japanese and European cuisines".
Dr.Om Manchanda, Managing Director, Dr Lal PathLabs
"I love hiking. I visited Milam Glacier in Uttarakhand in 1982 when I was just 17 years old. I have done hikes in the Himalayas and European highs. One of the reasons is that I get to see nature quite a bit and many landscapes. I have traveled to quite a few places like Alaska. I've been to New Zealand, and I've covered a large part of Europe. I've explored the Americas as well."
Sanjay Vyas, EVP, Global SBU Head-Clinical Logistics & Global Safety Services & Managing Director India, Parexel
"I have lived and worked in different parts of the world, traveling extensively. I love most European countries. Germany and Switzerland will be the favorites. Vietnam, Thailand, and Cambodia are some of my favorite destinations in Southeast Asia. When it comes to Latin America, I love Brazil and Argentina. Being an Indian, I love Indian cuisine. It is also something I am missing from the past 17 years of being in the US. I also like Thai and Italian cuisines".
Vidya Basarkod, Managing Director, India & Director, Ramboll Engineering Center
"I see everything from the lens of sustainability. I plan and travel very responsibly. I have seen people traveling to the hill stations, and it will be crowded, and sometimes it may cause harm to nature. So I am very cautious about that. I enjoy an annual trip to my hometown in Karnataka, where life is still simple, quiet, and uncomplicated. Coming to cuisines, I am not a keen foodie. I love home-cooked south Indian food."
Sandeep Bhargava, Managing Director, Asia Pacific, Rackspace Technology
"My favorite travel destination would be the Philippines, especially Baraka. I eat Indian all the time, but I am a bit experimental as well. I wouldn't say these are my firm favorites, but I like Thai Korean, Szechuan, Sichuan, Japanese, Middle Eastern, Israeli, and, of course, Indian".
Sunil Badesra, Country Head, Sungrow India
"I love driving. I prefer to go on long drives whenever I get a chance. My favorite travel destination would be Leh-Ladakh. As far as my favorite cuisine is concerned, I generally prefer homemade cuisine".
Rishi Chhabra, Head of Merchant, Cobrand and Acquiring for India & South Asia, Visa
"I love traveling. I love to explore different places around the globe. My favorite travel destination is Alaska. I am looking for a favorite destination in India as I am exploring currently, and I will learn more". When asked about his favorite cuisine, Chhabra says, "I like all cuisines. I enjoy my food. I don't think I have a specific cuisine, which is my favorite. I enjoy my food, whether Indian, Italian, or Chinese."
Aloke Palsikar, EVP & Global Head—Aerospace & IHM, Tata Technologies
"I love traveling. There were quite a few favorite travel destinations in the past. Very recently, after COVID, I have developed a fancy for Northeast India. It is very beautiful. It is one of my favorite destinations. My favorite cuisine is Indian, but I like Italian food as well".
Anil Ghelani, CFA, Senior Vice President, DSP Mutual Fund
"My favorite travel destinations are Nasik in India, Belgium, New Zealand, and Australia. I am not very experimental when it comes to food. I like to eat Indian home-cooked food. I always carry a small bag of vegetarian Indian snacks even when I travel overseas".