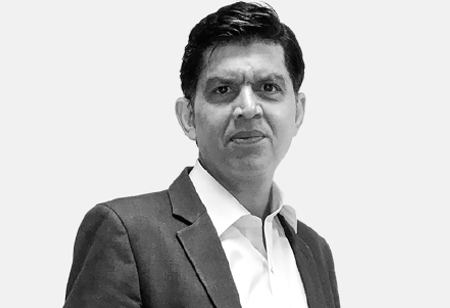 Samir Kalia, CEO & MD, MCI Group, 0
A Commerce graduate from Delhi University, Samir is a serial entrepreneur who has incepted three companies – Concorde Travels, GeTS Conferences, and GeTS Holidays – so far, and also spearheads the India business of MCI Group.
In June 2018, Melanie Trump, on her way to a detention center to meet migrant children forcefully separated from their families because of Trump's immigration policies, wore a jacket that read 'I Really Don't Care, Do U?' 2019, Tesla & SpaceX CEO, Elon Musk stirred-up a hornet's nest by appearing on a podcast while smoking pot, apparently trying to impress his girlfriend about taking the company private, but unfortunately officials at SEC and NASA were far from impressed and both agencies ordered an enquiry against Musk. This comes after his infamous tweet about the British diver during the Thai cave rescue operation. Looks like he needs to design a Tesla to dodge controversies! Closer home, gone are the days of being 'politically correct' and we would know many public personalities who failed to hold-on to their horses. Do you think they would have acted any differently if they were advised or their actions monitored by an Image consultant?
With a growing youth population, who are more than ever aware about projecting a positive image socially, the importance of Image Consultants has also risen exponentially. While the concept of Image Consultants has been a global phenomenon for many years, its entry into the Indian shores has been a bit late. Image Consultants do help in creating a positive image; however, the role of Image Consultants has grown from being mere advisors on wardrobe choices. They play a critical role in advising their clients on managing media, internal and external stakeholders, to even planning their vacations.
In current times, Image Management is all about catching them young. Whether it was SRK's youngest son or Saif-Kareena's son Taimur, Image Consultants are connecting with either the parents or the youth, directly promising to support them in creating a socially 'positive' image. Gone are the days when we believed that just hard work and skills are enough for success. With constant interaction with different kinds of people, and the advent of social networking platforms where every minute, we are judged and opinions are formed, the focus on Image Management has gained precedence. Today, management professionals are being guided on how to make an effective first impression, appropriate body language what to say and how to say to develop them to be industry ready professionals.
Image Management generally consists of three aspects What you wear, How you behave, and what you say (or don't say). I would like to bring in a 4th aspect what you post. The first aspect is attire. Remember the saying 'Clothes maketh the man'. Our thinking while selecting a wardrobe for an occasion comes from the fact that irrespective of how we are by nature, we would want to create a positive image amongst people.
The second aspect is our behavior. I would believe this is the most important as well as the most difficult aspect to manage. There are few qualities in us which are ingrained in our DNA, and therefore a change in the same needs a mindset shift. It is an understanding of the basic rules of a situation that determines our action or
behavior. Our behavior at a family gathering will be different from a board meet, and very different at a funeral! Body Language does become a focus for business leaders. I remember watching the D8 interview of Facebook CEO Mark Zuckerberg, where he was fumbling & sweating through questions to a point that moderator Walt Mossberg literally asked Mark if he would like to remove his sweatshirt. Cut to 2018, Mark faces the US Congress and comes out with flying colors. He patiently listened and explained each issue, thereby making a positive impact on the perception as well as the company's share prices! Body language, a non-verbal too, often proves to be the deal breaker in businesses.
Going beyond an individual level, in the corporate world, image consultants help business leaders and employees to build a personal brand, which is aligned to the corporate vision and goals
The third aspect is how you express yourself verbally. It not about what you said, but how your words were perceived by the listener. The tone of your voice, use of words, the meaning interpreted by the listener and your body language while speaking determines how a person receives your communication. Whether it is at a business meet or a pitch to a prospective client, your choice of words can make or break a deal.
The 4th aspect, I believe is 'what you post'. With the rise of social media platforms, there is a huge risk of misinterpretation of messages, as only the words are reaching the audience and not the tone or meaning of the message. We are witness to many faux pas' moments on social media which have stirred arguments, and later followed-up with justifications & clarifications, and in some cases, gone the legal way. Image Consultants therefore guide you on the correct use of words and their placement in your conversations online and offline.
Going beyond an individual level, in the corporate world image consultants help business leaders and employees to build a personal brand, which is aligned to the corporate vision and goals. They guide companies by mentoring them on different situations involving various stakeholders in order to increase the credibility of the organization. As most companies strive to be global, they are also mentored in email etiquettes, table manners, international customs & culture, and other behavioral skills.
While we speak about Image Consultants or Corporate Image Consultants, there is also a growing breed of Luxury Travel Consultants who advise clients on luxe destinations, hotels, customized holidays ensuring first class services and benefits to showcase the clients' uber class lifestyle. Therefore, the importance of an Image Consultant is inarguably growing at individual as well as at corporate level. While we face a competitive global market, it is imperative that we 'mind our language, behavior and our attire'. As a study by psychologists at Princeton says, it takes a 'tenth of a second to form an impression of a stranger from their face, and that longer exposures don't significantly alter those impressions'.
As I end this article, I'm reminded of the hilarious dialogues from one of my favorite comedy TV shows 'Mind your language' which made me realize the importance of using the right words. Sharing one such anecdote as I sign-off –
Mr.Brown: Giovanni, the correct word to describe a relative by marriage is 'in-law', as in 'brother-in-law', and no, as you put, 'outlaw'.
Giovanni: It's the same thing.
Mr.Brown: It is not the same thing. An outlaw is a bandit.
Giovanni: So's my brother-in-law!