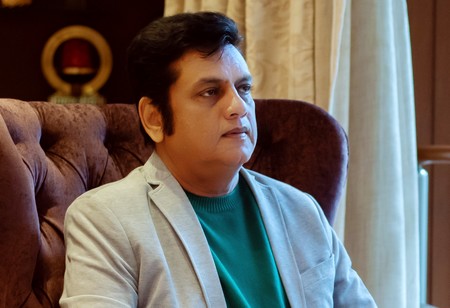 Markand Adhikari, Chairman & Managing Director, Sri Adhikari Brothers (SABGROUP), 0
Holding more than three decades of experience in M&E industry, Markand is one of the promoters of the company.
The Indian Media & Entertainment (M&E) industry is considered to be the sunrise sector for the economy as it's making significant strides. On the cusp of a dynamic phase of growth, the Indian M&E industry has proven its resilience to the world. It's backed by an increasing consumer demand and improving advertising revenue. The industry is majorly driven by growing digitisation and large-scale internet usage over the last decade. Internet has undoubtedly become the mainstream media for entertainment among most people, alongside the television segment.
As per the projections, digital media will be the primary driver of growth in these industries, which will significantly overtake filmed entertainment and print advertising by 2021
Audience consumes media across diverse demographics and several avenues like television, OTT, films, radio, animation, visual effects (VFX), music, digital advertising, gaming, and print. India's newly-grown affinity to OTT video and music industry dates back to the days of YouTube, which was the primary choice for both audio and video content. Of late, owing to the internet and smartphone penetration along with Gen-Z's obsession with on-the-go content, the on-demand-streaming platforms have garnered a huge number of new localized and international players.
While media scales unprecedented heights, the Indian marketing and advertising industry is projected to become the second fastest growing M&A market in Asia, after China. Currently, revenue from advertising makes up for nearly 0.38 percent of India's GDP. By 2021, Indian M&E industry is expected to touch ₹2.35 trillion. India is likely to figure among the top-10 entertainment and media markets across the globe by 2021.
The marketing and entertainment industry is quite resilient, having people who are highly innovative, driven and compassionate. The values and skills required to prosper in advertising are the same traits that will enable businesses to reinvent themselves and thrive in the near future.
Forecast for Entertainment & Marketing Industry
The COVID-19 crisis is being looked at as a catalyst that has set the entertainment & marketing industry on the path of growth. Experts believe that changes were
already underway in the industry but the process has been expedited further. Hence, certain trends are expected to rule media & marketing industry in 2021.

As per the projections, digital media will be the primary driver of growth in these industries, which will significantly overtake filmed entertainment and print advertising by 2021. Digital media will continue to grow - both in consumption and outreach. Television—linear and catch-up—will have an upwards trajectory. Radio will have to digitize aggressively in response to the rising streaming services, while both film and out-of-home (OOH) media will innovate and improve reach-led investments.

The rise in digital consumption will lead media companies to innovate new avenues of monetization and service altogether new customer segments. The advertising growth has outpaced subscription growth of OTT and is anticipated to comprise 52 percent of the total share by 2021. On the television front, the Indian TV industry is anticipated to touch ₹955 billion (₹95,500 crore) by 2021, with advertising growth expected at 10 percent and subscription growth at eight percent.

Indians spend nearly two-three hours daily on traditional media including television, newspapers, radio, and magazines as compared to digital media, on which they spend an average of 1 hour daily. In India, cable costing is ₹250 and broadband is at ₹500-100. But this equation is poised to change by 2021 as there is a big uptick likely in digital and a corresponding decline in the consumption of traditional media.

With the rising vernacular print circulation, English and other pricey magazines will get a hit. With the growth of digital, the upper SECs will move to the online medium and possibly give up on print entirely.

Various parts of India are going through a digital evolution, mainly led by mobile consumption, which is only expected to go up with decreasing data prices, rising mobile penetration in tier II and III markets, availability of affordable hand-sets, widespread accessibility of 5G networks and explosion of regional content. Marketers who invest in mobile tech and focus their strategies on mobile marketing stand to gain. Alongside, operators are increasingly investing in hybrid STBs to take advantage of going online.

Within this backdrop, India is anticipated to become a key market for exponential growth in OTT video during 2021. The online video market in India is expanding impressively, growing 50 times in subscription numbers on the back of original local content. Media companies have understood the relevance of this segment, which is why a huge spike in original content investment is likely in 2021. Investment in original content in the Indian context has grown tremendously since 2017, triggered by the foray of US giants – Netflix and Amazon – into the Indian market. These two have in essence transformed the content production sector in India with their investments as well as by establishing content creation for online distribution as independent from TV business.

Summing Up
Looking at the projections, it is safe to assume that the upcoming year seems very promising for the entertainment and marketing industry. Digital is all set to rule and it surely has the opportunity to serve a billion screens not just in India but even globally.