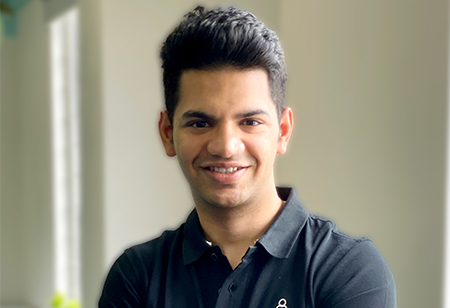 Raghav Gupta, Co-Founder & CEO, Futurense Technologies, 0
Human talent is and continues to be the key growth driver and differentiator for world-leading organizations.
In recent years, the global health pandemic Covid-19 further put the spotlight on finding and nurturing human talent to accomplish organizational goals with a digital-first business approach.
A study by the IT industry's apex body, the National Association of Software and Service Companies (Nasscom) shows that technology service providers are witnessing a 30 percent growth in digital deals, an 80 percent jump in cloud spending, and a 15 percent rise in customer experience spending since the coronavirus outbreak.
Pursuing rapid digitalization, businesses globally and in India alike are facing challenges in identifying and hiring the right talent. What's alarming is that despite India's success at home and in Silicon Valley as a technology powerhouse the country continues to witness a demand-supply talent gap in the technology and IT sector as well.
According to a report by Nasscom and global management and strategy consulting firm, Zinnov, India is projected to face a shortage of 14-19 lakh tech professionals by 2026.
The numbers show that digital skills in India are in short supply. The same story is repeated across sectors and organizations irrespective of their size and specialization struggle to hire skilled professionals.
Fixing India's Talent Challenge with Modular Training
A large number of organizations struggle with effective decision-making due to a lack of visibility into the skills of the existing workforce and the effects that the industry disruptions will have on employees' roles, according to a global survey on the talent and skills gap by consulting firm, McKinsey.
Any effort to bridge the widening talent-supply gap in India requires a rigorous, empirical approach to understanding the skills that are most needed in the workplace in different sectors, designing contemporary content-learning modules for training, and identifying groups of professionals and specific roles that call for training on a priority basis.
All these aspects together can help a market struggling with talent mismatch to draw an effective training roadmap for aspiring learners as well as the existing workforce to meet the business's strategic needs.
Driving Collaborations to Bridge the Talent Demand-Supply Gap
Different stakeholders including government, organizations, industry bodies, and educational institutes need to collaborate more meaningfully and together step up their efforts to solve India's talent demand-supply gap.
There have to be concentrated efforts from all these stakeholders to identify new talent hubs, support talent from underprivileged sections and parts of the country, double up on investments in reskilling, and build further on industry-academia collaboration.
Visibly there are some green shoots with government training agencies as well as private players taking the lead in reaching out and nurturing untapped talent from tier-2 and tier-3 towns. Most of these small-town places see thousands of students graduate every year from engineering, management, law, and with specialization in several other domains.
This vast pool of talent is a low-hanging fruit for organizations looking to onboard talent at a competitive cost. The challenge is that corporate players are reluctant in reaching out to these small towns owing to their geographical disadvantage, poor quality of institutional education, and students lacking training and
industry exposure.
However, some of the higher private educational institutes and training companies have been quick to identify and work around these challenges. A lot of these companies reach out to fresh graduates as well as go in for lateral hiring to identify potential talent. They provide young professional training modules in data engineering, data science, and Java full-stack.
Democratizing Talent Space
The primary goal of upskilling and talent acquisition by private players is to democratize the talent landscape in tier-2 and tier-3 towns.
These players understand that small-town talent often lacks the financial resources required to train and acquire new-age skills. Neither are they in a position to leave their entry-level low-paying jobs to upgrade their skills with no one to promise them job security post the training.
Innovative young private players are coming up with unique models to support young and promising talent from small towns by supporting their training needs at zero cost.
Reskilling professionals effectively and getting the small-town hiring strategy right is the key for India to address the talent crunch across industries and drive future growth
For example, charge the candidates as it helps them upgrade their skills through well-structured modular, specialized, and short-term courses across domains. Training with the organization comes along with job assurance wherein young professionals are placed with Fortune 500 companies and startups.
Creating Market-Ready Talent
Fortune 500 companies hire from these organizations as the former enjoy a huge arbitrage cost hiring people in India versus when they hire in the US and other international markets. Big corporates get access to trained professionals minus the huge training costs or wait time by recruiting these young professionals.
To get access to market-ready talent, corporates are willing to pay training firms a premium thus helping them make a decent margin as they support the training requirements of young professionals.
Most of these upgrading and skilling companies have a large training and boarding facilities for talented professionals who are keen on picking up new skills and upgrading. Such players follow a holistic approach to discovering talent.
Importantly, such organizations do not select potential learners for training on basis of what they know but on what they can know. They look at candidates' potential including their learnability quotient—how well they can learn and their problem-solving ability. What matters is these young professionals' eagerness to prove themselves and their flexibility to unlearn things and learn new ones.
As part of its modular training programs, these players ensure that even as selected candidates build on their technical skills and domain expertise they also acquire much-in-demand soft skills. By and large such players have a dedicated team of coaches that help young professionals pick up communications skills.
Training and Hiring Right
Reskilling professionals effectively and getting the small-town hiring strategy right is the key for India to address the talent crunch across industries and drive future growth.
To be able to do this successfully, India Inc., government agencies, educational institutes, and private players in the educational and training space need to come together to draw up effective talent development roadmaps. Together, these stakeholders can offer young professionals learnings and experiences to be market ready.