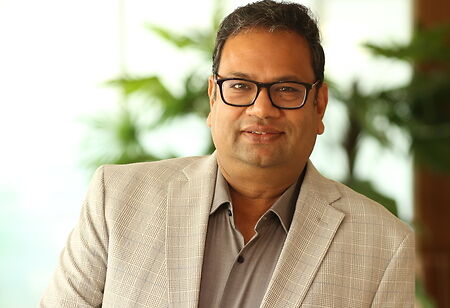 Sharad Aggarwal, Chief Executive Officer, Godfrey Phillips India Limited, 0
Sharad Aggarwal, CEO, Godfrey Phillips India Ltd (GPI) holds over three decades of experience heading numerous successful conceptualization and implementation of large, complex, high-end projects.
______________________________________________________
What is your vision for the organization?
My focus is making our approach to business more sustainable for the planet and people. It is heartening to see that our efforts are not just showing positive results for the environment but for our financial results as well.
By putting people first, we have created a culture of trust and transparency. I strongly believe that when employee welfare and care come first for the company, the employees contribute more willingly and effectively to the company's welfare. I have been maintaining that the onus of P&L lies on every employee. My goal for GPI is to increase cross-functionality between departments, give ownership to employees and to help people grow as professionals, because when people grow, the company grows with them.
How are your people-centric initiatives different from that of your peers?
Our initiatives for the people are not a strategy to outshine our peers. It is a way of life at GPI, a legacy we have inherited from our founder and chairman, late Mr. KK Modi and carried forward by our chairperson, Dr. Bina Modi. When I took over the role of CEO at GPI, the entire world was going through a turbulent period due to the COVID pandemic. But I'm proud that GPIites never felt insecure, even during the most uncertain of times. Owing to their trust in the organization and the surety of security, our workforce is confident. We have empowered people to become decision makers and take risks. Of course, there have been a few failures, but that never stops our people from learning from mistakes, trying again and excelling. Our people have faith in their organization and that makes all the difference.
You are known for adopting innovative solutions for business challenges. When it comes to GPI workforce, how does innovation come in to play?
I have a keen interest in automation, data sciences, robotics – anything tech. I believe that their adoption and implementation can only be successful if our people are aligned with the vision of making us technology leaders in our industry. Hence, we support tech-based upskilling of our employees which will help them throughout their professional journey, in GPI and beyond.
Furthermore, I believe collaboration is the catalyst to innovation. When we work together, we explore our potential to its fullest, by re-inventing the core of our business through digitalization of our supply chain processes by introducing LEAP. The program, built on the o9 platform, has transformed our integrated business planning from demand forecasting to despatch planning. A key requirement for the success of this initiative was cross-functionality between supply chain, sales and distribution, marketing, manufacturing, finance, commercial, IT and analytics teams. Sanchay, another initiative at GPI, aimed at building efficiencies and cost optimization encourages multi-department collaboration. With different units working together, we have identified ways to improve savings while increasing productivity and outcomes. Both LEAP and Sanchay have delivered great results, not just in quantitative terms, but qualitative as well. Our people not just have confidence in the organization and the senior management, but owing to more inter-departmental transparency and collaboration, they have improved inter-function and inter-personal trust and camaraderie.
Running a business of this scale requires time and energy. How do you find the time to stay connected with the employees?
Hailing from a background of operations, with a liking to being a hands-on CEO, for me, decisions for the company and its people cannot be made while sitting at a desk. I ensure that I am present and approachable for every
employee. With my open-door policy, in the same day, I find myself brainstorming a new product with the R&D team and discussing movie options for the next movie day at the office. It keeps me refreshed and on my toes. But I like to connect with my colleagues beyond work as well. Hence, every fortnight, I invite a few of them and over a cup of coffee where we chat about our families, holiday plans, sports games, or new recipes we tried. Our people call it Coffee with CEO. It is my way of letting my hair down and knowing GPIites better. I also see a marked difference in employees' demeanour and confidence levels right after my first one-on-one interaction with them, and they feel more comfortable and aligned with the company.
My biggest learning has been to place faith in the people, encourage them to push their boundaries, be present and engage with them
Diversity, equality, and inclusivity became a focus area for organizations around the world. What is GPI doing for DEI?
GPI operates in several states in India. We also have an eclectic mix of boomers, Gen X, millennials, and Gen Z in our workforce. While we have colleagues who are being recognized for thirty and forty years of service to the company, we also have new talents who bring in a fresh perspective. In such a set-up, it is essential that everyone feels heard and respected. This culture cannot be enforced, it is cultivated through our people practices.
By being confident about themselves and placing trust in the organization, our people are more open to learning.
Moreover, even before DEI became a buzz word, GPI believed in giving equal opportunities to everyone. In fact, it was late Mr. KK Modi, who initiated a suggestions scheme at all our factories. Everyone, irrespective of their age, experience in the organisation, designation or demographic could simply walk up to their managers with ideas. Good ideas were implemented, and the workers rewarded for their suggestions. The initiative won GPI the INSSAN (Indian National Suggestion Scheme) Award for 16 years in a row and continues to be implemented in all factories.
The idea is to practice what we preach. By showing that the company respects every employee, we encourage everyone in the workforce to be respectful towards one another – irrespective of who they are. For me, GPI is like a big Indian family. Despite our diversity, we are homogenous in our culture and values of respecting each other and the organization. We co-exist by combining our strengths and helping each other through difficulties when they arise. And that is what we call the OneGPI spirit.
Social media has made all of us prone to short attention levels. How do you keep engagement levels high for your employees?
I believe the reasons are two-pronged – when employees are overburdened and stressed, and when they are not engaged in quality work. Arriving at GPI as a 25-year-old engineer, I have witnessed how ensuring a good work-life balance for all employees is extremely important to GPI. I carry on this practice. Moreover, I also believe that breaking the monotony of routine with activities that help an employee connect with the organization beyond work has tremendous long-term benefits for both the employee and the organization.
Hence, we invest in unique engagement opportunities for our employees. We take living by our values, fostering pride and trust, internal communication, employee learning, development and engagement, and fun seriously. I believe that these are few reasons why we have been recognised as Great Place to Work in India for four years in a row now. Our human resources and corporate affairs functions always surprise me with their innovative ideas to keep our employees, spread across India, engaged.
What are your learnings from being GPI's CEO?
GPI is my family. Thus, being GPI's CEO is both a privilege and a great responsibility. I abide by my mentor Mr. KK Modi's values and am grateful for the support of Dr. Bina Modi. By marrying my risk-taking style of leadership with my love for technology, I am cultivating a culture of change and innovation at GPI. My biggest learning has been to place faith in the people, encourage them to push their boundaries, be present and engage with them.