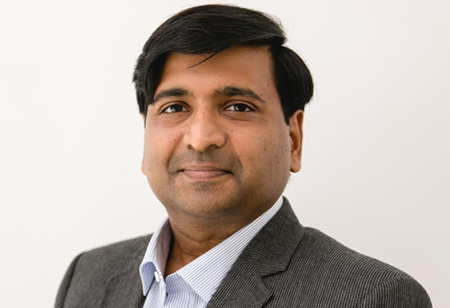 Sandesh Goel, Managing Director, Eightfold India, 0
Sandesh brings a wealth of experience in team building, customer and sales management experience and is prime in the success the company.
There are three basic problems faced by employees. Firstly, people quit their jobs for new challenges and new roles when there are plenty of challenges in their own companies to apply their skills to new roles. Second, recruiters get hundreds of resumes, but don't have a great way of seeing who's a good match for a job. Third, job seekers don't have a good way of searching for a job; they are stuck searching by keywords and titles instead of seeing how they have the potential to apply their skills to new challenges. There is very little 'hiring for potential', which hurts both companies and job seekers.
As a solution, there is a platform for talent intelligence – 'Talent Intelligence Platform', which is able to match individuals and opportunities based on their potential to succeed in a role, rather than on past success in an equivalent role.
Analyzing more than one billion career paths, this platform calculated the individual factors such as experiences, education, and skills that predict movement through career paths. These calculations form a model that is applied to the career path of any individual and any position. For an individual, the model will rank available positions and show the individual why a position is a match for their qualifications. For a position, the model will rank available candidates and show a recruiter or hiring manager why a person is a match for the position requirements.
A Talent Intelligence Platform improves every aspect of the talent-acquisition process from source to offer, including:
1.Career sites
There are huge drop-off rates on career sites. Companies put a lot of effort into the home page of the career site, but when someone does a search, they often don't find a matching role. Even if there's a job that might fit for the candidate, the candidate is often unaware that it's a fit.
Talent Intelligence Platform allows candidates to upload a resume to a career site. The AI is used to match a candidate's capabilities to open roles. A candidate can see the roles for which they're a strong match, and why they're a match. This gives them the confidence to apply for the jobs, and has resulted in much higher click-to apply rates.
The platform can also be used to build career sites. AI is used to tailor a career site to prospects, so that the videos and other content they view, such as people they'd work with, are personalized.
2.Sourcing
On average, companies are spending roughly 90 percent of their sourcing dollars on external sources, according to Deloitte. This includes agency commissions, job boards, professional network licenses, and more. These are the sources of candidates who know you the least, and are least likely to result in a hire.
With Talent Intelligence, companies focus on the people who know them the best: their Talent Network.
Past applicants, current employees, past employees, and employee referrals -- using AI to match their capabilities to open jobs.
3.Screening
Rather than wading through hundreds of resumes per open role, companies use AI to match people based on their capabilities. "Strong matches" are ranked highest, saving huge amounts of time, and freeing up recruiting teams for higher-value, higher-touch work.
4.Scheduling
AI can be used to automatically schedule interviews. This can reduce administrative time by about 60 percent, and free up talent professionals for more strategic work.
5.Interviewing
Right now, interviews are far too subjective. About 85 years of research has shown that job interviews are not much more reliable than a coin flip. With a Talent Intelligence Platform, interviews focus on what a person can do. AI is used to validate skills on candidates' resumes; in other words, to confirm a skill that the AI has indicated a candidate hasn't listed, but is likely to have. Similarly, the AI may indicate that a given skill is missing. The job interview can be used to probe into whether a candidate does have that skill after all.
A Talent Intelligence Platform improves every aspect of the talent-acquisition process from source to offer
Receiving of Technologies like AI in HR processes at Indian Market
Deep learning will transform every single industry, so it is natural that the HR processes will naturally see the influence of AI. HR professionals understand the importance of optimizing the combination of the human mind and machine learning for a seamless workflow and intuitive work environment.
With an HR department encompassing the human element and AI, companies can provide an enhanced experience for their candidates and employees. AI integration into HR practices will make organizations better because these applications can analyze, predict, and diagnose to help HR teams make better decisions.
Upcoming Trending Factors of Talent Management in India and the World
In India, organisations are now more open to adopting AI-based solutions into their business. That is true for talent management as well. This can be highlighted with the help of the data. Globally, the HR tech market is expected to touch around $34 billion by 2021, and almost $3.6 billion worth of this business is projected to come from Asia, according to reports. It is also estimated that it will double in size in the next four years in India alone. .
Most organisations in India are welcoming automation in their HR functions, as people are now more aware about the benefits of analytics, cognitive technologies, and the opportunities to improve the candidate and employee experience.
Companies consider analytics, artificial intelligence, and cognitive technologies as the top-three new-age technologies that can have greater impact on talent and workplace. Saving on costs is the main reason why companies make HR technology investments. Other key drivers include increasing the effectiveness of HR functions, empowering leaders to manage workflows, and improving the execution/implementation of HR policies.