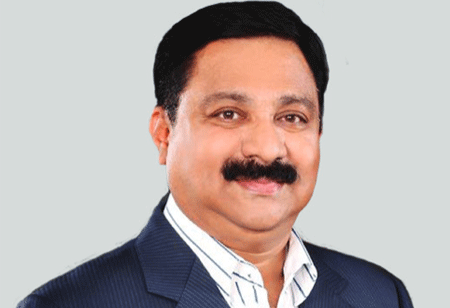 Sudhakar Balakrishnan, Group CEO, 0
Over the last few years, India's HR scene has seen an evolution with more companies looking out for organized staffing and workforce solutions. FirstMeridian is one of the renowned HR platforms that was built to provide premium end-to-end HR solutions. They provide well-integrated staffing and recruitment solutions to diverse industries, whether large or small. With their highly qualified team members, FirstMeridian can give work to more than 90,000 people daily.
The group CEO of the company, Sudhakar Balakrishnan, has been one of the primary reasons behind its success. Formerly the managing director and chief executive of Adecco India, Sudhakar brings 30+ years of sales, marketing, and HR experience. He has been leveraging his knowledge, experience, and position at FirstMeridian to ensure premium results. Following are some excerpts from the interview conducted with Sudhakar Balakrishnan, where he talks about his personal and professional experiences and his company's operations.
Owing to your 30+ years of work experience with a combination of Sales, Marketing, HR, Strategy Formulation, and P&L Management, how are you leveraging your position at FirstMeridian to ensure premium results?
When we started building FirstMeridian to be a institution, we were very clear that besides profitability, our business had to have the right culture in place. Being in the people business, our growth as an organization is directly linked to each of us within the FirstMeridian family. Our sole purpose here at FirstMeridian is to touch the lives of billions and fulfil their dreams. While setting up this platform, our Strategy Note was to gear this organization towards a clean, transparent work environment, giving birth to the Key Tenets of FirstMeridian under which we operate – Team, Trust, and Transparency. Another critical element was to have a shared Vision, Mission, and a set of carefully co-created Values that will cut across all the group companies & business units, acting as the underlying driver for all Stakeholders. We are a people business, and what better than a set of values drives organizational behaviour and creates a strong foundation for the road ahead.
How does FirstMeridian ensure Cutting edge technology for HR management & development along with customized recruitment solutions?
We have easy, configurable engines built to suit any kind of complex hiring and deployment structure. More than 5000+ salary structures configured across our clientele, all types of state-specific compliance, etc., are met. Our Digi One client portal has customizable dashboards that display the most important information in a visually
comprehensible manner. Digi-Onboarding tool in the DigiTrac mobile app simplifies candidate onboarding, documentation, and KYC process. Our Infield app suite enables end-to-end automation of retail sales, improving the overall efficiency of the retail workforce and providing business leaders with a bird's-eye view of their end-to-end operations across geographies.

What are the various challenges/pain points customers face while availing of recruitment and staffing services? How is your company helping them through those challenges?
Industry type-based hiring, geography-based hiring, just in time hiring, SOW-based hiring, GIG work, niche skills hiring, diversity-focused hiring granting equal employment opportunity for women, etc., are some of the hiring's needs clients to want us to focus and come up with solutions to fulfil. We leverage the deep market relationships of all the leaders within the FirstMeridian family, our PAN-India Presence of over 1100+ locations, organizational strengths, and tech-savvy operational and HR automation capabilities to design new-age talent strategies that bring added value to our customers and help them overcome their challenges.

Enlighten us on your associates' professional experiences & expertise and how their combined effort helps FirstMeridian emerge as a brand in the staffing solutions industry.
A great deal of effort goes into ensuring that we emerge as the premier staffing solution provider. Firstly, we are a people business, so most of our teams' effort ensures that we find the right people for the right job. We achieve this through careful screening of candidates, deploying online assessment tools where necessary. Secondly, we believe our associates are our brand ambassadors, and when we focus on delivering happiness to our associates, we automatically deliver customer delight.

How do you keep your employees abreast with the latest technologies and trends? Do you provide any training? How is the work culture at your company?
We foster a Strong Values-Based Culture, driven by High Performance, Great Learning and Operational Excellence, which has proven to deliver success to the people and to the organization. People are our biggest asset within FirstMeridian; we have taken critical steps to foster our employees' professional growth. Last year, we launched FirstMeridian Elevate, a robust LMS with 90+ certification courses accessible to all our employees. We are empowering our workforce with high-impact, mobile-enabled eLearning courses that they can take on the move; and for the management, a comprehensive analytics dashboard to track the upskilling and progress of the employees.

Are you coming up with innovations or upgrades to enhance your existing services?
The technology division within FirstMeridian is constantly innovating and finding ways to simplify processes using technology. From ongoing upgrades to our internal tools to new developments on our technology offerings, here are some innovations by our tech team: Chatbots, Mobile Microlearning Application, Recruiter App, Brand Pulse Trade Marketing Apps, and BI for tracking trends. In HR, Sales and Recruiting processes.