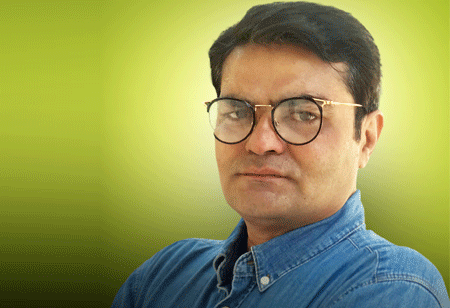 Nirbhay Naik, Founder, 0
Digital marketing is a segment that has secured a specific & significant place for itself in today's dynamic & competitive business world. Be it a large or small-scale, global or local, public or private company, everyone is competing for the same market. Here, enterprises have realized the power of digital marketing to create and maintain a desirable demand, reputation, and competition. Digital marketing has taken the traditional marketing space to the next level, and it is now considered as the most crucial part of the growth of every organization. With this, the digital marketing industry is witnessing exponential growth worldwide, and the scenario is no different in India. The industry in India is currently standing at around Rs.8,202 crore and is projected to grow at a CAGR of 32 percent to reach Rs.18,986 crore by 2020. Contributing to this market, iDIGITALS, a recognized Surat based digital marketing service provider, is leading the edge in the field of digital marketing while opening the doors of possibilities & growth for its customers. Under the aegis of Nirbhay Naik(Founder, iDIGITALS), the firm has established itself as one of the renowned organizations to offer integrated digital marketing services, while taking care of its clients' entire digital campaigns.
The Backbone of iDIGITALS
This 2016 established firm follows an analyticsdriven approach to digital marketing across the entire customer journey. Following such a strong process iDIGITALS focuses on the 'what & why'and sustaina competitive advantage through understanding how to effectively use and integrate technology, business processes, information, and standards, while making its marketing solutions the most effective. "Our working methodology is different and unique. Where most of the industry players focus just on their clients' growth, we focus mainly on the quality of the work and help our client's customer to grow this in return provides RoI to our clients. We leverage our day-to-day research & analysis, with effective advertising campaigns to attain maximized business results and returns on ad spend(ROAS)for our clients," states Nirbhay.
Digital Marketing Maven
Today, iDIGITALS is providing impressive digital marketing services purely because of the vast knowledge that it holds, operating for different clients from different verticals. Moreover, being a Google certified organizationiDIGITALS is recognized in the industryfor offering the very best innovative marketing solution. The array of services that iDIGITALS offers range from digital marketing, social media marketing, search engine optimization (SEO), e-Commerce marketing, website development, and much more. Under designing, the firm offers services like the creation of the logo, brand name identity, website development and social media creative. It also helps clients with their writing strategies by crafting ingenious & attractive articles and blogs for them. SEO is iDIGITALS' forte and the firm leverages its expertise in keyword analysis to offer best-in-class services under this segment. From On-Page to OffPage
SEO and link building, iDIGITALS takes care of everything and helps clients achieve success for their SEO campaigns. Apart from that, the firm also deals with paid advertising, which is the best approach for sending a message to the masses in the quickest way possible.
iDIGITALS educates the client on associated measurement metrics, which helps them to realize what they are investing in and how they could measure success
Now a days, social media platforms are playing a very important role in business marketing strategy. By rough estimates, there are around 500 million internet users in India and about 65 percent of the population are active on social media platforms. This statistic is sufficient to make social media marketing relevant in India, and iDIGITALS is an expert in offering the best solutions in this segment. The firm is a maven in creating and managing marketing campaigns for social media platforms like Facebook YouTube, LinkedIn, Instagram, Pinterest, Twitter and more.
Expertise Par Flexibility
iDIGITALS is dedicated to offering customized and tailormade solutions to its customers. Above that, the firm is headstrong in offering transparent solutions. Before undertaking any project, iDIGITALS first brainstorms with the client & understands their goal. After a deep analysis, the firm educates the client on associated measurement metrics, which helps them to realize what they are investing in and how they could measure success. This makes the business process smoother and explicit for both the parties and in return results in customer satisfaction. In addition to that iDIGITALS works with the latest digital marketing perspective while ensuring that the clients leverage the power of the internet and technology to the fullest extent possible.
With such dedicated services, iDIGITALS has bagged several Indian as well as international small, medium and large companies as its clients. Some of them are Lords Group of Hotel (hospitality), Dude Seriously (YouTube channel), Hairkrez (cosmetic brand), Dass Metal Products (metal manufacturing), and Pitalite(food chain), to name a few. Sharing his insights about the future roadmap of the firm, Nirbhay expresses, "We have been witnessing a constant growth of 30 percent year-on-year in terms of revenue, and have even been shortlisted among 'Most Trusted Company In India' at Global Excellence Awards 2019. In the coming future, we would like to maintain our focus on two important aspects existing customer retention through our best-in-class services and acquiring new clients, especially international clients by showcasing our existing work to our prospects".
Nirbhay Naik, Founder
A marketing expert and a dedicated soul, nirbhay is a headstrong leader who is greatly inclined towards the development of client organization.
idigitals In Spotlight
Year Of Establishment:
2016
Office:
SURAT
Offerings:
digital marketing, social media marketing, search engine optimization(SEO), e-commerce marketing, website development and more