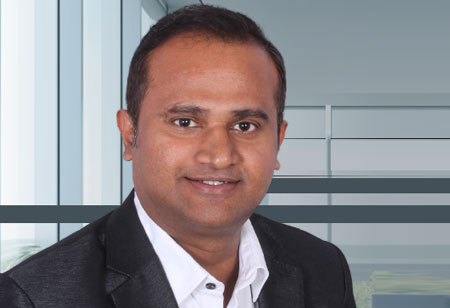 Jophy Varghese, APAC Head-SIS & Strategic Alliances, Verizon, 0
India is savoring this tech-ade like never before. With the government projecting a clear vision focused keenly on self-reliance and the digital economy, India is at a watershed moment. According to reports, the number of smartphone users in the country is estimated to reach over one billion in 2023. On the other hand, according to Nielsen's India Internet Report 2023, India had over 700 million active Internet users as of December 2022. It's no wonder that digital payments in India have leaped 160X over the past two decades. The arrival of 5G is expected to add oil to this engine and tune it further to make India one of the largest digital ecosystems in the world. According to a recent report, India has the potential to create over $1 trillion of economic value from the digital economy by 2025, up from around $200 billion currently. This can be interpreted as an enormous opportunity for the technology industry in the country. Walking us through those opportunities and inevitable challenges that will be tagged along is Jophy Varghese, APAC Head - SIs & Strategic Alliances, Verizon. With more than two decades of professional experience, Jophy is a customer-focused and results-driven Global Business Leader and an expert in building partnerships and profit by helping companies fast-track their digital transformation.
In conversation with Jophy Varghese, APAC Head—SIs & Strategic Alliances, Verizon
The IT and business services market is projected to reach $ 19.93 billion by 2025. What kind of role will Enterprise Modernization play amidst this projection?
I am confident that enterprise modernization will play a pivotal role in the projected growth of the IT and business services market in the coming years. Several factors, such as the increasing adoption of cloud computing, artificial intelligence, and other innovative technologies, fuel this expansion. As a leading provider of advanced technology solutions, we recognize the importance of enterprise modernization in enabling businesses to thrive in this rapidly changing environment. It will enable businesses of all sizes to leverage innovative technologies, streamline operations, and adapt to shifting customer expectations.
As the Enterprise 5G trends worldwide, how should IT leaders develop working structures that attract and retain talent to score organizational and people goals?
The emergence of Enterprise 5G trends worldwide, including in Asia and India, presents a unique opportunity for IT leaders to develop working structures that attract and retain top talent, ultimately driving organizational and people goals. India has one of the fastest-growing technology and telecom markets in the world, and we strongly believe that India has a key role to play in the global economy and the future of technology and innovation.
IT leaders must focus on a number of crucial strategies, including fostering an innovative culture and a commitment to lifelong learning. Providing opportunities for employees to upskill, reskill, and stay ahead of technological advancements will not only attract top talent but also ensure the retention of skilled professionals. Creating an inclusive and diverse work environment is also crucial. By embracing diversity in all forms, including gender, ethnicity, and background, organizations can access a larger talent pool, foster creativity, and propel innovation. Lastly, IT leaders should prioritize their staff's well-being and work life balance. This includes providing flexible work arrangements, promoting a healthy work environment, and offering support for mental and physical health. Not only do these initiatives attract talented individuals, but they also contribute to increased productivity and employee satisfaction.
How do you perceive the outlook of the business landscape going forward?
We have been operating in India for nearly 20 years, and it has proven to be one of the most important markets for us in the APAC region. We see a future fueled by digital transformation, connectivity, and changing customer expectations. Organizations are transforming their networks to improve the efficient delivery of applications and data to users, thanks to the advent of artificial intelligence and innovative platforms. Significant investments in innovation, technology, and infrastructure development will be a prominent trend in the Asia Pacific region, including India, from 2023 to 2030. As a renowned innovator, India is expected to play a significant role in driving this transformative growth. Cloud computing and edge technologies will allow organizations to utilize scalability, agility, and real-time data processing. 5G will further disrupt industries by enabling cutting edge healthcare, manufacturing, transportation, and entertainment applications. However, cybersecurity will remain a pressing concern, necessitating stringent safe guards to protect data and maintain trust.
In today's world, what skills are required in the IT and cybersecurity space?
The IT and cybersecurity space is evolving rapidly, and several key skills are in high demand. To begin with, a solid understanding of cybersecurity principles, concepts, and best practices is crucial. This includes knowledge of security protocols, encryption, authentication, and access control.
With the widespread adoption of cloud services, knowledge of cloud security architecture, cloud specific threats, and proficiency in cloud platforms is also important.
The skillset should also include knowledge of Network Security and services that secure the cloud, network, and endpoints and help organizations reduce complexity, control costs and fortify their network infrastructure. Apart from this Identity & Access Management, Incident Response & Forensics, Managed Detection and Response Services, etc, are critical.
The understanding of the regulatory framework around Data Privacy and Compliance is ever-evolving and is an important aspect of cybersecurity. One should have
knowledge of data protection regulations(e.g.,GDPR, CCPA)and related compliance.
Also, in today's data driven world, where cyber threats are becoming more sophisticated, leveraging AI/ML to detect anomalies and predict attacks is becoming a valuable skill.
Understanding the security implications of IoT connected devices, Mobile Security is essential as well.
In all, continuous learning and adaptability are crucial due to the ever-changing nature of the IT and cyber security landscape.
What kind of business opportunities do you foresee in the Indian market, and how different are those from the APAC and global markets?
We see a plethora of business opportunities on the rise in the Indian market. I think that the speed with which India is adopting and rolling out 5G technology is a good sign that India will be able to get huge economic and technological benefits from it. In places like South Korea, Japan, and, to a lesser extent, Australia, 5G is really changing industrial and economic capabilities for B2B. This is true for both private 5G deployments and large scale IoT or vehicle tracking technologies that use the 5G network. Port operators and logistics companies are jumping ahead of the curve by using 5G technology to completely change the way they do business, make their operations more efficient lower their operating costs, and give their customers a much better experience.
We see a future fueled by digital transformation, connectivity, and changing customer expectations
We have observed significant growth in two technology areas. For starters, there is a surge in network transformation or network as a service, driven by cloud infrastructure migration and the need for remote access due to the pandemic. Organizations are rethinking their corporate network architecture to ensure that it is cloud-ready, secure, and adaptable for hybrid networking. Verizon is actively involved in assisting large-scale network transformation projects for global companies, including those in India. Second, cyber security demand is increasing in the APAC region, including India. Network design and security priorities have shifted as applications and access migrate to cloud infrastructure. Verizon has been working with a number of companies in the region to transform their cybersecurity architecture and effectively protect their critical assets.
What are the 5G infrastructure requirements in India? What are the opportunities ahead?
India has an incredible opportunity to leapfrog in terms of growth and sophistication and lead the (Asia) region and the world in terms of 5G infrastructure and technology. I think India has experienced some of the fastest largescale deployment of 5G infrastructure anywhere in the world and continues to do so. There is a need for robust and extensive network infrastructure, which is crucial to support the high-speed, low-latency capabilities of 5G. This involves deploying advanced fiber-optic networks, increased tower density, and optimized network architecture to ensure seamless connectivity across urban and rural areas. Apart from that, collaboration among various stakeholders, including telecom operators, technology vendors, and government bodies, is essential. This collaboration can drive policy reforms, streamline regulatory frameworks, and foster innovation.
5G can potentially transform industries such as healthcare, manufacturing, agriculture, transportation, and entertainment. These innovations can increase productivity, boost efficiency, and provide consumers with novel services and experiences. Moreover, India's 5G infrastructure can support government initiatives like Smart Cities, Digital India, and Make in India. It can stimulate economic growth, encourage investment, and generate employment opportunities in the telecommunications industry and related industries.
How would you describe the cybersecurity landscape in India?
In today's digital landscape, cybersecurity is critical, particularly in India, which has emerged as a prominent technology hub. India faces a wide range of cybersecurity threats, including malware attacks, data breaches, ransomware, phishing scams, and Distributed Denial of Service (DDoS) attacks. As the country's digital footprint and mobile penetration expand, cybercriminals target businesses, government organizations, public sector financial institutions, and individuals. Indian businesses recognize the importance of educating their employees and partners about cybersecurity best practices to prevent social engineering attacks and other human-centric vulnerabilities.
The Indian Computer Emergency Response Team (CERT-In) highlights that India encountered a considerable number of cybersecurity incidents over the last few years. The 2023 Verizon Data Breach Investigation Report highlighted that Social Engineering, System Intrusion, and Basic Web Application Attacks represent 93 percent of breaches, and the key motives are Financial and Espionage.
There has been an increased emphasis on collaboration between the government and private companies to address cybersecurity challenges. Information sharing and cooperation are seen as essential for staying ahead of evolving threats. The Indian government has also established initiatives such as the National Critical Information Infrastructure Protection Centre (NCIIPC) and the National Cyber Coordination Centre (NCCC). Furthermore, the government has launched public awareness campaigns to educate the public about cybersecurity risks.
There is an increasing demand for comprehensive cybersecurity solutions that can provide robust protection against a wide range of threats. Indian businesses are looking for advanced technologies and tools to identify, detect, prevent, and respond to cyberattacks effectively. They are looking for solutions that provide security awareness training, phishing simulations, and security best practices to educate their workforce and improve the overall security culture within the organization. Further more, there is a 30 percent skill gap for cybersecurity jobs, which is a significant gap that needs to be filled. Advanced threat intelligence solutions and skilled cyber security professionals are required for proactive threat detection and response.