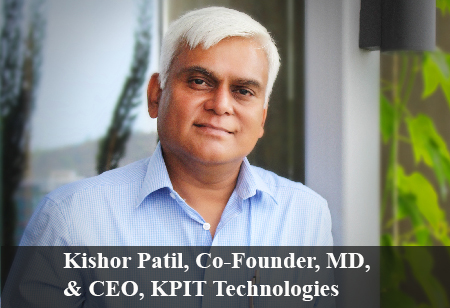 Flying cars might not be ready yet, but the global automotive industry is at the cusp of a technology revolution, with software solutions rapidly reprogramming the sector. Owing to several bespoke innovators in the segment, there have been multiple disruptive aspects to the automotive industry in recent years—from autonomous vehicles to connectivity, Over-the-Air (OTA), electrification, and shared mobility (ACES). Everything heavily relies on cutting-edge software. Further disruptions in the segment are ahead of us. Amidst this epoch of transformation, the industry stakeholders, including OEMs, suppliers, automotive software solutions providers, and new players, hope to bank on novel opportunities and capture critical control points in the software-driven value chain. The challenges in front of them are paramount. To dissect the industry's novel opportunities and challenges globally, CEO Insights engages in an exclusive interview with Kishor Patil, Co-Founder, Managing Director, & CEO, KPIT Technologies—one of the globally leading software partners to global Automotive and Mobility Companies.
Kishor co-founded KPIT in 1990. Under his leadership, the company has grown over 50 times in revenues in the last 12+ years to have a worldwide footprint with a direct presence in Germany, America, Japan, India, Korea, and China. Today, KPIT is moving swiftly forward with a vision to reimagine mobility for a cleaner, smarter and safer world. Below is an excerpt from our interview with Kishor.
What are the areas that the automotive industry is currently focusing on? What are the changes or transformations happening in the industry?
The automotive industry is going through a lot of changes globally, and Indian automotive companies are also joining this revolution. Electrification and Intelligent Vehicles are two predominant aspects of this revolution.
As you know, India has come a long way in the electric two & two-wheelers segment. It has been an excellent trajectory of progress. But given the country's electrification ambitions, that is good but insufficient. I believe that the key to being a front-runner in electrification is around automotive companies focusing on four-wheelers, heavy vehicles, and public transport. The government needs to further the incentivization on these areas as well.
However, electrification is followed by the development of more connected, intelligent vehicles. So, I would say these are the two most important areas of focus for the Indian automotive industry.
On the other hand, batteries will be another area that we need to focus on. At the moment, we cater to a large portion of the demand by importing from China. Additionally, battery manufacturing is significantly dependent on certain raw materials, which are pretty short in supply. Hence, innovation and a lot of R&D efforts in the ear, keeping in mind the Indian environment, is inevitable.
As the automotive companies are becoming more software-driven, the semiconductor is another area where demand is flaring up. It will be imperative to have some self-reliance in that area.
What challenges are faced by the global automotive industry in a post-pandemic world?
Covid-19 brought the whole world to a standstill, and the global manufacturing industry was no exception. Even now, the growth of the automotive industry is severely hindered, as vehicle sales are yet to pick up. But the herculean challenge is that even with the crippled revenue, the industry is going through a huge transformation curve. To remain competitive, the organizations need to invest very significantly in electrification, autonomous operations, etc. In a nutshell, while the expenses have increased, the revenue went down. When it comes to established enterprises, to add to their woe, capitally well-funded startups that were naturally focusing on these areas are now offering a fair amount of competition.
Globally, the positive element for the industry at the moment is the demand for electric vehicles, especially in the markets like the US and Europe. Even the Indian market is exhibiting the demand to a great extent.
What's ahead of the industry, and how do they tackle the challenges?
India, which is the fourth largest automotive market in the world, is recovering faster than the predictions. There is optimism all around. Going forward, the acceleration of the adoption of technology will be crucial.
Another important aspect is that the whole industry is becoming global, and the organizations need to find the right balance between local and global resources. This is accentuated by several other predicaments such as Corona, which disrupted the supply chain from the China supply chain, the demand-supply gap in the semiconductor industry, and now the Ukraine-Russia conflict. Organizations are striving to effectively manage the supply chain and bring a balance between local and global resources.
How do you perceive the skill gap prevailing in the industry?
The automotive industry is riding along a huge transformation curve. It is becoming more and more software-defined. I believe that over the next 7-8 years, we will witness significant changes and innovations in the software segment. But the core competency of many automotive companies revolves around their manufacturing prowess, branding, and of course, some of the critical technologies. Hence, the skill gap is evident with the industry becoming more software-driven. They have enough workforce, but they need a different outcome now. They need more 'software people.'
The automobile software being highly domain-specific intensifies this predicament. In fact, the scenario is completely different from other segments driven by software. For instance, if it's a mobile phone series that comes out with some software issue, you can recall or replace the batch without severe consequences. But with the safety of people at stake, the consequence of a software issue in an automobile is catastrophic, to say nothing of the high expenses involved. This makes automobile software an area that calls for not only programming skills but also domain expertise and significant experience.
In this regard, it's a sure bet that we will see more partnerships and collaboration globally in the segment. I really hope this happens in India too. Globally, I think the collaborations will become more relevant by at least the second cycle. More program reuse will be possible. But in the first cycle, right now, organizations don't have time in their favor to find the right kind of corporate equations and partnerships. Hence, they develop their own solutions. But I think by 2024-25, they will find ways to collaborate or partner with productized or platform-based solutions providers.
Where is KPIT positioned amidst all these? What are the transformations happening within the organization?
We keenly focus on automotive software. In fact, that's everything we do. We are at the forefront of the ongoing transformation in the segment while working closely with the automotive brands.
Established by professionals who are genuinely passionate about the automotive industry and embedded systems, KPIT is one of the pioneers of the automotive software industry and has been here for a very long time. We focus on what we do with real purpose. Over the past decades, we have traveled abreast of time and trends in the industry to command our own evolution. But all the while, we kept a few facets intact, which are always important to us. One of them is that we make sure that we do what we are passionate about, which in my opinion, is extremely important. As an organization, as a leadership team, we are passionate about automobiles and mobility at large. The second thing is our vision of sustainable mobility. We constantly envision a cleaner, safer, and smarter world. We believe that it is important to focus on sustainability, as it gives us a deeper purpose, and through it, we can make a difference in the industry. And in that process, we have a reasonable chance to be at the forefront—in terms of everything from scale to quality and driving the transformation globally. In this regard, over the past five years, we have been single-mindedly focusing on this area.
KPIT constantly receives awards & recognition from across the globe, including the latest one from Frost and Sullivan. Your innovative approach is well recognized. What makes this possible, and what do these awards mean for KPITians?
Yes, over the past more than two decades, we have received a plethora of awards. It can be traced back to our people and how KPIT has built a diverse workforce. Being a thought-leading organization globally calls for a culturally diverse organization. We have people wherever there is an automotive market, constituting our global workforce with more than 20 odd nationalities. Their collective efforts and innovative R&D approach are at the heart of these awards and recognition, which mean a lot to all of us. The recognition of our innovations helps to remind us that we are on the right trajectory and reiterate our purpose and bring satisfaction to our passion. In that sense, OTA is an interesting technology that we work on, as we know that it will play a significant role in software updates for automobiles. It's satisfying to work on such cutting-edge technologies.
How do you perceive the industry's future?
Traditionally, once an automobile is manufactured, dealers take over. They sell and service the vehicle throughout its entire life cycle. This scenario is going to change, at least in a partial way. The automotive industry is awaiting a revolution akin to the smartphone revolution. The manufacturers will directly provide customers with technology upgrades and software updates. With the industry becoming more user-experience centric, the autonomous features will be updated remotely, helping your vehicle stay as updated as possible. There will be great opportunities ahead.