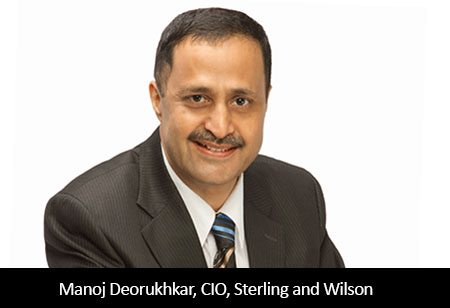 Anamika Sahu, Managing Editor, 0
While the world has changed post COVID-19, this has indeed and suddenly pushed experts to reimagine their strategies & business in a new fashion. Adoption of technology is one of them, but CIOs need to unlearn and learn new concepts faster than ever.
I interacted with Manoj Deorukhkar, CIO, Sterling and Wilson, to know about how the role of CIOs will emerge and what technology will mean for businesses in the coming days.
1.
How will the role of CIOs change in the post-COVID era? How should they prepare themselves to handle these changing roles?
Over the years of marginal disruptions, IT functions created silos such as Technology, Information Management, IT security, Digital, and others. With the unprecedented disruption caused by the COVID-19 pandemic, CIOs will have to play all-in-one role to ensure rapid digitization with innovations, mitigate against technology disruptions, and protect against ever-increasing cyber threats.
Moreover, it's imperative that IT strategy is aligned, and re-adjusted to the rapidly changing business models as organizations struggle to survive COVID impact on economy and financial supply chains.
This is a time for CIOs to unlearn many concepts which were true for last decade, as the word VUCA (volatility, uncertainty, complexity and ambiguity) has acquired a different meaning with a real threat of business mortality.
2.
The world is moving towards greener energy. India is quite ahead in the line with major solar energy goals. However, the road isn't swift. Kindly throw some light on the challenges in India becoming a major solar energy player in the world.
India has made big strides in solar power generations, and the tariff has become competitive as compared to fuel-based generation. However, there are fundamental issues such as land availability/free access, the financial health of state Discoms, T&D losses, grid congestion, policy uncertainty, and lack of appropriate financing model, and others, which continue to pose difficulty for sustainable growth.
3.
Digitization is a major aspect for business growth. How is Sterling and Wilson preparing for it?
Digitization has become imperative to sustain the business today. Sterling and Wilson has been investing in technologies like ERP, CRM, HRMS, and more, over a decade now. Since the last year, we have been focussing on cloud-based digital collaboration, remote monitoring using IoT, and field force enablement. These initiatives
paid a rich dividend during the COVID-19 pandemic to ensure business continuity.
As Sterling and Wilson is operating in more than 25 countries, digitization has become a key enabler for business growth to reach potential customers, suppliers, and workforce.
4.
How do you look at technologies like AI, ML, IoT, automation, and robotics in your industry? What does companies need to do to ensure they stay abreast?
Sterling and Wilson has already embraced these technologies over the last two years, and we have built a scalable and adaptable infrastructure over the AWS cloud to be able to pilot new applications and deploy the same with agility.
While technology options are plenty, the real challenge is to reimagine business in new fashion and develop an appropriate solution for the same. There are also associated measures of reskilling people and driving change at the ground level.
While technology options are plenty, the real challenge is to reimagine business in new fashion and develop an appropriate solution for the same
5.
What is your learning from these difficult times and what is that one lesson that you will carry with you forever?
Current times has taught us hard lessons and few important are:
a) Business Continuity Planning should not consider only normal disruptions. Be battle ready and don't take anything for granted.
b) Don't delay technology adoption in business continuity and cyber security, these delays can cost you dearly.
c) Revisit Cyber Security strategy continually and prepare for worst case scenario with response and recovery plan.
d) People are at the heart of every success and failure. Connections, communication and collaboration is important, especially during crisis like the COVID-19 pandemic.
6.
Tell us something about your personal side, like your favourite book, travel destination, gadget, cuisine, hobby, fashion statement and your inspiration.
Currently, I am reading 'Multipliers by Liz Wiseman', which talks about the constructive and destructive behaviours of a leader. This book provides good insights and awareness of our behaviour and its impact on the team members.
Visiting new places is our family passion, and we make it a point to plan visits to less heard places that offer unmatched natural, cultural, and sometimes spiritual experiences like Taktsang Monastery in Bhutan.
While career objectives, corporate responsibilities, and family dominate our priorities, I find my inspiration in people – whether learning from them, helping them to reach their potential, solving important issues, or simply connecting with them.
Read More: