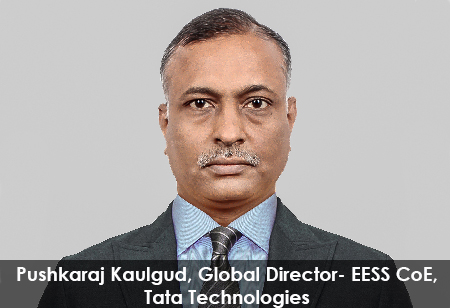 India is historically well known for its efficient and intelligent workforce. It is no rocket science that global companies find it cheaper to hire from India, inducing a constantly flaring demand for Indian talents in the international business landscape. But in addition to the global demand, now India's ambitious vision to become a manufacturing superpower has sky-rocketed the talent demand. According to ManGroup's report of Talent Shortage 2020, 63 percent of companies in India report a shortage of talented employees, mainly in IT, engineering services, and Sales. The considerable success of the union government's Make in India initiative has also been a tailwind to the talent demand in the manufacturing sector to grow exponentially over the years. Tata Technologies has been at the forefront of filling this gap through various initiatives across the country. CEO Insights engages in an exclusive interaction with Pushkaraj Kaulgud, Global Director- EESS CoE (Electrical Electronics and Software System Center of Excellence), Tata Technologies, to explore the latest skill development endeavors of the company. Possessing more than two decades of professional experience—from the shop floor to the top floor, Pushkaraj has proven acumen in managing challenging engineering services design, development, delivery, sales, and management.

In conversation with Pushkaraj Kaulgud, Global Director- EESS CoE, Tata Technologies
What kind of learning environment have you created through Centers of Invention, Innovation, Incubation, and Training (CIIITs) set up in Jammu and Kashmir?
CIIIT in Jammu and Kashmir is a joint venture by Tata Technologies-led industry consortium and the government of Jammu and Kashmir, providing an advanced ecosystem for innovation and skill development for the students, industry professionals, and the unemployed youth in the state. It will not only help provide skilled resources to the local industries but also provide self-employment opportunities to the youth. The center incorporates advanced software and technology tools as well as hardware machinery to convert the ideas into startups under the guidance of experts of Tata Technologies-from scratch to the production stage.
The initiative also includes several Innovation Challenge competitions. Furthermore, we run design thinking workshops and mentorship programs under the guidance of experts from Tata technologies and partners. This close industry-academia interaction will help generate more avenues for self-employment, especially in the areas such as electric vehicles, the Internet of Things, consumer goods, and additive manufacturing, among others. In fact, we have already produced some output. Recently, a few students converted an ordinary bicycle into an elliptical one. They have also designed and developed an innovative grass cutter. So that's the kind of environment we provide.
What are the focus areas in training? What kinds of latest technologies and tools are the students exposed to?
We majorly focus on two aspects: Technology Center and the Workshop. In the technology center, we cover the entire lifecycle of product design and development. We acquaint them with product verification and analysis through high-end tools while also introducing them to advanced machining. And the third lap comes in as the Internet of Things. So these are the major aspects we cover in the Technology Center.
In the workshop, one of the major sections is battery-powered electric vehicles. We cover the entire EV life cycle, including battery management, systems, repair & maintenance, two-wheeler testing and motor testing of the battery, and electric vehicle components, among others. We also cover advanced manufacturing, encrusting laser cutting, milling center, CNC turning, spray painting, etc. We ensure that students are exposed to a hands-on environment with many advanced tools and state-of-the-art facilities because ITI graduates will be more hands-on when they work professionally. For the same reason, whatever they learn in theory, they have to practice it here.
We also cover industrial robotics. The manufacturing industry has wholly moved into advanced robotics, and it is no secret that we need a lot of people who can operate these robots. We have created an entire customized industrial robotics cell wherein advanced industrial processes like arc welding and pick & place palletizing will be taught to the students in a hands-on manner.
We cover the entire EV life cycle, including battery management, systems, repair & maintenance, two-wheeler testing and motor testing of the battery, and electric vehicle components, among others.

Another segment we cover is advanced plumbing. There have been a lot of advancements in plumbing in recent times, especially in terms of the emergence of several discrete techniques for plumbing in different verticals like hotels, stadiums, and shipping yards. The plumbing techniques have also undergone sea changes in the urban areas. And that's what we're going to teach them, including the sprinkler systems, the rainwater harvesting system, solar systems, etc.
Additionally, we have also incorporated virtual reality-based painting and welding training. That adds up to minimize the material used during painting or welding training. Students will learn virtually first and then jump onto the exact machine, saving a lot of material costs. Another segment is additive manufacturing or 3D printing. Since almost all industries embrace the human-machine interface, we also cover industrial process control and automation in our curriculum. And last but not least, the advanced automotive section.
What will be the kind of impact Imphal CIIIT will create in Manipur? How do you think it will help the state in its industrial progression?
Manipur is traditionally known for its Handlooms and handicrafts, agriculture, forestry, food processing & retail, electrical machinery, and transport equipment, among others. The state has several small-scale and medium-scale industries in these verticals. CIIIT will help the people of Manipur, especially the young people, innovate using the latest technologies and enhance the existing industries with new skills. It will also help improve the self-employment scenario. With a lot of the skilled Industry 4.0 manpower available, Manipur will be able to attract more investments. So, the idea is not just to provide people with technical knowledge, but we are focusing more on entrepreneurship, which will help bring a more sustainable business ecosystem to the state.
You have a plan to build a common facility center catering to skill development in the electric vehicles segment in Punjab. Tell us more about this.
We all know that Punjab is very good with automotive manufacturing. They also have an excellent market, where people want to try different things. So, keeping that innovative aspect in mind, we are trying to develop an advanced electric vehicle learning center. This will include electric vehicle powertrain design and fabrication, complete battery management systems and battery packing, and charging infrastructure and its technical aspects. Additionally, the center will also acquaint them with the entire design of a vehicle, how to make it lightweight, and much more.