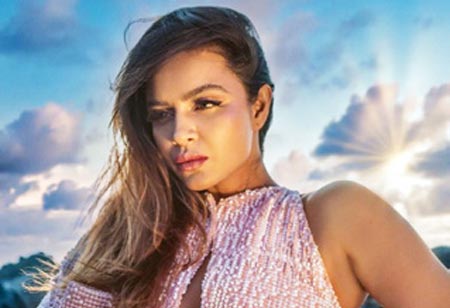 Aashka Gordia Goble, Actress and Co-founder, RENEE Cosmetics, 0
She has countless awards, both national and international and her industry experience has also earned her a juror in some of the top panels of the world, such as Emmys International, for the past 10 years.
The year 2020 has been a year of relooking, reinventing, and reimagining the normal and embracing the new normal. The same stands true for beauty trends and beauty routines- the absence of salons and spa services compelled us to experiment with our looks, explore new innovations and also reignite the love of good-old DIY beauty treatments.
People today are investing more time in taking care of their skin and adopting a healthy lifestyle. Digital markets have seen a surge like never before and consumers are choosing products and brands that are experimental. It is safe to say that 2021 might be the year where the beauty industry gets to see a personalized approach to everyday styling.
I'm excited to share my list of hottest beauty trends that we can expect from 2021:
Minimalism:
As the world learned to embrace months-long lockdown, they also unlearned the traditional norms of beauty.
Beauty routines today are focused on simplification through natural and effortless makeup looks. This includes ditching the foundation and opting for lighter coverage products for a radiant glow. If not natural, one can opt for a monochrome makeup look which is easy to pull off and yet looks flattering.
Less is more' is the new motto most makeup artists are swearing by.
Minimalistic makeup is helping their skin breathe, and move towards a sustainable form of living. People are opting for zero-waste makeup, that is both, eco-friendly and soft on the skin.
Skincare Will Take The Driver's Seat:
At home salons and spa show no signs of going away in 2021. With maskne and stress breakouts on the rise, people increasingly have started investing their time and money in good skincare routines. In-fact skincare became a form of self-care. With most of us keeping busy with work calls, a good skincare routine will not only give you a healthier appearance but will also boost your confidence while engaging in conversations.
Consumers today are curious about the ingredients that go into making their skincare products and are choosing good-quality, sustainable products above all. Companies are too experimenting with new technologies and ingredients to provide consumers the best skincare
experience. The global beauty market is predicted to rise to an estimated value of USD 166 billion dollars by the year 2026 and there's an increased push on constant innovations in skincare!
Eyes Will Speak Louder Than Words:
Eyes have always been doing a lot of talking but in the era of pandemic, their role is more relevant in defining your beauty looks than ever before.
Bright eyeshadows, bold eyeliners, and bushy eyebrows are all the rage this season and can instantly glam up any makeup look.
This is the time to amp up the classic eyeliner look and play with fun and bold colors to ease into the trend. The idea is to simply focus on one feature and tone everything else down.
Consumers today are curious about the ingredients that go into making their skincare products and are choosing good-quality, sustainable products above all
Curtain Bangs:
Hands up if you too were guilty of turning your own hairstylist in 2020! Whether we had the skill or not, the most striking haircut became the bangs and made it the 'cut' of the year.
This hairstyle is super low-maintenance and looks good on pretty much everyone, making it the goto haircut for 2021. From celebrities, influencers to friends, everyone was flaunting their curtain bangs on social media platforms, making the haircut super popular amongst women.
Apart from bangs, bobs and layers are slowly making their way into the trend and are something to look out for.
An Obsession With Hair Embellishments:
The styling mood for 2021 is casual, practical, easy yet chic. Keeping this in mind, hair embellishments is the trend that everyone seems excited about. Hair accessories like claw clips, embellished hairpins, and extra-large scrunchies can accentuate your hairstyle and will show up well on video calls. One can easily find these accessories online so START HOARDING!
Lip Balms For The Win!
While masks will keep your lips covered at all times, it is time we take a break from those dearly beloved lipsticks and invest in a good lip balm. It will not only keep your lips moisturized but also ensure that they don't flake underneath the mask.
The year 2021 will be a great time to invest in lip scrubs and masks and make them ready for the next lipstick season.
Lastly, the one good thing that came out of 2020 is that it changed the beauty trends for good. The upcoming will largely focus on beauty trends that are easy, practical, and do not require much time and effort.
But hey, this definitely does not mean that it's going to be boring. If anything, it will be fun, experimental, and super exciting.