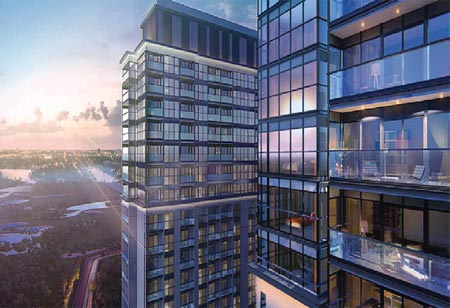 Francis Alfred, CEO and Managing Director, Sobha Realty, 0
Contributing through his designation, he has curated 17+ years' experience in the industry with excellent skills in master planning, project lifecycle, and design, and in parallel delivering every realty real-estate projects successfully.
The COVID-19 pandemic has brought about significant change to the way we live, work and interact. The pandemic has taught us to reconfigure and redesign our residences so we can work and learn from home, while making us value privacy and space.
The government's proactive efforts have helped make this transition to a "new normal" much easier for residents. This strongly complements the UAE's status as a safe haven forinvestors. The multiple visa programme, lower interest rates and increase in the loan-to-value (LTV) ratios means that for first-time property buyers it's much easier to take the plunge.
The rent values have appreciated due to higher demand and shortage of supply. Third-quarter figures from 2020 from the Dubai Land Department have underlined the buoyant prime residential market for investors. More than 2,297 apartments and 438 villas were transacted during Q3 in the Dubai prime residential market, marking a 24 per cent increase in the overall number of units sold quarter-on-quarter.
It is only correct to say that the UAE real estate market has transformed itself with the new normal. While oversupply concerns remain in the market, it is important to note that supply rates have dropped drastically across 2020, with around 32,500 units delivered last year compared to conservative initial forecasts of 49,000, says a report from Core UAE. So, the industry is undergoing something of a reset here.
There are many emerging trends in the market, showcasing how the real estate industry has adapted to the 'new normal' and transformed itself. We are seeing useable workspace in private homes, buildings and communities, advanced or smart technology (such as connectivity, automation, artificial intelligence), larger units with proportionate, useable outdoor space (such as balconies, terraces and gardens), and preference for lower-density properties.
This is a great time to buy property in the UAE. If you are a prospective house buyer, all things are going in your favour now. Low mortgage interest rates, higher LTV ratio, reduced service charges and attractive valuations make for a win-win situation. In fact, a recent homeowner's survey by Peninsula Real Estate indicates the outlook for residential real estate in the next 12 months is optimistic.
Following a period of job losses, salary cuts, uncertainty about job prospects and tightening of credit standards, which was seen adversely affecting demand for property, buying appetite is returning as there are some great deals available in the market and prices are affordable. Buyers can also take the advantage of developer incentives such as service fee waivers, free appliances, and others similar to this.
The availability of vaccines in the UAE also eases the market uncertainty and things are finally looking up for the sector.
First-time buyers must take advantage of the lower entry price points, attractive interest rates and the favourable LTV ratio, which was increased by five percentage points for first-time buyers, who now have to put up less cash as down payment. All these have improved affordability in the secondary sales mortgage market.
We have seen that despite the pandemic, there is an appetite for buyers to go for big-ticket units of Dh2 million and above in Dubai's property market. While we traditionally have a mix of international buyers and UAE residents, what is exciting is that we are now seeing an increase in the number of Emirati buyers who are looking for well-developed and strategically located homes that offer panoramic views and are close to the city's top attractions and shopping centres.
During the pandemic, initiatives such as the introduction of online property transfers from the Dubai Land Department, the UAE Central Bank's economic stimulus package and favourable payment options from developers have supported the market.
The government's proactive efforts have helped make this transition to a "new normal" much easier for residents
The UAE's real estate industry has registered improvements in the 2020 Global Real Estate Transparency Index (GRETI) by global property consultant and investment manager JLL. GRETI 2020 provides a reliable measure of real estate market transparency and is a useful indicator of a city's overall 'real estate investment health'. In this year's edition, the index reveals the increasing attractiveness of Dubai and Abu Dhabi as global investment hubs within the region.
Affordability within Dubai compared to similar global cities is valued by multiple experts as 'excellent' and it should also be noted that the UBS Global Real Estate Bubble Index marked Dubai as 'fair valued' compared to cities like New York, London and Paris.
Budget Expectations
The UAE real estate industry, like most other sectors, has been forced to reassess its plans for expansion and what we have seen is a delay and even postponement of some projects so that the oversupply could be controlled.
Now it seems the UAE real estate industry is slowly gaining momentum and industry analysts have slightly given more optimistic outlook for 2021. We are navigating the new normal and we anticipate more growth with Expo 2020 Dubai kicking off in October this year.
It is reassuring to see that the federal budget for 2021 continues to focus on both social and economic development, which includes expanding development plans and projects to raise living standards and provide a decent life for Emiratis and residents.
Landmark projects such as this entail strong fundamentals, profound strategic understanding of the real estate industry and an unwavering commitment to sound construction management – qualities that have become even more evident at the onset of the coronavirus pandemic. There is no doubt this unprecedented crisis has affected our operations in many ways, but our discipline and strong focus on our core values gave us the flexibility to overcome the initial barrage of challenges and bring our timelines back up to speed amid a "new normal".
We remain faithful to our mission and core values and that we will continue to proactively find innovative and meaningful solutions to evolving challenges in the industry.