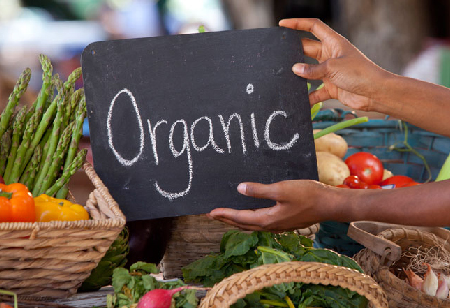 By 2026, the Indian organic food market will hit 553.87 million at a CAGR of 21 percent, according to PR Newswire, which explains why many are switching to a healthy diet. For, not only does organic food assure a healthy lifestyle, free from pesticides and fungicides, but they do reduce time in having to clean them. That's right, even rinsing rice consumes more time, not knowing whether it's that starch is excessive or that white polish is stubborn, with the second being most likely as the culprit here. Since there's a lot of adulteration taking place, fooling consumers into consuming food that's not grown naturally or having a lot of imposters confusing which ones are the actual grains and other food and which ones are not.
With a lot of consumers preferring organic foods, among others, farmers seem to realize the potential profits they could gain by switching from traditional farming to organic farming. But isn't traditional farming equally as healthy as traditional farming? Most likely, but as RS Sodhi, Managing Director, Gujarat Cooperative Milk Marketing Federation (GCMMF), puts it this way, "organic farming has a higher input cost in the form of bio fertilizers, etc., while natural farming has almost no input cost. Except this difference, both the methods are the same."
To encourage farmers into organic farming on a large-scale level, dairy food and major Amul is helping market products of farmers across many cooperative sectors. Many farmers from other cooperative sectors have switched to organic products, but they lack a marketing platform.
More power on that plan comes from Amit Shah, the Union Home Minister and Minister for Cooperation, who encouraged the dairy powerhouse to spearhead an initiative to build a marketing infrastructure for organic agro goods in the country and help farmers create wealth.
Amul will soon produce organic aata, rice, honey, chocolates, and potato goods in India's embryonic Rs.2,000-crore organic food industry.
Amul is Promising Organic Products, Haats, & a Green College
Amul will soon produce organic aata, rice, honey, chocolates, and potato goods in India's embryonic Rs.2,000-crore organic food industry. It also intends to establish a 'green college' in Anand to educate young farmers about organic and natural farming, as well as 'organic haats' throughout Gujarat to market and sell organic products. Amul will establish a green college in Anand in collaboration with the Tribhovandas Foundation, a philanthropic trust formed by Amul's founder chairman, Tribhovandas Patel. Amul is developing testing, distribution, and marketing infrastructure for both organic and natural farming products, according to Sodhi. GCMMF also wants to establish a laboratory to evaluate and certify organic products.
Sodhi distinguished between organic and natural farming, claiming that both systems were free of artificial fertilizers. "Organic food is considered elite. It is bought by urban working couples who belong to higher income groups and are health conscious. The common man in India does not buy organic. It is currently a fad. The aim of Amul is to democratize organic food and make it available for the common man. We want to people to trust our products," Sodhi said. Amul's decision to enter the organic food marketing segment comes after Shah challenged the dairy powerhouse to spearhead a drive to develop testing, distribution, and marketing infrastructure for organic products in the country during his visit to Anand in November 2021.
Amul will also establish 'organic haats' across Gujarat where producers can sell directly to consumers, as well as provide an e-commerce platform to existing organic players, he said. "We are designing courses about organic and natural farming that will be offered at this college. It will also include demonstration projects and later when they finish their training, we will link them with the markets," he added. According to Sodhi, organic farming is practiced on about 2.6 lakh acres in India, with Madhya Pradesh and Maharashtra accounting for 40 percent and 22 percent of the total area under organic farming, respectively, while Gujarat has only three percent. "The market of organic products in India is worth Rs.23,000 crore, of which the market for organic food is just Rs.2,000 crore, while products worth Rs.7,000 crore are exported. Most of it is soybean extracts worth Rs.4,000 crore," he added. Also, Amul is now planning to set up an infrastructure for organic testing, distributing, and marketing, and below is the future blueprint for the same.
An Infrastructure and Future Blueprint to Boost Organic Farming
Shah pointed out that Amul's 75th anniversary falls on the same day as India's 75th anniversary of independence. Amul, India's largest dairy cooperative, can broaden its scope and engage in emerging fields to repeat cooperative success in other areas, according to the Minister.
"There is a need to fast-track the adoption of organic products. It also needs more investment. I urge the management of Amul Federation to develop infrastructure for organic testing, distribution and marketing. They have a farmer connect on the ground and a network of the village. I know, Amul can do it," Shah said. "You bring a scheme and we will go to the Prime Minister and the government of India will also help in this," he said after inaugurating dairy projects of AmulFed Dairy in Gandhinagar.
After 25 years, we will celebrate the centenary year of India's Independence, and Amul will also celebrate its 100 years. What will be Amul's position then? I suggest preparing a blueprint for the next 25 years and expanding the horizons for cooperation and Amul in newer areas," Shah said, suggesting that it would multiply farmers' income as there is a huge demand for trusted certified organic food products worldwide. But what about Amul's diary dream? Well, that's also being looked into as new infrastructure is in place.
Long-Life and High-Density Storage Infrastructure for Dairy
Shah also inaugurated AmulFed Dairy's (a unit of Gujarat Cooperative Milk and Marketing Federation (GCMMF)) new milk powder factory, poly film manufacturing plant, and robotic storage facility in Gandhinagar, which cost a total of Rs.415 crore.
The robotic high-tech warehousing facility can store 50 lakh liters of long-life milk in carton packaging in high-density storage. AmulFed Dairy now has a 50 lakh liters per day (LLPD) milk handling capability, up from 35 LLPD. The milk powder facility has a daily production capacity of 150 tons (TPD). The plan enables the dairy to properly handle a larger quantity of milk fat, especially as milk procurement soars during the peak season.
Amul Federation aims to treble its annual turnover from Rs.53,000 crore to Rs.1 lakh crore by 2025, according to GCMMF Chairman Shamalbhai Patel, with additional investments and capacity expansion. The Gujarat Chief Minister described it as a major driver for women's empowerment, citing the fact that over 11 lakh women work in the cooperative dairy sector in the state. Amul Federation sources milk from 13 additional states in addition to Gujarat. It operates 87 dairy processing plants with a combined capacity of 390 LLPD.