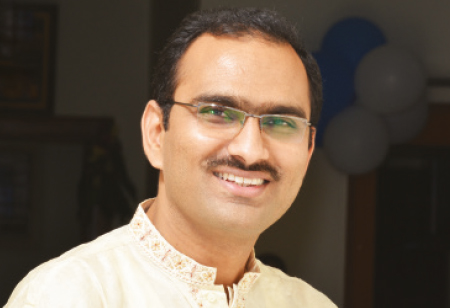 Sudheer Polavarapu, Vice President, Fluentgrid
Fluentgrid is an energy utility and city ICT solutions company which offers Energy & Utility Solutions, Smart City Solutions, and New Energy Solutions across different product lines such as Smart Utility, Smart Grid, and Smart City.
During mid-nineties, Product Management (PM) as a practice used to be followed at few leading consumer enterprises and fast-growing technology startups in Silicon Valley that too centered around people. Who knows what is it? Why is it needed? How does this optimize companies for success? The advent of agile manifesto / development methodology in early 2001 and its widespread adoption has eventually favored PM making inroads into B2B enterprises, primarily focusing on customer value proposition, product development, and stakeholders' enablement through customer collaboration. Before mid-nineties, marketing function used to be the voice of customer internally, and engineering used to handle the decisions for development where there is no one function responsible for decisions, activities, and interactions that shape product's business results throughout its lifecycle from the inception of an idea to product market fit validation to scaling.
Now PM is the most sought-after specialty in IT enterprises focusing on products and services and becoming critical to their success and sustainability. While more and more enterprises started implementing the function, thought of sharing few nuances, which I have come across, that can help CXOs to understand the function, and enable its smoother adoption.
What is Product Management?
It's nothing but a proven method for value management (productizing) within companies. This sometimes starts much before the companies themselves. A product manager is the orchestrator of this process, but everybody needs to be involved.
Nature of Product Management(PM)
Most often people get confused about PM function and have a variety of expectations, mostly because often the term is used in a variety of ways and the function touches virtually everything an enterprise does, from the inception of an idea to the management of products throughout their life cycle. When a company is new, usually its founders assume product responsibility. But as the company grows, members working in design, engineering, support, marketing, sales, services, business development and other roles start assuming the responsibility for different aspects of the product. These could be best from their perspectives, but not necessarily for all the product stakeholders. That's where product managers come-in, and their job is to cut across the organization structure and manage the business of its products so that all the stakeholders realize maximum value. That's why product managers are organization leaders, critical for creating the right product, building it right, marketing it right, selling it right, delivering it right and supporting it right, while keeping it in line with overarching company's strategy and goals.
Implementing B2B Product Management
Once you have decided to embark on a PM journey, Start designing explicit goals and strategy for the function with overarching company strategy. One should not use PM for solving short-term problems; instead focus should be on enabling the execution of the company strategy for future success. Be clear about your stand, while making product and business decisions. Market posture focuses on a segment of customers and Customer posture focus on individual customers. Many B2B enterprises consider a blended approach to be safe, but the bold ones take a clear stand.
Do not start PM without funds/resources for developing new products, maintaining products, extending & improving existing products or delivering customer-specific requests. Allocation of resources should be driven by your stand and investment objectives. This will continue to change as your business & products evolve. With PM, certain decision-making rights need to be changed and communicated clearly. Actual problem arises from differences in expectations from CEO, who is onboarding product managers, with others in the company, and failure to think through what PM should be held accountable for – release optimization, roadmap optimization, and product's business optimization.
Establishing a clear reporting structure for PM can make or break a product's success. Uncoordinated decisions cripple information flow, lack of accountability and slow
decision making truly suffer the product. Given its nature, PM designed to produce hundreds of decisions to support the overarching company's business strategy. However, they should focus on the issues that are central to implementing the strategy – new product development, new market entry, market penetration, and others. This focus should determine the reporting structure, and it will continue to change as company evolves.

" B2B PM is like a catalyst for enterprises indenting to transform into truly sustainable ones. But, should be adopted with intention and care, and give enough time to start showing the result"

Introduction of PM changes everyone's role & responsibilities with the company, including CEO. It's almost like bringing cultural change - saying no to ever-changing requirements, stop saying yes to every customer request, stopping CEO flying-in on occasion and resetting the developers' priorities, avoiding duplication of work and confrontations about product manager's work, and others. So, defining role and responsibilities for product managers should consider the company's strategy, and extend to the product team, executives, and CXOs.

PM to succeed companies require to adopt a clear set of processes that everyone in the organization understands & helps manage their expectations, focus on creativity, make accountability visible, coordinate with different groups, and align execution with strategy. For example, people who just jump at individual customers requests can leverage clearly understood processes to minimize external pressures. Using one process and facilitator for building new products, extending a product, developing customer requests, hot fixes and maintaining a product doesn't work.

Installing PM require solid buy-in and attention from senior management and CEO for its success. Implementation should not be left to product manager/s thinking he is the best to know. As it cuts across the organization and not all functions report to him, PM adoption will be slower with resistance for change. A typical implementation could have preparing the organization, introducing PM, installing tactical capability, installing strategic capability, and reinforcing product management phases and take 3 to 24 months depending on the organization. In the whole process, product managers must meet and talk to customers for better results.

Typically, companies consider product's revenue, growth, NPS, customer satisfaction, market share, and many other things to measure PM performance. While it is true to a certain extent, but it is difficult to bring-out the specific impact. Uncontrollable factors in the external environment, such as demand disruptions, price realization, resource supplies, and others, and internal issues, such as unmanageable technical debt, staff capacity & capability limits, siloed functions, and others can mask the performance. For better performance, companies should look at how they make and carry product decisions, and do the right things in a viable way, and have the right people in the right roles.

Skills Required for B2B Product Manager
A typical B2B product manager must dawn many roles/hats, such as business manager, product planner, product definer, experience developer, product builder, customer creator, value creator, facilitator, process master and team builder, while doing their day-to-day activities. The actual breadth & depth of the roles he/she performs would depend on the level of PM function planned to perform at their enterprise. For example, early adopters of PM may plan for release optimization, growing enterprises could focus on roadmap optimization and established enterprises could target product's business performance optimization.

So, deciding what skills are required could start with recognizing product managers' role at your enterprise, considering your products and the plan for adopting PM. However, product manager should have a core set of skills, such as market understanding, technology, business, product management and relationship management skills, which are typically honed over the course of their career. And B2B PM demands deeper technology skills, to earn respect from engineering teams, and soft skills: writing, articulation, presentation, communication, listening, time management, and negotiation, and personal traits: curiosity, empathy, trust, respect, focus, holistic thinking, problem solving, adaptability and leadership skills, which applied can be the difference between a success and failure of PM.

Conclusion
In its entirety, B2B PM harmonizes business vision with strategy & execution, long-term strategy with immediate execution plan, decision making with data and intuition, development with right technology, processes, and resources, success with feedback loops and innovation, sustainability with ongoing works and change initiatives. It's like a catalyst for enterprises indenting to transform into truly sustainable ones. But, should be adopted with intention and care, and give enough time to start showing the result. Once adopted, you are on a path to continuous success.