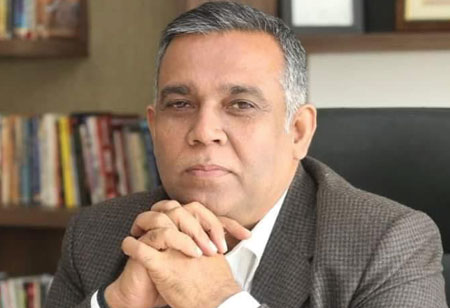 Rajesh Kumar Singh, Founder & MD, Kunwar's Global School, 0
A renowned social activist and true visionary, Rajesh has seamless vision to provide free access to education for all. He therefore provides free education to 25 percent of the total strength at Kunwar's Global School for students belonging to backward and under privileged strata of society.
Corona Virus has changed the life of each and every one, drastically. The change that it led to also occurred in a very short span of time, due to which everything. Including disseminating knowledge was forced to get online as the whole world had to be at home until the lockdown gets over. Studying in a traditional classroom, sadly, has now become a thing of past. So, how has education really changed? Well, it has changed completely! Everything is now on a digital platform and E-learning has become the new normal. Due to the deadly Corona virus crisis, India is witnessing a high scale in E-Learning. Almost every school, college and educational institution has resumed the learning and teaching process on online learning platforms. The shift from traditional to online education has changed the concept of education and knowledge sharing overnight. Therefore, digital learning has emerged to be an absolute necessity for the education industry.
Due to India's well preparedness with the extensive & robust 4G Network and affordable data virtually in every part of the country made the shift possible. The smartphone adoption has further helped in the acceleration of the adoption of this new learning infrastructure. It is only because of the digital technology with easy access to the internet, has given way to learning opportunities, digital classrooms, and access to highquality education, even in semi-urban and rural areas as well. Today, location, language, and financial resources are no longer a barrier to avail highquality education. It is the best time for India & the whole world to experiment with the digital technology and make delivery of knowledge seamless for learning. Overall, digital learning holds great scope in India and it may change the meaning of education forever.
For schools and other educational institutions, using innovative technology will enable excellent education that will be accessible to all. Schools have now evolved from the traditional model and have built a strong online infrastructure. Presently, the speed at which people are gaining knowledge has been growing constantly, and so are the needs of students. Such educational institutions need to invest more and more in technology and incorporate it in their day-to-day working. This will engage and help the students in better understanding and knowledge retention capability.
The quick shift from traditional learning to E-learning has been quite difficult and full of challenges for the schools, educational institutions and moreover for students and their parents. Balancing the needs of everyone is a difficult task.Institutions are also learning to get a strong hold of this learning mode. From conducting live lectures to uploading study material along with conducting examinations, the institutions are giving it all for the students to learn better.
The Pillars Around Which Technology And New Trends Will Advance Will Be Customized Learning, Engagement, Accessibility And User-Centric Learning
E-learning Trends to Follow
Being a source of innovation, EdTech always enhances education. During the pandemic, EdTech has not only transformed the traditional classroom learning experience but also has changed the way lectures are conducted. AI has played a great role in personalizing and enhancing education among students. It is also used to automate activities such as grading and giving feedback on the particularly those areas which need improvement. EdTech platforms use one more innovative technology that is cloud computing. Cloud computing has enabled the access to hightech education to everyone. EdTech platforms provides an anytime-anywhere access to information that is stored in remote cloud servers. It has now become easy for the students to experience advanced learning seamlessly. It has become one of the most important aspects of accelerating digital learning.
The key trend of digital learning includes the need for up-skilling courses with user-generated and curated content. This is in demand among the people who are learning and working remotely. This will help in determining the most effective content that matches the student's needs efficiently, resulting in a positive user engagement, and resulting in an optimum outcome. As and when the technology will develop, these new trends will develop. The pillars around which technology and new trends will advance will be customized learning, engagement, accessibility, and user centric learning.
India's education system is dynamic. The collaboration of India's education system with the modern technology can be a useful tool which can help in increasing efficiency and engagement among communities. Adopting the correct tools enables enhanced teaching, which will ultimately raise student's accomplishments. Hence, more and more educational institutions should digitize themselves, and get a good hold in the tech space soon before it is too late. In this way, they can definitely provide their students the kind of education that will enhance their vocational capabilities as well as the quality of cognitive. Educational institutions should look at technology partnerships as an important investment towards the future of their students. They should not compromise with the expansion and the quality of this area, as now it has become a necessity.