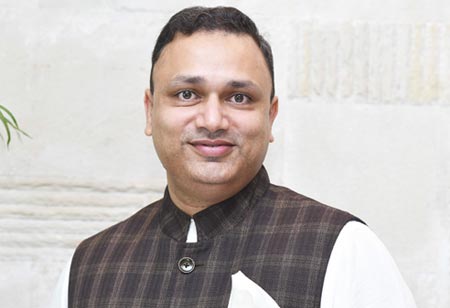 Sumit Srivastav, Partner & Leader - Intelligent Automation, PwC India, 0
Sumit specializes in robotics process automation, alternate lending, banking, IT product management, product implementation, relationship and alliance management, M&A due-diligence, program management and IT product incubation and strategy.
While the adoption of digital technologies is taking the center-stage in board-level agendas and discussions, digital skills are transforming the workforce dynamics too. Organizations are fast realizing the importance of investing in their people to harness the potential of their investments in technology. Digital upskilling is no longer a secondary consideration but is the new life skill for organizations.
The world is approaching a 'skills crisis' where organizations must tackle two seemingly contradictory problems at once. While obsolete skill sets are pushing people out of jobs at a faster pace than ever before, employers are simultaneously struggling to hire the right talent. Finding digital specialists from outside the organization is becoming increasingly difficult. The speed of disruption further exacerbates the problem. Incremental changes are no longer sufficient to bridge the talent gap. The need of the hour is a focused effort, aligned with the organization's objectives and driven strategically from the leadership.
The Cost Of Inaction Is Massive:
Organizations risk missing the digital wave in the absence of a workforce ready for the future. They will be unable to align their products and services with the modern-day customer, while also missing out on opportunities to bring in efficiencies. Furthermore, the time to act is now, because a digital divide is set to have long lasting effects that will compound over time. History is replete with instances of competitive advantages being nullified due to non-responsiveness to change. Human capital that does not evolve could very soon turn into a liability.
Upskilling is not only important from a business perspective, but also for retaining employees. As new career paths come into existence every day, employees want to be ready for the new era. In the wake of new roles such as digital ethicists and augmented reality artists gaining prominence, employees are cognizant of the transient nature of employability today. Lifelong employability has, therefore, become a key factor on which people rank the organizations they want to work for.
The ongoing pandemic has reinforced the need for digital skills as organizations understand how important resilient business models are. The remote working model has also become a blueprint for the long-term. With an ecosystem in place capable of producing and delivering digital content rapidly to a broad base of employees, it is
essential to leverage these tools to train effectively and efficiently.
How to turn this challenge into a lever for growth?
Up-Knowledge:
The first step is to build digital acumen across the organization. This can be done by segmenting the employee base and playing to the strengths of each segment. Not everyone has to become a digital specialist, but everyone should have a digital acumen and understand the implications of digital technologies in their lines of work.
Up-Skill:
It is necessary to have a clear pathway to new ways of working. Often too much training and retraining happens with no tangible outcomes. The problem persists when learning is not applied continuously. Upskilling programs should be designed to create long-lasting learning that creates a ripple effect of innovation everywhere. Employees should be able to understand the holistic picture and see digital working in reality instead of learning about it as a concept. The goal is not to have a 'digitally-literate' organization but a 'digitally-educated' one.
Transformation is more about getting the best of out of people and not just about implementing technology
Up-Perform:
Transformation is more about getting the best of out of people and not just about implementing technology. As change gathers momentum across the organization, people who understand and use this technology are its best proponents and can help such initiatives scale. Providing employees with the right opportunities by helping them acquire multiple skills increases happiness quotient and creates a work-life balance when they invest time in more meaningful activities. It also builds trust in the organization when employees witness the steps being taken to help them stay relevant.
How To Execute Digital Upskilling Well?
1. Ensure leadership buy-in and drive change from the top
2. Take a broad view of the organization's objectives to challenge the obvious
3. Encourage innovation instead of focusing on standard processes and procedures
4. Tailor learning journeys to align with employee skill sets and expected career paths, based on employee base segments
5. Balance the program's needs with current business operations to ensure sustainability
6. Use technology as a lever for increasing engagement and retention- such as using detailed simulation environments
7. Measure Impact and recalibrate 'Up-Knowledge' and 'Up-Skill', based on feedback from 'Up-Perform'
A Continuous Journey
Today's work environment is witnessing a higher churn rate of 'important' jobs than ever before. Relevant skills are short-lived, and upskilling is a perennial issue. Digital Upskilling is not a one-time investment to reach a level of digital skills that will last until perpetuity, but a journey of continuous improvement.