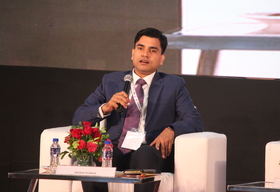 With 15 years of experience in Product Management, Corporate Strategy, Retail Business Management and Process Management in key financial sectors like stock broking services, third party distribution, commercial vehicle loan, secured & unsecured business loan, Neeraj specializes in product development and product strategies for MSME loans in micro segment.

As per estimates there is up to 10 percent penetration in exposure to financial market against an average of 90 percent in developed economies. This can be attributed to the weak financial literacy and lack of information on the products available in the market and risks associated to them.

There have been substantial developments in the current decade wherein a large set of data is now available in digital form from various government agencies like, Road Transport Authorities, Provident funds, Digital KYC, GST data, Pan Data, Credit behavioral data from various agencies like Credit Information Companies and others.

This has made easier for the technology firms to aggregate these data and provide the same as service to enable speedy decision through digital matrices. This will not only help in faster analysis of the customer behavior but also guide the customer through robotics, AI through technology. Over the period as more and more data is built up by these applications, more customized services can be developed with the help of self-learning and AI.
Over last few years, several developments have happened in the Fintech community to ensure the smooth flow of services. A smooth journey of customer onboarding and customer engagement onto platform is need of the hour. How smoothly customer interacts with the application and can perform the desired transactions seamlessly, would result into the success of the platform.

Customer service is the key to any product or services, a user would prefer a manual help instead of AI assisted help or reaching out to the service provider on mail and wait for response

As there are number of applications providing similar services, it becomes pertinent that the service levels are raised continuously, and value-added services and User experience is enhanced on daily basis.

Development of UI/UX for a platform is not one-time activity, but a continuous one. Key to achieve success is to first identify the target customers or target, would be customers by understanding country's demography, literacy parameters, preferences of the financial services. These parameters form key basic design of the product and development based on the target customers. Multiple solution for multiple customer segment would be very difficult to pick up and would not serve any purpose.

Over the last decade a lot of progress have been made due to increased data speed with lower costs, making the services easily accessible to customers through internet over phone and computers.
Social media apps like WhatsApp, Facebook have been able to penetrate geographically breaking the barriers of language and computer literacy. However, Fintechs have also been successful in reaching out to urban population of Tier-II/ Tier -III cities. Fintechs, to be successful must depend upon the banking penetration as functioning without banks would not be easily achievable. Government has been helping on banking services by offering licenses for payments bank and small finance banks.

Basic UI/UX features of an application cannot be successful by just replicating another product, Except for the actual customer, no one else can define the needs for them. It is important to continuously engage with the target customers and understand their need to define the UI/ UX for the segment.