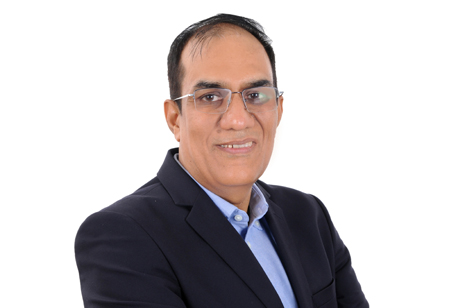 Girish Sethi, Business Head, SKH Sheet Metal Components Pvt. Limited, 0
Girish Sethi is an experienced leader with 14+ years of expertise in P&L management, Sourcing, Manufacturing, and Business Development across Automotive, Construction, Energy, Oil & Gas, and Machinery sectors. He is dedicated to personal and team growth and holds a post-graduation in Tool die and Mould design from Central Institute of Tool Design in 1993.

In an interaction with CEO Insights India Magazine, Girish provides valuable perspectives on emerging trends and innovative manufacturing approaches in the Indian automotive sector. He emphasizes the critical selection of suppliers to foster robust partnerships and highlights revolutionary technologies and process improvements that drive operational transformations.
How does the Indian motor vehicle manufacturing industry approach optimize plant operations for efficiency and productivity?
In India, companies follow diverse manufacturing principles, like lean manufacturing, Total Productive Maintenance (TPM), Toyota Production System, and Value Stream Mapping. These are interchangeably employed, with some organizations mixing various philosophies to boost efficiency and reduce waste. Waste denotes unproductive work, and inefficiencies are targeted by these Japanese philosophies. Flexibility is vital due to shifting demands and models. Automation, especially in robotics, addresses this, ensuring consistent quality, as seen in welding and painting. Industry 4.0 and IoT further enhance manufacturing with real-time monitoring, predictive maintenance and data analytics. ERP systems and tools like Power BI aid data analysis, essential for Industry 4.0's data influx. Energy efficiency is gaining traction, driven by ESG concerns, irrespective of its growing impact. ESG policies are becoming crucial, even for suppliers like us, influenced by global warming and environmental awareness. For instance, major German OEM demands phased ESG implementation from suppliers. Energy-wise, we're investing in rooftop solar, variable frequency drives, and waste reduction through reusable packaging.
What are the prevalent key performance indicators and financial metrics used to ensure cost control and profitability in manufacturing operations?
For manufacturing setups, key factors include cost of goods sold (COGS), which covers direct production expenses like materials and labor. Gross margin is crucial too, indicating profitability against service-based operations. Universally, habituating norms across regions, like monitoring COGS and gross margin, matters. With rising interest rates, focus on balance sheet metrics has grown, enhancing cash flow and inventory turnover. For us, shipping to Europe with a 2–3-month supply chain, inventory efficiency and visibility is pivotal.
In the auto sector, vital indicators encompass overall equipment efficiency (OEE), machine breakdowns, and zero-defect quality, aligning with zero PPM or defects. Monitoring poor quality costs gauges wastage in faulty components and subsequent warranty expenses. Maintenance downtime and machinery uptime are pivotal in industry 4.0 aids by introducing MTBR and MTBF measures. These metrics populate my operational dashboard, steering day-to-day decisions.
How is supplier relationship management structured within the Indian motor vehicle manufacturing industry to address raw material challenges and maintain strong partnerships?
Creating and developing suppliers is pivotal in automotive manufacturing. Car makers majorly assemble parts, relying on suppliers for about 90 percent of components. Suppliers aren't like restaurants, chosen and nurtured for quality. Selecting and on-boarding them is a critical supply chain task. Suppliers, even if smaller
than Original Equipment Manufacturers (OEMs), need guidance in processes, quality and systems. OEMs closely oversee production, packing and quality control, a process taking years. Willingness to align with OEMs is crucial; like a guru-shishya dynamic.
ESG (Environmental, Social and Governance) norms gain prominence globally in supplier selection. In mid-1990's world's largest furniture manufacturer IKEA was rocked by accusations of child labor, exemplifies this. Ethical standards, like human rights and gender equality, are pushed onto suppliers, impacting ratings. Compliance leads to higher business, non-compliance to lower. Long-term supplier relationships, as with Suzuki and Toyota, show stability in the automotive industry's intricate supplier network.
In the context of Indian manufacturing systems, how does collaboration with sales and marketing align with evolving customer demands and industry trends?
Sales and marketing's impact is minor as the focus is on product development and engineering, which are joined with business and marketing. OEMs now expect full-service support. Previously, they only provided manufacturing specifics; now, they want suppliers to design, make, and take full responsibility. This shift is big in India, extending to more categories. OEMs aim to avoid detailed design, relying on suppliers. Electronics in cars are outsourced; even seating design goes to suppliers. Localization grows in India's auto industry, with increased electrification. Design is crucial; in-house capabilities rise. China's COVID disruption pushes for alternatives like India with advanced R&D. While SE Asian countries excel in manufacturing, India leads in tech talent for design and development. Tier 2 supplier development gains importance; they link OEMs and Tier 1 suppliers. However, Tier 2's capabilities lag, impacting the supply chain.
Maintenance downtime and machinery uptime are pivotal in industry 4.0 aids by introducing MTBR and MTBF measures.
How are these manufacturing sectors assessing transformative technologies and process enhancements for operational revolution?
Electronics and advanced materials drive transformative tech, especially advanced materials, a trend amplified by EVs. High strength Steel is being increasingly used to lighten cars for better EV efficiency, and light weighting. Debates arise between Japanese high tensile steel and Western hot stamping processes. Aluminum's Indian debut is delayed due to cost and recycling. Luxury car features trickle down to mainstream models, demanding cost-efficient production. Collaboration blurs lines between automakers, IT, and electronics firms. India's edge over peers (Indonesia, Vietnam, Malaysia) is its skilled workforce, crucial for value chain ascent. Training in electronics and automation emerges as a top priority, bridging the skill gap. Amidst tech upgrades, workforce reskilling is pivotal for future progress.
What trends do you foresee shaping the future of motor vehicle manufacturing in India, and how do industry players position themselves for growth within these shifts?
Expanding the product lineup aims to reduce business risks, offering options for supplying allied sectors. For instance, if you're in automotive, electronics, or plastics, you can provide parts to medical, oil, and gas industries. If you're in metal machining, aerospace and defense becomes an avenue. Seek opportunities that complement multiple sectors. Another emerging trend is emphasizing R&D and design capabilities. This distinguishes the US and Europe; strong design and development in Germany set them apart. Similar success can be replicated in India. Digital manufacturing gains momentum with IoT and Industry 4.0. Integrated supply chains, like visible shipments, ensure real-time tracking from suppliers to customers, even in COVID disruptions. For instance, we ensure GPS-equipped transport for finished goods, tracking supplier and customer inventory. Everyone desires visibility during crises. Successful supply chain management relies on comprehensive visibility across all stages.