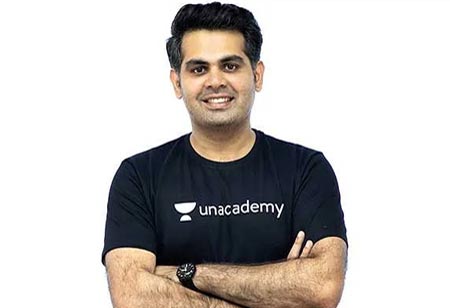 Karan Shroff, VP - Marketing, Unacademy, 0
Holding vast experience in the marketing industry, Karan has responsible handled all marketing responsibilities.
When it comes to marketing in today's time, having an in-depth understanding of your customer's behavior is of utmost importance. With so much data at their fingertips, it can be tough for any marketer to understand where to start from and what would be the best route for their brand campaign. Marketing campaigns are most effective when they're evidence-based and hence these days marketers are slowly moving away from traditional methods for mass promotion to targeted marketing with the help of data, including the integration of customer feedback into their product design.
Data is fodder for research and a catalyst for innovation and without it, any marketing decision taken is as good as guessing. Data-driven marketing not only leads to better business solutions but also, if used right, it can help drive innovation in the company. According to a report by McKinsey, better use of data could increase world income by $3 trillion each year in seven industries alone. Search engines, websites, electronic transactions, and other data-making tools generate cascades of information that data scientists can mine to understand the demographics, needs, wants, and preferences of entire markets. This enables marketers to better understand customer motives and behavior and also makes possible tailored, intelligent marketing and customized manufacturing (through data-enabled smart machines and 3D printing) that is hastening the decline of the one-size-fits-all era for many products and services.
The need for data-driven marketing is primarily driven by the evolution of what we call new-age customers. They are more knowledgeable and well aware of their needs than ever before. There is a significant rise in customer touchpoints across online and offline media, especially with the emergence of social media. Customers, now use multiple platforms to stay connected, which further made a way to word of mouth marketing slowly and steadily.
There is a wide range of marketing tools available that is enabling marketers to capture data at specific stages throughout the campaign thus helping them better understand their target audience and curate personalized experiences for them.
Data Driving Innovation in the Online Marketing Space
With heavy mobile users, the scope of innovation also increases. Marketers have been able to realize this need and leverage search data and browsing and purchase behavior through purchase history, location data and engagement trends. Tools like banner overlay, exit-intent overlay, web acquisition box are popular and effective for online marketing.
Similarly, social media marketing has become a popular platform for reaching out to the right target audience and interact when they are browsing their feeds. Facebook Ads and Lookalike targeting are two excellent tools to engage customers through leads ads, lookalike audiences, mobile advertising, push notifications and in-app messaging.
Customers, nowadays, are not satisfied with just personalized names or tags only but are looking for
specially-tailored content based on their needs. This thus arises a need for transformation from a drip campaign towards branching and delivering messages by triggering the main pain points of the customers.
For instance, an ed-tech platform, Unacademy, recently came up with a campaign, titled 'Let's Crack It'. The three TVCs were launched as a part of the first phase of the campaign. Through this campaign, the brand encourages students to prepare for challenging entrance exams without getting demotivated or disheartened. The main idea behind the campaign was to get the masses talking about how they have a chance to crack their exams with Unacademy. Being a multi-phased campaign on different platforms, the brand aims to reach their customers across markets.
The use of emerging technologies is said to define the future of data-driven marketing and will impact both digital advertising and customer acquisition space to a great extent
Data-driven Marketing with Emerging Technology
Data-driven marketing makes use of AI, automation, and machines to mechanize as well as scale up the delivery of communicating messages to target customers directly. This includes not only all the collected data on customer behavior but also using it for meaningful customer interactions. Organizations are constantly seeking meaningful data about their customers' buying patterns and loyalty behavior to score better in overall marketing management.
Big data has made its way into problem-solving for many areas like banking, fraud investigation, healthcare, prediction of climate change, retailing and many more. It is expected that organizations will have a clearer understanding of the differentiators with managing and leveraging ample data from various sources like mobile apps, CRM, social media, web analytics and so on.
Additionally, programmatic buying is another such tool that includes AI programs based on a few rules with a microsecond long auction format for advertisement space on the web. With the help of programmatic buying, computers or devices are faster with higher chances of accuracy than humans for such transactions. Marketing strategies involving programmatic buying is expected to yield higher conversion rates with lower acquisition costs in comparison to traditional buying.
Regardless of undergoing through a transition over the past few years, marketing is yet to get revolutionized by yet another disruptive technology, blockchain. Apart from AI and analytics, blockchain is expected to transform digital marketing at its core. It allows transactions between two parties with no need for thirdparty verification. Blockchain also ensures authentication and transparency thus helping create innovative marketing strategies.
The Future of Data-driven Marketing
The use of emerging technologies is said to define the future of data-driven marketing and will impact both digital advertising and customer acquisition space to a great extent. Technologies like blockchain, AR and VR, geo-location, virtual chatbots are expected to disrupt the digital marketing space with more customer involvement, thereby, being able to understand their minute-wise needs and provide them with desired services/products.
But while these emerging technologies will shape up the digital marketing space, brands need to be aware of certain aspects like creating a balance between privacy and personalization of customer engagements and uncovering deeper customer insights so as to come up with the best intriguing advertisements or campaigns.