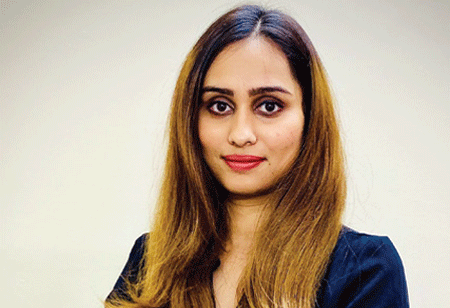 Meghna Agarwal, Delivery Manager, ATCS India, 0
Technology enthusiast with high-end skills in Big Data engineering and renowned in professional career for team management and solver of challenging technology tasks.
The rapid transformation from traditional to digital presents both obstacles and opportunities. Top IT services firms are optimistic about better growth in the coming years, owing to rising supply-side pressures and deals ramp-up. The pandemic's aftermath will offer a chance to evolve a range of social technologies, varying from remote working to large-scale monitoring systems. Most businesses have started embracing digital transformation, and cloud usage.
I assume that the leadership in providing guidance, empowering teams, and drawing parallels has expanded. Virtual meetings have become the new normal for coordinating the work-force. There is an immediate need for integrated communication tools to cater to various situations, as well as Result-oriented performance management at all levels.
With lots of new opportunities coming in it is important to reskill the resources. While working from home, there are many distractions and people tend to lose focus. One need to ensure that teams should be equipped to manage the loss of time due to poor infrastructure, especially in India, where slow internet, power failures or at times laptop crashing are common issues. On top of that no face to face interaction is another challenge to be focused at.
Companies should look into providing Internet, power backups to manage the infrastructure problems. On the other hand, conducting trainings on soft skills to manage customers, colleagues from a remote setup. The commutation time saved in these days can be a great opportunity to fill with these additional trainings.
Digital Transformation Wave
The adoption of digital transformation technologies is not new, but it can be difficult to cultivate a corporate culture in which leaders at all levels must align with what the transition is, why it is occurring, and how it can affect the organization and its clients. These are the secrets to make the best out of digital transformation ­
Customer happiness is another top priority, and digital platforms play an important role in this. Applications and digital devices can be used for direct advertisements, issue settlement, and other purposes.
Increased profitability and reduced prices will result in higher efficiency and revenue. As new technology advances, the company's technology and operations have become more efficient and error-free.
Companies must also consider the impact of several disruptions including electronic phones, digital jobs, the Internet of Things, etc.
While digital transformation offers considerable opportunities for improving business performance, it also introduces greater risk and security concerns. The
firms should proactively invest in the best compliance policies and solutions to avoid any data/security-related failures that could hinder the digital transformation phase.
Finally, if executives and management wish to keep their companies competitive, they must be willing to redistribute time, energy, and financial resources to digitally transform the landscape.
Role Of AI And Iot Technologies
Organizations are redefining their goals and investment objectives for the industry considering today's volatile and ever-changing competition scenario. There are lots of opportunities in different industries to leverage new gen technologies. Post pandemic, Companies providing customer services are facing challenges as more and more requests are coming in.
With so many people ordering food, submitting medical and insurance claims, subscribing to OTT platforms the need of automation and self-learning AI systems should increase. This will not only save efforts and cost but also provide fast and reliable solutions to customers. The data collected through these channels can further be used for various analysis and new products can be launched based on the recommendations by AI based models.
There are lots of opportunities in different industries to leverage new gen technologies. Post pandemic, companies providing customer services are facing challenges as more and more requests are coming in
Industry Verticals That Are Adopting More Technological Solutions
Across all business verticals, digital transformation is rapidly changing the traditional technology landscape. The progress of this technology is due to the increasing adoption of AI and IoT impacting the manufacturing industries, less skilled employees, government policies in the digitalization of the country. The largest share of AR/VR technology and adoption of IoT is attributed to the healthcare and wellness vertical, construction and manufacturing industries to enhance operational efficiency and for training purposes.
BFSI sector is also gaining a large share of the overall digital transformation market based on end-use business. The growing demand for advanced technology in the banking and financial services industry to improve customer loyalty, deliver customized financial services, and maintain steady growth in AI-based security processes is responsible for one of the largest shares of this category.
Skills For Upcoming Technological Advancements
It is essential that IT professionals not only develop skills to handle next-generation developments, but also develop skills to manage non-IT facets of technology. A professional must have good soft skills, knowledge about infrastructure along with core technical skills that can make him or her a valued asset to every business.
I will suggest expanding the horizons and learn more than required. To understand consumer behaviour, optimizing the machine, scale up and down, AI, ML, and data analytics have all become necessary; hardware troubleshooting is another key skill needed. Having field expertise and understanding of non-IT networks is critical to maintain consistency and longevity.