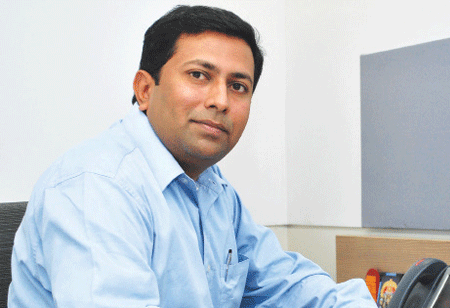 Shreeram Varahan, India Head - HR, Thomson Reuters
Shreeram is a global organisational change and business transformation leader with demonstrated success in building HR capability across matrixed teams trusted executive adviser with a proven ability to lead, coach, and influence at all levels
Recently I read an article where the CEO of a chip design major was talking about their next generation chip being ready for market. What caught my attention was the fact that their team in Bangalore had designed the chip. I thought this was amongst the most defining moments for the Indian IT industry delivering on the IT strategy. What distinguishes the technology in India is the fact that the country has seen a proliferation of companies that setup shop here and gradually helped build competence & capabilities across product and software life cycle.
The Indian technology industry today is experiencing a tectonic shift.
1.Shifting Economic Power: As one of the rapidly developing countries, India is no longer a cost arbitrage proposition. We have moved to become a talent proposition with a 'competitive advantage' for the enterprise by transforming into Centers of Excellence(CoE)just like other developed countries.
2.Demographic Shift: We are moving beyond a traditional labor pool with the rise of the gig economy, where talent does not only come from within the organization, but also provides a growing pool of self employed people resource. We are also seeing a multi generational talent pool emerging as the trends for upskilling across the changing age profiles of employees becoming more apparent and millennials spearheading changes in the workforce.
3.Technology Break throughs: The near future will have humans and machines complementing each other as emerging technological advances in Artificial Intelligence, Big Data, Cloud & Robotic Process Automation are gaining prominence. HR will need to develop strategies and tools for recruiting, training and managing the workforce for the changing dynamics,freeing them to focus on social skills and problem solving abilities.
How does Human Resources enable industry, organization and consumers respond to these megatrends and radical changes?
The answer lies in the four rights which, when implemented effectively and consistently will help businesses thrive in changing times and help deliver on the business strategy for the organization.
1. Right Structure:
Setting-up the right structure, one that is aligned to deliver business goals is the first step towards success.
a. HR plays a strategic role in moving to a leadership focused on growth i.e. getting CEO, CFO and CPO aligned to ensure HR has a seat at the table.
b. Once things are aligned on top, the focus should be on designing an organizational structure that is lean, agile and aligns with our customer segments. Organizations also need to consider co-locating talent for collaboration and where they can be close to the customers or to our centers of excellence. It is also important to get the span of control right at each level.
c. To ensure the most effective design, HR needs a commercial mindset and build from the perspective
of 'Outside In'. In addition, the next set of competencies that HR needs to focus develop strategic transformation, project management business and employee engagement skills.

2. Right Talent: Once the structure is in place finding agile talent is the next step.
a.HR should not only focus on finding people with the right skills, but also enhance efficiency & quality of talent acquisition by using technology. Creating a diverse workforce at all levels will be a key enabler for success.

b.Employee onboarding becomes a key factor in employee retention and technology should be used to drive the initial employee experience and make onboarding easier.

c.Embracing emerging technologies such as Artificial Intelligence, Big Data, Cloud, and RPA, not only will transform business models, but will also allow talent to move-up the value chain to drive customer value.

d.Reskilling using technology has brought learning to our laptops with on-demand training programs and tools replacing traditional classroom learnings and creating a framework for people to share their expertise. Promotions no longer follow the stair step approach. Hence, organizations should strive to create a career architecture and career paths for employees to move laterally.

3.Right Culture: The right talent needs the right culture, atmosphere and policies to deliver to their full potential.
a.Millennial talent pool has its own needs, demands and outlook on life. There is greater need for personalization of benefits or a better work life balance in lieu of a salary hike. Today companies are looking at focusing on well being initiatives to manage stress and mental health issues.

b.A culture of giving is gaining prominence amongst the workforce. Regular asks is 'what is the company doing to help society' or 'how inclusive is the company'. Corporate responsibility is becoming an important indicator. Surveys have clearly shown that employee retention rates are more in organizations with community service opportunities.

4. Right Feed forward: Data driven talent management and analytics driven development planning play key roles in providing the right feed forward to the employees. Capturing the inputs & insights from employees is essential in a dynamic work environment which requires dynamic decision making. Gone are the days when employee feedback was an annual ritual. We now need to take more realtime feedback from various quarters to understandthe pulse of the organization. Health Indicator surveys are becoming increasingly important tools, allowing leadership to listen to the voice of the employee to enable agile decision making.

Data is the new oil. The prevalence of data driven decisions requires companies to have consistent and transparent frameworks to assuage the privacy concerns of employees. Transparent & consistent communications between employees & leaders and HR are critical. Understanding the potential of these changes and what each might mean for them allows for forward planning, and leads to success.

While, HR as a function is helping organizations scale-up, the core role of the HR function is the people relationship nothing can replace a personal conversation over a cup of coffee. We need to find the right balance between data and people after all people are the true assets of any organization. Having the right touch points, providing ongoing opportunities for conversation, listening to what the workforce is saying, challenging them with work, innovative culture, holistic view of their work impact on the customer, helping them to understand the company direction and the value of the work they do and making the work environment creative and fun will always help the organization and employees flourish. People stay when there is a right culture, right management and right directions!