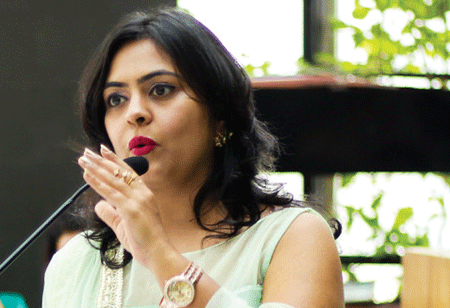 Ridhima Dua, Founder
The human brain is the most powerful & complex engine in the world, which influences a person's behaviour & attitude. There lies a great potential in each individual that is left untapped to the fullest. This is where Neuro Linguistic Programming (NLP) enters the picture with its capability to crack all the limiting beliefs one carries. By altering the human behaviour, it empowers one to develop new capabilities, face new challenges and seek solutions. iFlame Consulting, a Pune-based organization, has cemented its ability as a serious NLP practitioner & trainer with its prowess in bringing such incredible transformation in human behaviour that helps one to connect with one's innate power to achieve excellence at the emotional, mental, physical, social and intellectual levels.
Incepted by Ridhima Dua (Director & Head – Training, a certified NLP Master Practitioner and Trainer by NFNLP, US, ICF Credentials ACC), iFlame specializes in empowering corporates to utilize NLP tools & techniques in a very simple manner to understand human behaviours easily and apply them in reallife situations. Being the only Indian women trainer who has been trained by NLP Academy - John Grinder (Co-Creator NLP, Co-Creator New Code NLP), Michael Carroll and Carmen Bostic St. Clair. (Co-Creator of New Code NLP), Ridhima has unconsciously assimilated the knowledge and perception of these masters of masters. "It's a very specific work I do. It is to be experienced the way it is, not to be talked," explains Ridhima. She has built her forte in observing and calibrating micro muscle movements, deleting the old program and installing a new one with anchoring "Calibration and micro muscle system" a tool used by only a very few practitioners in India.
iFlame stands out even among the best NLP practitioners with the strong emphasis it lays on providing the personal attention one needs to achieve the transformation and handholding every individual participant until one achieves personal transformation to realize their goal. Even in the group setting of corporate training programs, everyone goes through pre coaching personal breakthrough session with Ridhima. "We don't simply forget about you after the two/four days program. We remain by your side and offer close postcoaching assistance in various formats until you achieve the results," affirms Ridhima.
iFlame ensures its participants' performance enhancement post coaching by constantly sending them relevant information like infographic, articles & audio on a weekly basis to keep them in touch with the topic like an alarm to the brain. The participants are given small tasks initially to create a neural pathway. iFlame measures their performance and accordingly keeps sending them tasks with increasing complexity.
Corporate Training Programs
Ridhima had always been inspired by the way people deliver speech, facilitate, teach, train and infact the way business news use to be delivered on CNBC in her early teens. Throughout her life she was always appreciated for these talents, be it co-hosting a school event or presenting an idea differently at college. Even during her decadelong corporate stints in the Business Development & International Banking roles, she was more inclined towards empowering, transforming & motivating people and finding out solutions. "Though unconsciously it was always inside her, my eyes were opened when I met Veenu Shivdasani, a Master NLP Trainer, who introduced me to the NLP world," divulges Ridhima.
In the corporate world, she has worked with leaders from diverse industries and has met people across 55 counties. This knowledge of cultural sensitivities enables her to adeptly conduct workshops around the different culture at corporate and one-on-one business & executive coaching for performance improvement to help them reach new heights of excellence professionally & personally, and build excellent rapport with peers, friends & family. She also facilitates CXOs as well as laterals worldwide to overcome mental health disorders like stress, anxiety, depression, panic attack, phobias, emotional pain (grief, guilt & others) and so forth without any medicine.
Ridhima is renowned for her proficiency in transforming specific micro muscles to cure problems akin to stammering, fumbling and shivering hands. "People carry problems like this in their body for decades and have been taking medicines for years. I work on techniques that bring in a very specific change by installing the anchors and calibrating micro muscle systems, rather than providing a general motivational training," proclaims Ridhima.
Its Applied NLP for corporate includes the verticals of customer centricity (helps to improve customer relationship, satisfaction and service), communication (improve communication with a deeper connect with internal team) and leadership (enhances leadership skills by focusing on using influencing & persuasive styles with application of NLP tools). It also offers a unique outbound program to change the belief systems within teams. It is designed to engage the team and enhance their potential using NLP application to achieve desired outcomes. Providing certification courses in NLP for trainers, iFlame focuses on their personal transformation and empowers them to train others independently.
Engaging Programs
iFlames' programs are highly intense and engaging with people experiencing various techniques back-to-back. "They experience every activity through their brain rather than getting explained about it verbally. The participants must become a child that performs a task by experiencing it in order to understand what it is. The activity will not be understood completely until it is done," she adjoins. Ridhima is blessed with different kinds of vocals that can be tuned to make the audience rolling on the floor laughing as well as get emotional & cry. The specific unconscious movements in her vocals help the audience immerse into the story she narrates and thus makes a great impact.
iFlame utilizes visual aids like pictures & infographics all over the conference room and plays different frequencies of music/sound to ensure that the brain taps into the unconscious level and catalyse the transformation. When people are in a confused state, we can tap into their brain's right side the creative mind, which opens up the unconscious state. "I ask people to stay in the confused state for some time. The confused state is an indication of a successful transformation," explains Ridhima. When companies request iFlame to revisit to gauge the post
coaching performance of their employees, Ridhima easily assesses their level of transformation by the way they would showcase nonverbal cues for example, the way they tilt their head, the way they change their physiology, change in tonality and their language pattern.
"To make people believe that the transformation can happen easily is a challenge," remarks Ridhima. Especially, corporate people are a tough nut to crack, as they always have their logical hat on. Ridhima recalls a case, where the client couldn't believe in her recovery even after 90 percent of her stammer has been cured. "The remaining ten percent depends on the patient's confidence and belief," adds Ridhima. Time is yet another constraint she grapples with corporate training programs. "I can't train you if you keep thinking about the meeting you have to attend post the session. Sure, some transformation would've happened. But the laterals would benefit more and achieve a long lasting transformation, if I had ten people and five hours, instead of 50 people and three hours," adds Ridhima.
iFlames' programs are highly intense and engaging with people experiencing various techniques back-to-back
Ridhima also practices NEW CODE NLP with corporate in trainings like Decision making and problem solving. "NEW Code NLP is all about the states at the unconscious level, which can be tapped to create solutions at the first access of brain and receive solutions which did not exist in your logical brain before. New Code NLP is also going to change the way we are using NLP and it will evolve in its own way in corporate and in personal lives," pointed Ridhima. Her transformational dream to make each training delivery at Corporate with NLP Lessons will help the companies to change the culture faster and adapt to the changing AI world. AI is going to stay a longer and NLP modalities are the life skills that each child, mother, and father should have to play any kind of role in corporate needs.
The Lofty Goal
Despite wrestling with cancer and a tough financial situation for 12 years, Ridhima's mother Late Meena Arora always had a contagious positive attitude and a dream of creating something big. Remaining close to her mother in doing household chores since she was 11 years old, Ridhima naturally imbibed her self-confidence. Bringing alive her dream, Ridhima's father- Gurmukh Arora agreed the decision of her wife to move the family to Pune and started a Punjabi Dhaba with their own utensils, which prospered greatly from 10 numbers to 100 in a week's time. The personal attention which my mother uses to give has been the key in business, connection matters, suggests Ridhima. Her mother's self assurance and father's never giveup attitude inspired Ridhima to start iFlame Consultants from nothingness in 2016.
"Her transformational dream to make each training delivery at Corporate with NLP Lessons will help the companies to change the culture faster and adapt to the changing AI world"
Today, Ridhima is striving to achieving a lofty goal of creating a cancer free world using NLP. At iFlame, a deeper transformation is at work, wherein Ridhima is working with cancer survivors to help them fight cancer using their brain patterns. Having interviewed three cancer survivors already, she intends to make it into a document for people who doubt that they could survive. "One of them is already out of his chemo & radiotherapy and is feeling better. I performed one technique and he was ready to take it, so I wouldn't take the full credit," says a humble Ridhima. Ridhima envisions empowering trainers across the country & worldwide to deliver her NLP techniques. She dreams of a medicine free world, where NLP would help people to empower themselves and balance their personal & professional lives easily.
Panel
Key Management
Ridhima Dua,
She is NLP Master Practitioner & Trainer, Key Note Speaker, Corporate Trainer, Leadership and Business Coach, growth catalyst and a passion builder, who loves to learn and create ways to enhance learning opportunities and guide people to reach their merits. She is a dynamic personality and a continual researcher upskilling learning principles and advancements in the field.
Awards & Recognitions:
•TiE Member, Pune
•Only Indian Women to High Pass Trainers Evaluation with NLP Academy – John Grinder, Michael Carroll and Carmen Bostic
•Only Indian Women to attend the International Coaching Certification with New Code NLP, NLP ACADEMY, 2018
•ACC Credentials, ICF
•Dale Carnegie Certified Trainer & IAO & BIRD Certified Behavioural & Soft Skills Trainer
•NFNLP Trainer, Master Practitioner
•Extensive work experience working with various trade offices and embassies (US, UK, Australia, Scandinavian, & Asia)
•Delivered 2000+ Man hours (Single-handedly) of training in the year 2018.
•Crossed 6000 hours in total for training and coaching-individuals, groups and Corporate
•Awarded by Aspiring She for Best Corporate Trainer 2018
•Awarded by WOW Business and Fashion for Best NLP Trainer 2018
•Felicitated by IEEE Women Council for Corporate Guidance and Training
•Felicitated by MIT World Peace University for awareness of EI and NLP
•Felicitated by IEEE and IIIT Allahabad for Youth Awareness and Corporate World
Services:
-Individual Coaching sessions for personal and professional growth (Globally)
-NLP Certification Programs (All Levels)
-Corporate Training Programs (Specialised in Behavioural programs globally)
-Managerial Upscale Behavioural Skills Program
-Leadership and Business Coaching (Globally)
-Offsite Training Programs
-Long term Interventions and Consulting (Globally)
Case Study
Ridhima was approached to help a four-year-old child who was unable to walk, as he couldn't apply the right pressure to put his heel on the ground. She de-installed & re-installed the anchors to transform the micro muscle system in his tilted feet with her therapy. Ridhima instructed her mother to repeat the same, observed his progress everyday via the video sent by his mother and provided further instructions. In more than a week, he was able to walk six steps without sticks. Having landed the installation of the anchor properly, she anticipates the number of steps to multiply gradually by repeating the same process, with the patience of Ridhima, the child and his mother.