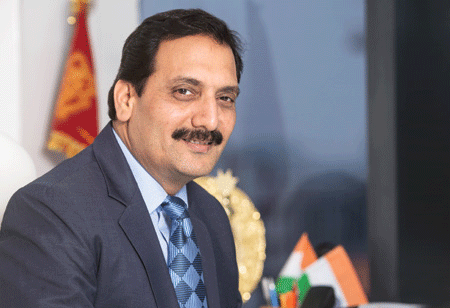 Devendra Vyas, Managing Director, Srei Equipment Finance , 0
With around two decades of experience in Infrastructure & Equipment financing, Devendra has been one of the premier thought leaders of the industry. He extends his expertise to industry bodies, and is also a member of ICAI Public Accounts Committee.
"If it appreciates, buy it. If it depreciates, lease it"- J. Paul Getty. Touted as the fastest growing economy, India faces a precarious situation with the GDP decelerating for the seventh quarter in a row. The GDP growth of 4.5 percent printed in the second quarter (July-September) of FY20 was the lowest since the 4.3 percent growth witnessed in Q4 of FY13. Slowing private consumption, weak consumer demand, and a flagging global environment are the key factors behind the slowdown, with impact felt across all Industries including auto, manufacturing, construction, real estate and FMCG.
By 2025, India aims to be a five trillion dollars economy. Stepping up private investment will be crucial to this. However, the economy today faces a unique problem the need for investment at a time when the banking system is under capitalized and is only able to offer a limited range of products. Today, SMEs the growth engine of the nation, face the challenge of insufficient collateral or credit history to access traditional bank finance. This results in a shortage of credit available to entrepreneurs.
In a time like this, leasing can play a big role in reviving investments. Across many developed and developing economies globally, leasing of equipment and real assets is a prominent source of private capital formation and contributor to GDP. For some of the developed nations globally, the equipment leasing as a percentage of private capital formation is as high as 40 percent. In India however, the leasing penetration is abysmally low at less than three percent.
Put simply, leasing splits ownership and user – ownership remains with the lessor, and use moves to the lessee. Leasing is based on the premise that profits are earned through the use of assets, rather than from their ownership. Leasing extends numerous advantages over other financing methods. Under leasing, the user is relieved from making any upfront capital investment, thereby allowing the user to enter a project at a lower cost of capital. Another important advantage of leasing is the elimination of risk of the equipment being obsolete
and outdated for the user.
Leasing increases the availability of capital, improves operational efficiency and, as a result, potentially contributes to wealth creation, and thus economic growth. More than economic growth, a leasing economy incentivises the manufacturer to focus on the equipment life cycle, rather than just selling the product. This has far reaching impact on the product durability and sustainability, and can lead to a circular and self-supporting economy.
Leasing increases the availability of capital, improves operational efficiency, and as a result, potentially contributes to wealth creation, and thus economic growth
Infrastructure Equipment Leasing
Worldwide, redoubling of investment in infrastructure is a key strategy to counter the impacts of a downturn as empirical evidence indicates that public investments precede any pickup in economic activity. The Indian government recognizes this, and as a result public spending is focussed much morethan ever before in infrastructure development. However, for a long time now, the infrastructure sector is being driven primarily by policy facilitation and push in public spending by the central government. The participation of private sector investments has remained tepid.
As per a CRISIL report, to sustain a GDP growth upwards of 7.5 percent over the next decade, India needs Rs. 23,500,000 crore of investments in infrastructure. This cannot be achieved without increased participation of the private sector. With most of the large contractors over leveraged, the ideal way for capital goods creation would be through leasing. In Infrastructure, the actual project implementation is undertaken by SMEs to whom the work gets subcontracted. These SMEs require high-value assets(like Earth moving equipment, Road equipment, Concrete equipment, Material Handling equipment.) and buying them would adversely impact their cash flows. Leasing can help these SMEs get access to these assets in a more cost effective manner.
It is important that both industry and policymakers realize the potential that leasing can have in economic wealth creation. Industry participants should promote leasing and educate small entrepreneurs of its utility. Leasing is very sensitive to taxation. Policymakers should focus on incentivizing creating a conducive taxation environment for leasing activities to prosper. Perhaps the best way to start would be to support NBFCs who have been for a long time now the only flag bearers championing this cause, in the absence of banks.