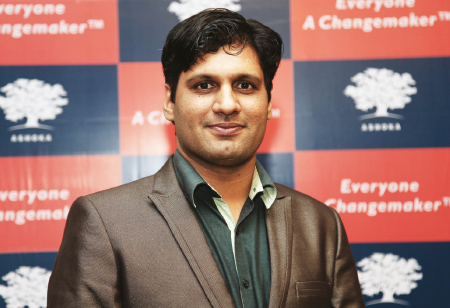 Yashveer Singh, Global Executive Director, Ashoka Young Changemakers, 0
An MBA graduate from the University of Oxford, Yashveer has been associated with Ashoka for over four years now, prior to which he has worked at Gram Vikas and National Stock Exchange, and even co-founded National Social Entrepreneurship Forum.
Leadership defines what the future should look like, aligns people with that vision, and inspires them to achieve shared objectives despite the obstacles. Leadership simply means empowering people to give and be their very best. It is an important component in the growth of social or business enterprises in any given society. That is why organizations constantly search for people with effective leadership potential. And once those individuals have been identified, organizations must work on honing their leadership skills through various methods. We must take the best from our traditions and our experience so that we can adapt to constantly changing circumstances. Leadership can exist at all levels of an institution or organization. It does not come from a job title, nor is it self appointed.
At its core, Management is about the 'how' of things whereas Leadership is about the 'why'. The trick is finding the perfect balance between the two. A starting point for any leader is to distinctly know who you are and what you believe in. Then, a leader must determine their leadership path. It is a human role, so this journey toward betterment as a leader is one of personal discovery, understanding, and evolvement. This journey should be able to adapt and mold to the changing environment. Leaders propel change, not for the sake of change itself but for the sake of preserving fundamental values. By not making irreversible investments in skills that inevitably become obsolete, leaders are able to grow continually.
With their varied experiences, leaders should be able to set the right course for everyone and develop the most effective plan, armed with data and analytics. Leadership is much more than just power or authority. It is about values experience analysis, and the discipline to change what needs to be changed. This includes the ability to identify what shapes your opinions, and avoid projecting them onto other people. It is imperative for leaders to have soft skills and emotional intelligence in order to navigate the interpersonal and human elements of their role. The strongest leaders are humble they are not in it for the title or the status.
Putting people first is essential to modern leadership. Strong leadership is about empowering others, treating your team members as equals, and recognizing that you have something to learn from each and every one of them. The role of the leader is to guide people, not command them. The best leaders lead by example, guiding others with their humility and dedication. The
trope of the infallible leader is outdated. The ability to be vulnerable and open with your team is not a sign of weakness anymore, but a sign of a true leader. Admitting to your own imperfections will earn you the trust and respect of those who report to you and those who you report to. Being an effective leader does not mean having all the answers. An effective leader finds the answers collectively with their team, even if it means stumbling every now and then.
Strong leadership is about empowering others, treating your team members as equals, and recognizing that you have something to learn from each and every one of them
Encouraging curiosity and learning will not just keep the people on your team enthused it will also lead to innovative ideas. As a leader, it is your role to create a space in which people feel safe to think outside the box and test new approaches. Encouraging calculated risk taking and helping everyone find the lessons to be learned, regardless of whether you win or lose, are essential tasks for the new leaders. These leaders must create a learning friendly environment by speaking in terms of hypotheses, rather than just certainties to increase performance. Putting people first is essential to modern leadership. The better you know your team members on a personal level, the better you will be able to guide them professionally and tap into their perspectives. It is imperative that the same collaborative relationship is built among all team members as to foster maximum productivity and happiness in your team. And remember that the happiness of your employees is inextricably linked to the happiness of your customers.
Prioritize people over profit. The future of work demands that we put people at the center of every organization by encouraging them to bring their whole selves to work. Make sure that everyone is receiving frequent and due recognition for their efforts. People are motivated when they feel their hard work serves a larger purpose; so take the time to demonstrate how their roles are important not only to the company, but also to the greater mission and goals of the company. Give individuals the assurance that it is perfectly human to fail and that you will work with them to remedy their mistakes. The best leaders guide and support their employees through problem solving rather than telling them what to do, even in the most critical moments. When it comes to taking credit for a job well done, make sure that the focus is on the team as a whole. Your team effort should shine along with your effective management. The success of the team is also the success of the leader and all the members of the team.
As a leader, you're only as strong as your team, so you want to develop that to the best of your ability. Part of this is helping them enhance their technical skills, but you also want to help them develop their soft skills and their confidence. Develop your own skills along the way so that you become a role model for your team. As John C Maxwell said- 'A leader is one who knows the way, goes the way and shows the way'. Leaders are not born overnight, but all great journeys begin with just one step.