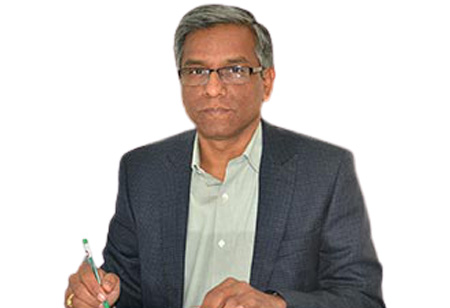 Dr. MS Ganesha Prasad, Dean, Professor & Head – Dept. of Mechanical Engineering, New Horizon College of Engineering, 0
A highly seasoned academician, Dr. Prasad loves teaching and is always eager to explain the latest technological advances in most of the engineering disciplines.
Women leaders in STEM (Science, Technology, Engineering & Mathematics field) are supposed to be competitive, with technical competency along with personnel qualities like better perseverance (like Zia Mody), in-built nurturing spirit (like Alice G. Vaidyan) and high confidence level she can become very good leader. In addition to these qualities for climbing the ladder in social circle, they should have better recognition. This can be achieved by the women through social contributions like service back to society (like Sudha Murthy). As we know that woman is backbone of our society, with her these qualities she can definitely make our society and nation proud. But she also take care of her professional career with maximum interest. She can do so, provided if she is opting right engineering branch for personnel interest. These personnel interest will take her to great heights in their professional career.
There are plenty of opportunities available for women engineers, to contribute in engineering sectors. But major observations noticed by good number of entrepreneurs, CEOs, philanthropist, leaders and managers are, very few women leaders progress in their professional career. This may be because to balance their work and family life. To keep moving continuously in their professional career, they should not choose any branch of engineering which may be demanding at given point of time. That is women employees should look for job profile which welcome back them after career break also they should select engineering branches which permits them to work and move vertically in their professional career.
They should not be biased by branch which comes with more prospects of landing a job soon after the completion of engineering programme, before jumping in to such jobs they should check the opportunities after the break in their career and progress in their engineering services.
Today, only 25 percent of Indian women are employed, the big question in front of us is, why women not part of our country's economic progress, According to the World Bank's 2017 India Development Report, India ranked 120 among 131 countries on female workforce participation. To bring them to front-line of Indian work force, we need to get the clarity of break in their professional career. In fields like technology, women on a career break can lose touch with industry trends and end up lacking the required skillset to make a successful return to work. Moreover, when these women are interrogated about their career break at job interviews, they lose confidence in their ability to pick up where they left off. On the other hand, mothers returning to work refuse challenging assignments for fear of not being able to balance work and home successfully.
To overcome such problems in the later stages of their professional careers, woman can also look into core engineering sector services. There are a few core engineering jobs that women engineers can take up, if they are interested.
Let us explore them.
Mechanical Engineering:
In this domain, jobs are in design, manufacturing, production, materials, maintenance and projects. In terms of numbers, manufacturing and maintenance jobs rank at the top. But women shun these jobs because the engagement with workmen is very high, the job involves physical activity or they have work in different shifts. Women engineers are found in jobs dealing with design, materials and production planning.
With present day engineering service skills like 'Product Life Cycle Management' (PLM) they can definitely do well in their professional career.
Civil Engineering:
Here, jobs are in project planning and execution, also in design and development. Project execution involves site visits, long commute to project sites, and interaction with workmen, which many women are not comfortable with. So, women civil engineers usually take up jobs that do not involve site visits, that is, in areas of design and development and project planning, lot of opportunities are available in this line.
Electronics and Electrical:
In this domain, core jobs are in design and development and in production. In India, only a few public sector companies have undertaken design and development which is why job opportunities are also very good in this domain. Most of the jobs in production are in assembly, where women find the work environment-friendly.
IT Sector:
At present most of the woman workforce is available in this segment. A large proportion of women tend to exit from the industry after the first five years of employment. Major issue with professional careers for women in this line is during the time of career break. Majority of women working in the industry are aged 30 years or below and are usually single. Decisions about continuity in their career will come into picture when they are balancing family and work.
While working women in India find highest levels of job satisfaction in PSUs measured at scale is seven, females engaged in BPO/KPO/IT enabled services sector are least satisfied from their current jobs that averaged to four on scale of ten
Opportunities for women in Public Sector Undertaking (PSUs) companies like National Thermal Power Corporation (NTPC), Oil and Natural Gas Corporation (ONGC), Steel Authority of India Limited (SAIL), Bharat Heavy Electricals Limited (BHEL), Indian Oil Corporation Limited (IOCL), Hindustan Petroleum Corporation Limited (HPCL), Coal India Limited (CIL) and others are plenty. With engineering degree, their quality of professional career is also very good. The procedure for getting into such PSUs is also very simple.
Recruitment in PSUs is done on the basis of short listing candidates based on GATE Score, followed by GD and PI. Candidates, who obtain qualifying marks in GATE, have to apply online on the respective website of the PSU. GATE score is valid for three years. Whereas direct recruitment to Group A level posts in Cabinet Secretariat is also done on the basis of GATE scores. There were total 27 PSUs that called GATE qualified candidates for direct interview every year. This year there are more than 1500 vacancies in PSUs including Cabinet Secretariat that will hire engineering graduates having valid GATE score. The number of vacancies are increasing every. The average salary package for GATE qualified candidates is more than 10 lakh which is definitely better than good number of MNC companies offering in the campus placement drive. If women candidate were part of these PSUs, then there are systematic procedures for break in their career. Women employees can work till they retire from the services.
While working women in India find highest levels of job satisfaction in public sector undertakings (PSUs) measured at scale is seven, females engaged in BPO/KPO/IT enabled services sector are least satisfied from their current jobs that averaged to four on scale of ten (Ref: industry body Assocham). If budding women engineers can understand the above discussions there are a lot of advantageous and opportunities waiting for women engineers in core sectors in different PSUs. To continue in the professional career job satisfaction is must. So future engineers can select the core branches which are more demanding as per the PSUs requirement and make their life comfortable, wishing all budding women engineers all success in their professional career.