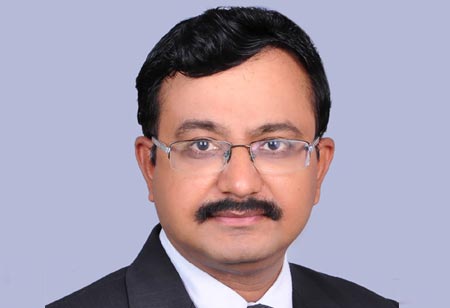 Shankar Krishnamoorthy, Co-Founder & CEO, Synergita, 0
Following the guidance of Shankar Krishnamoorthy, Synergita has achieved industry appreciation through awards by serving employee performance management to different businesses.
Aperfect work-life balance! The words sound sweet to everyone, but not everyone achieves it. Why people cannot achieve it? Because the notion is that a perfect work-life is working 8 hours a day and spending the rest of the time in the day with family and personal works. Does it work that way? No. A perfect work-life balance cannot be attained in a day, it happens over time. What is the use of working 8 hours a day and thinking about upcoming projects or pending works, when you are spending time with your family? That should not happen.
"Overworking Creates Stress and Even Your beloved ones will be in Stress"
Hard work is always appreciated. But there is a thin line of demarcation between hard work and overwork. Overwork impacts an employee negatively by creating anxiety and depression because of poor sleep and stress. A study by WHO reveals that the major cause of disability is depression. Depression and anxiety cost the US $1 Trillion in lost productivity. The employee who works fails to deliver quality work on-time and takes leave of absence often due to health problems.
On the other hand, employees who overwork find less time for their personal work and growth. Besides, they find less time to spend with family. They miss their kids' childhood, parents getting old, and the memories they could've created. Ellen Galinsky, president of the Families and Work Institute in New York, interviewed 600 parents and 1000 children and found that children rather than wishing for more parent time hoped that their parents would be less stressed from work. Thus, workrelated stress affects children too much than one realizes.
Focus only on life, not work is also an imbalance
Low productivity and not completing a task within the stipulated time are the results when employees spend less time at work. In these unpredictable times, employees are the frontline soldiers, who are supposed to invest time in work and plan strategies to ensure business continuity. If they do not arrange an office set up at home and work in a self-disciplined manner, the organization will incur heavy losses. Start-ups will find it harder to sustain. This behavior will also affect the employee's career progression.
Spending too much time with family and not worrying about one's own company work will lead to the failure of both company and self. When you are not innovative and adhere to the company's core values, the organization will lay off. You have to keep proving yourself through
your work and also effort in improving your skills.
Ways to Achieve a Perfect Work-Life Balance
1. Prioritize your work according to Eisenhower Method.
2. Urgent, important
3. Urgent, not important
4. Important, not urgent
5. Not urgent, not important
Prepare the to-do lists according to the Eisenhower method and decide the time when your focus and concentration would be high. Complete the urgent and important tasks during that time of the day and spend the rest of the time with your other works, be it personal or professional.
Complete the urgent and important tasks during that time of the day and spend the rest of the time with your other works, be it personal or professional
1. There would be times when you have to work the whole day. Work-life balance does not happen within a day. To spend time with family or to do personal chores, hurriedly completing work with no satisfaction leads to stress, leaving you with no joy in both personal and professional lives.
2. Take the time to complete the work. Allot time for your family, friends, and personal life some other day, where you have not so urgent tasks. Compensate the hours that you missed.
3. Set the work hours and complete the tasks and commitments within those hours. If you do not have fixed work hours, you will tend to overwork, and you will feel like having no personal time.
4. Plan for an entire week. The minutes you put into planning the schedule for the week are definitely valuable. The schedule should include your family time, work time, and personal care. Try your best to stick to the schedule as that will help you make a better person who fulfills all his/her responsibilities.
5. Set realistic goals for the day. Plan depending upon whether you will be able to achieve all the decided tasks in a day. Don't set unrealistic targets and stress yourself.
6. Take a break and stretch yourself. Eat lunch with your family, not looking at the monitor. Say a 'hi' to your family members and spend time for a few minutes during you break asking them about their hobbies or interests.
7. When you take a break, make sure to inform your clients and team. Or, you can also change your status to 'unavailable' in Skype or Microsoft Teams or drop a message in a common group.
8. When you have important meetings, inform your family not to disturb you or you can lock your room and take the call.
There are multiple ways to keep stress and depression away and maintain a work-life balance. Experiment and adopt a strategy that works miracles for you. Stay happy and safe.