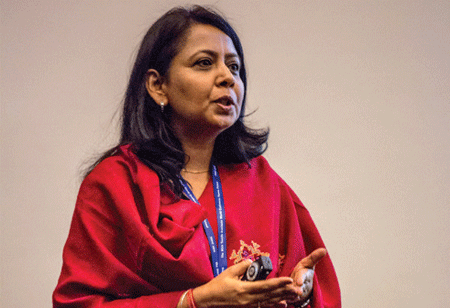 Prof. Archana Gandhi, PhD - Dept.of Fashion Technology, National Institute of Fashion Technology, New Delhi, 0
Renowned mentor for students in fashion research and consulting with experience in apparel design, fashion, and supply chain management.
India is the fourth largest producer of textile and sixth largest exporter of apparel globally and has the entire value chain from 'farm to fashion'. India is known throughout the world for manufacturing value added garments (sequins, bead work and other surface techniques) and has a talented pool of merchandising and design human resource. Because of these strengths, which lead us to believe that India can do much better as far as exports of apparel is concerned.
Like for many other countries, COVID 19 pandemic has been a challenge for Indian apparel exports as well, at the same time, it has opened new doors of opportunities. In the year 2020 India was one of the largest producer and exporter of Personal Protective Equipment (PPE) in the world. The capacities for PPE manufacturing were built in record time, which clearly displayed the capability of Indian apparel manufacturing industry.
The global personal protective equipment market size was valued at USD 77.36 billion in 2020 and is expected to grow at a compound annual growth rate (CAGR) of 7.3% from 2020 to 2028 and according to some estimates it is expected the market size will be USD 112.70 billion by 2028. India's apparel manufacturing industry can seize the opportunity to substantially increase it's current market share in meditech apparel and accessories which includes PPE overalls, masks etc.
An extension of meditech products would be smart garments. The market was valued US$ 1,143.09 million in 2019 and is expected to reach US$ 6,418.08 million by 2027; it is estimated to grow at a CAGR of 24.4% during 2020-2027. Smart clothes are designed and manufactured with the integration of smart technologies to offer different functionalities to them. The growing use of smart clothing and increasing investments in the same across the healthcare, military, sports, and defense industries can influence market growth over the coming years.
Garments which are integrated with technology of measuring vitals of the body (temperature, oxygen level), embedded with circuits to alert wearers to maintain social distancing, garments with anti-viral/anti-bacterial finish, are some examples of products which might almost become mandatory in the 'new normal' world.
The industry has to focus on diversification and come out of its over dependence on cotton based apparel and widen the product basket to include manmade fibre clothing. The gamut not only includes product diversification but also market diversification. Indian apparel exporters have been exporting to USA, EU for a
long time. It is time now to explore newer markets like Mexico, South Africa etc.
Another area of competitiveness of apparel exporting nations will be sustainability. Creating value by graduating to circular business model, new and innovative ways in which waste created within factories can be used to make new products, sourcing waste textile products and converting them into consumer friendly garments. Manufacturing recycled, upcycled products may not just require design capabilities but will also require new kinds of partnerships with fabric vendors, also with companies which specifically deal in recycling textiles.
The other main metabolism of sustainability is trimming of wastes in the garment manufacturing processes. Deploying lean manufacturing practices to reduce wastes and make processes more efficient and hence reducing the manufacturing footprint is something that companies will have to seriously focus on going forward. Social sustainability norms have been there in the industry for a long time now, COVID 19 safety protocols for workers are likely to be added to that list.
Factories will have to improvise the way people communicate with each other while maintaining social distancing, routinely monitor vitals of those in the factory and ensure that alerts are created in case there is a breach. Many software companies are developing sensor based wearables that measure the body temperature, alert workers standing/working too close to each other and contact trace others if anyone is infected with COVID 19. These wearables might become mandatory workwear in garment factories to control transmission of infection and overall safety of employees.
The industry has to focus on diversification and come out of its over dependence on cotton based apparel and widen the product basket to include manmade fibre clothing
Fierce retail competition in developed countries, omni-channel retailing to reach consumers through various routes has resulted in pressure to reduce lead times (from design to market) in the last few years. Supply Chain disruption caused by the Wuhan virus pandemic has further thrown timelines into a tizzy. When buying nations are in thick fog of the pandemic, supplying nations are opening up and vice versa. Due to this anomaly, many international apparel retailers are considering near- shoring options. Suppliers have to be resilient, responsive and agile more than ever before. Maximising internal capability and focussing on building efficiency could be the key to keeping pace with retail timelines.
While making sourcing decisions, apparel buyers balance costs, speed, capacity, quality and compliance. Technologies for 3D modelling and digital sampling, virtual showrooms, product lifecycle management and quality assurance and auditing are contributing to smarter, faster and more effective decisions, less fabric waste and a smaller carbon footprint.
Each apparel exporting organisation will have to chart its own course and a have a recipe for strengthening their niche in the near future.