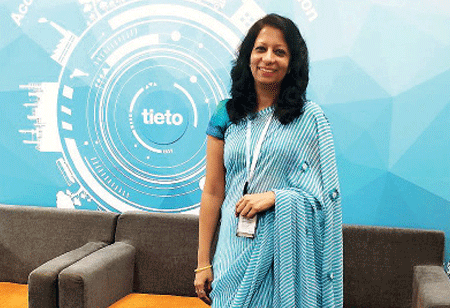 Awantika Bhardwaj, VP - Employee Success, Abzooba, 0
Awantika is a highly experienced Human Resources Professional with a demonstrated history of delivering fast services in the mid & large size Information Technology companies.
Don't just stand there, make something happen"- Lee Iacocca. Exactly this was my state when I completed my MBA in HR & Marketing from a very small town in India. I also wanted to make something happen in my life. The start was unsure as this was a year of recession and there was no campus placement drive happening in the college. Yet I took my first step. I started my career with a company in Delhi, which did not have any HR department. It was about reaching out to everyone in the office and telling them what HR means for them.
Today is different, I have spent 17 years in the industry and have worked for small and midsize IT, Automobile and Travel companies. As an HR, I stand today having worked on various consulting projects within the scope of the company and have lead assignments, which involved multiple locations. This was the most exciting part of the journey. Most difficult time was to manage work during recession's years.
When I look back today, I can clearly see that HR as a function has progressed and changed manifolds. As a young girl when I started my career HR was all about doing it all by yourself or max using a computer. Today I talk about complete automation and hence the changed paradigm of HR to the younger students in various Management institutes and Engineering colleges. In the past it was about satisfying your employees and today it is about giving the complete experience to the employee to keep them interested in your company.
What has changed in these 17 years is beyond what one can write in this article, yet the major shifts were in the form of technology such as the introduction of HRMS, complete automation of Appraisal or feedback systewm, learning on the go, online employee meetings, employees going all out in social media and expressing themselves, everything on Apps, Robots doing most of the monotonous tasks, fully automated workplaces(Banks & Hotels) and many more.
Now, the colleagues at the work place are also Robots.
Employees (Humans) wear chips on ID cards for better tracking mechanisms at the workplace and help organizations in efficient workplace utilization. Next generations no longer want to visit offices and also wish to keep multiple work options in hand. There is a lot happening in & around us. We HRs need to change! It is not easy to keep pace with the world as it is moving very fast and also multiple things are happening at the same time. One needs to be reading & updating oneself every day. Risk taking ability, in my opinion will be the most important skill for all professional (including HRs) in the times to come, as when more & more different things that we will try our lives will become better & easier. We will have more time to innovate and even do things which we always wanted to do.
HR Needs To Be Empathising With Others, Lead Others To Take Right Decisions And Advise Them To Continue To The Right Things
I am looking at automation as an opportunity, whereas I, HR, will not have to manually deal with data thus I will spend time analysing it noting the patterns and taking faster & easier decisions based on this Tsunami of data that I hold today. I will not have to read multiple documents to interpret numbers, but the robot would have already done it for me thus I will be able to focus more on spending quality time with those around me(my team, my family).
Amongst all these positives I feel that we have a great deal of responsibility. We HRs must acquire newer skills, be it in the field of analytics or technology, but also in enhancing the softer skills. This is with the view that when 90 percent of our monotonous jobs will become automated than the relevance of the person will be in the fact that how human you are. Robots can do it all and they will be our fierce competition, but what they will lack(for some more time to come) will be the emotions, leadership quality and decision making ability. We will need to be real in this area. Faking emotions will not help.
Human Resources function was always about connecting with others(candidates, employees, ex-employees, communities, colleges, and many more). I am happy that even with full automation in my field, this aspect of HR will not change. I will need to be empathising with others, lead others to take right decisions and advise them to continue to the right things. Interesting thing to see would be that how a robot colleague of mine will take that advice, if it will! My mantra is 'Keep moving and taking those steps these small steps add to something big in life!' I am doing that and will continue to do so in the new era ahead.