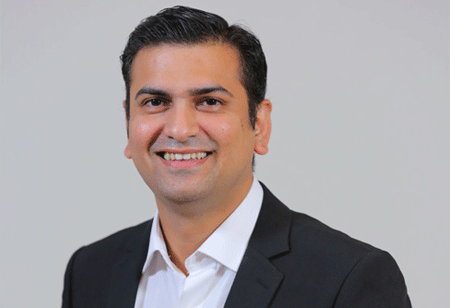 Ravi Saraogi, Co-Founder & President - Asia Pacific, Uniphore, 0
Ravi, Co-founder & President-APAC, leads Sales, Delivery and Customer Success for Uniphore. His passion for mobile learning applications and technologies found traction when Uniphore was founded. Ravi and Umesh envisioned building solutions that give more power to human speech.

He has vast experience in directing technology teams in initiatives spanning mobile theft security, wireless network development, and mobile learning applications. Ravi is currently an active member of the Mobile Payment Forum of India (MPFI), where he identifies and develops business opportunities in the field of mobile payments. He is known for his excellent analytic skills, dexterity in problem resolution, and proclivity for driving operational excellence. Ravi is an alumnus of Jaypee Institute of Information Technology.
Over the last 15 years or so, the concept of a customer care centre evoked visions of hundreds of human agents, sitting in proximity, attending to calls by reading-off a standard script in office cubicles. Long hold times and very little personalization was an often-expected outcome for customers calling in. For agents, it was the stress of conducting high volumes of calls in a short span of time. Switch to the last couple of years, and the scenario has evolved. Emerging technologies and automated solutions have radically enhanced the standards of customer service. Here are a few facts you probably did not know about today's contact centres.
Agents Can Work Remotely
Contact centres have always been thought of as a centralised place. According to GlobalData research, several legacy contact centres in the Asia Pacific region are not architected to cope with COVID-19 scenarios. In Asia, India and the Philippines are key call centre outsourcing destinations. As these regions faced varied restrictions due to COVID-19, contact centres continue to beheavily affected.
Thankfully, with an AI-powered platform such as Conversational Service Automation (CSA), businesses have managed to adhere to safe distancing requirements and support agents to operate remotely. CSA refers to an emerging category of technological solutions that combines conversational AI, robotic process automation (RPA), and workflow automation in a conversation-centric platform. This platform delivers on the promised future of a transformed contact center. With CSA, companies, and their contact centers can overcome the challenges of operating during COVID-19 and beyond.
Functioning as an intelligent assistant to the human agent, CSA helps create an integrated knowledge bank and guided workflows for agents. It blends the capabilities of humans and technology to achieve both automated human to machine conversations, as well as personalised conversations between customers and contact centre agents. This provides organisations with insights into customer and business needs, which were not accessible before. Employers can also monitor every interaction to assess compliance and quality.
Agents No Longer Use Scripts
Sticking to scripts leaves little room for personalisation. Customers call for varied reasons that may go beyond usual operations today. According to a recent Uniphore report, over 42 percent of the survey respondents reached-out to contact centres to resolve COVID-related issues around travel, employment, insurance, medical
and/or finance ­ issues that did not have scripts in place pre-covid.
The elimination of scripts will extend beyond the current pandemic. There is more empathy from the agent towards customers owing to the increased automation in the backend. CSA prioritizes and routes calls appropriately by recognising a caller's intent mood, and sentiment, thereby funnelling incoming calls. This way, agents are equipped with the latest background of a call and are able to better assist customers and provide a much personalised and improved service experience.
Evolved Beyond `Call Centres'
Contact centres have started moving beyond the omnichannel experience to becoming a hub for customer interactions. What used to be just phone-based interactions­ hence the term `call centre' ­ has now evolved to a whole variety of interaction channels. From email to instant messaging, video or social media, CSA integrates multiple touchpoints to offer customers one seamless experience. As a result, customers and businesses alike benefit from quick information transfers from one channel to another. This allows to achieve efficient and smooth customer service experience.
Contact Centres are at Work 24x7
Several contact centres do not follow normal business hours today ­ a trend that is largely driven by evolving customer demands. A customer can call anytime of the day or night to report a lost credit card, quickly check in on their bank account, and for various other reasons. Today, in an industry where businesses are faced with lack of manpower, a CSA platform first attempts to aid customers in resolving queries and hands over the interaction to a human agent only if necessary.
The platform is built to decode and analyse a customer's emotions and sentiments through their words, tone, and pitch of their voice. This allows the agents to empathetically converse with the customer. The platform automates post-call summaries to enable agents to focus on what they do best ­ solving customer queries. This in turn enables them to handle double the number of calls and save operational costs and time.
From email to instant messaging, video or social media, CSA integrates multiple touchpoints to offer customers one seamless experience
Contact Centres Generate More Data than You Know
The information collected by contact centres on daily basis forms valuable repository for organizations. Businesses can leverage this data to continuously learn and provide better customer service in the future. According to the above report by Uniphore, 74 percent of respondents cited that they would prefer if a contact centre agent has a background of their past interactions, while another 50 percent fully expect the agent to have some clue as to why they are calling.
Of course, tapping on this extreme scale of data in a span of one call would be an impossible task for a human agent, but not for a CSA platform. As `creative collaborators', the technology can identify relevant data to break into nuggets of comprehensible, digestible insights for the agent, all in real-time. Agents can receive tips and suggested next steps to improve their engagements with customers. This also helps with ongoing coaching and agent training at a very minimal cost.
Now You Know
As businesses and society work through the current realities and uncertainties, businesses should always strive to better understand customers and the challenges they face. In the current realities, customers are reaching-out to businesses in record numbers and they expect to be heard and empathised with. Contact centres are aware of this demand and have since evolved to cater to customers changing needs.