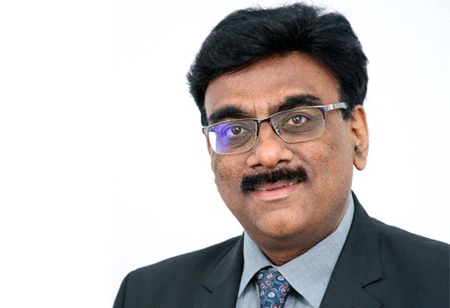 Anil Bhatia, Vice President & Managing Director - India, Emerson Automation Solutions, 0
Anil has been with Emerson for 14 years now, and has been at the forefront of the company's growth story so far.
This is the era of digital transformation, and industries around the world are going through an unprecedented metamorphosis. A phenomenon that has been changing nearly every business operation as we know it be it R&D or Sales, Human Resources or Marketing there are countless new trends defined by technology, and companies today are challenged with identifying which of these trends match their business operations and goals. But in order to stay relevant, companies must adapt.
Every digital transformation strategy begins at the core purpose of meeting customer needs. Helping them achieve top quartile performance across their operations using a combination of technology and people is the goal. However in the bid to transform, organizations tend to focus more on the technology that is being deployed more than on the reasons behind it. Surely, digital transformation is about technology but it doesn't stop there. In its entirety, it is about the processes organizational culture and the tools that are deployed along with technology to achieve success.
There are clear indicators to help evaluate whether your organization is moving towards top quartile performance. Within a manufacturing setup, look for the following indicators to assess your operations Decades of experience in helping businesses navigate digital transformation have revealed three key building blocks for success:
It all begins with business rationale. Reaping the benefits of digital transformation depend entirely on stringent planning around the business's strategy and objectives and successful adoption there after. Posing the question why should your business invest in technology and what
will it help achieve? is a key starting point. Top performers start this journey by linking strategy to enterprise objectives, developing a solid infrastructure and key competencies as well as identifying the barriers to adoption and/or implementation. A top quartile strategy then outlines the path forward of implementing technology to address these barriers.
To Ensure Success, Companies Must Revisit Hiring, Upskilling And Management Processes To Prepare & Inspire Their People To Be Agile And Future-Ready
Next is the process or framework. While every leader may have a framework in place to achieve business optimization and top quartile performance, the following have proved to be tremendously helpful Project Certainty and Operational Certainty. Project Certainty framework relies on the engagement of technology and automation during the earliest project stages to decouple supply dependencies allow concurrent work streams and complete projects on time and within budget. On the other hand, Operational Certainty is a consulting methodology to help businesses identify what challenges are preventing top quartile performance and to define a digital strategy which will address those challenges. The key objective here is to maximize shareholder value by reducing operating expenditure and improving availability.
Another important aspect to consider is organizational culture. There is no doubt that digital transformation will have a profound effect in the way an organization does its business which is bound to also impact the people and the culture. To ensure success, companies must revisit hiring, upskilling and management processes to prepare and inspire their people to be agile and future ready. Amidst transformation the workforce must be poised enough to not only handle changes that are underway, but also seize the best opportunities and address the toughest challenges seamlessly.
Today's companies and employees are well positioned to adapt to the rapidly transforming digital landscape and they stand to achieve success. Thus, attaining top quartile performance becomes a key objective of any CEO, and any digital transformation strategy has to be focussed around this objective and vision.