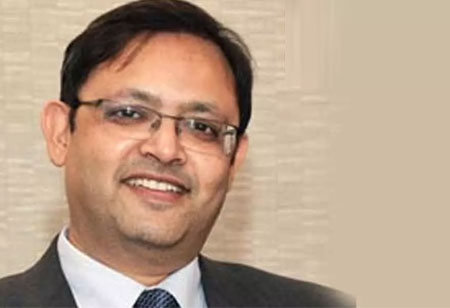 Alok Hada, Director, Anusha Technovision, 0
With 24 years of experience in the field of Lighting controls and Automation Alok's 'Automation' career started, post his recruitment from the campus by Lutron electronics US in the sales division in 1997.
What are the top trends in lighting this year? Experts from across the industry give us their predictions.
In the digital age we live in, automation is the key to reinventing a business. It paves the way towards connected living, and the idea of illuminating your abode with a little help from this new friend can go a long way. The global pandemic shook every possible sector and increased dependence on technology adoption. With plenty of learnings from the past year, 2022 will witness the rise of automation in every facet of business operation. In particular, light automation is increasingly adopting artificial intelligence (AI) and the internet of things (IoT) ecosystems and integrating them with appliances and devices to make life simpler and more convenient. Combining this with increased consumer awareness and availability of budget friendly automation products, conventional lighting systems are fast becoming redundant. This article unravels the top automation trends of 2022 and how people are looking to upgrade their living spaces to be more intuitive and sophisticated.
Smart Sensors
Smart sensors at the nucleus of any smart home make lighting systems intelligent. Take the example of energy efficient occupancy sensors and come with benefits like making life hassle free and steering away from any anxiety over leaving an appliance turned on. Similarly, daylight sensors used with dimmers help makes the most of natural light. Dimmers play a critical role in the same. While dimmable automated lighting has been around, 2022 will offer more choices for consumers in terms of style and technology. Fluorescent dimming will continue to gain popularity, and one is not restricted to choosing between the efficiency of fluorescent lighting and aesthetics.
One also can integrate motion sensors with outdoor lighting controls for better surveillance. These sensors send you security updates anywhere globally when used in sync with security cameras. Sustainable automated presets in lighting systems come with ease of use; plug and play illumination systems are trending and expected to grow in popularity. There is an option to integrate them with existing technologies in your home. With changing automation trends, there is a switch in decor styles too. Homeowners don't merely consider lighting as a functional aspect of a home ­ rather it is a design focal point by installing statement fixtures in their homes, as they emulate art. Smart sensors gravitate towards the same.
Home Theatre Systems
Through the pandemic, there was little or no access to movie theatres. As a result, customers turn to home theatre systems for quality time and emulate the feel of the larger screen at home. Automation enables the integration of various smart lighting controls and creates the ultimate smart home viewing experience. This can include ambient lighting motorised shades integrated with the projector screen and surround sound setup for a premium cinematic experience. The complete home theatre experience is incomplete without state-of-the-art amplifiers, acoustic screens, high end speakers etc.
Automation enables the integration of various smart lighting controls and creates the ultimate smart home viewing experience
Smart Home
Security While home security has always been paramount, the coming year brings cutting edge technology in security systems that infuse lighting with alarm controls and closed circuit video management into a single interface. Now going on vacation doesn't have to come with home security worries. When you head out on holiday, you can use timers and dimmers and schedule your lights to turn on or off at any time of the day. Doing this can help to create an illusion that your house is occupied and keeps intruders at bay.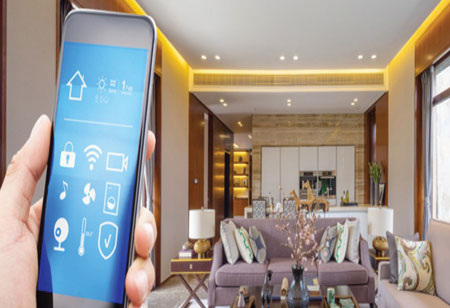 Flexible lighting
Flexible lighting has enabled one to open up a whole world of possibilities for elevated living. Technology upgrade in lighting concepts has made it possible to centrally configure the complete lighting system on automation, security, audiovisual and curtains/blinds, and motion sensors or daylight sensors. In addition, human centric lighting allows for a smooth shift in illumination from bright and utilitarian to sophisticated and relaxing at night. Smart controls are major game changers in the future of how we design lighting for our spaces with ever evolving trends in IoT and smart technology. Keeping up with changes in a rapidly evolving design world is vital. The home automation industry has seen patterns of change due to a shift in the consumer paradigm. More Indian homeowners are now opting for light automation, as it simplifies technology with the click of a button. Considering this augment of newer technologies, automation is also expected to become more affordable and easily available. Hence, lighting automation is emerging as the obvious choice for organisations and home owners looking for a futuristic approach to make spaces more accessible and convenient.