University of Agricultural Sciences, Raichur: Uplifting Indian Farming Community by Fostering Innovators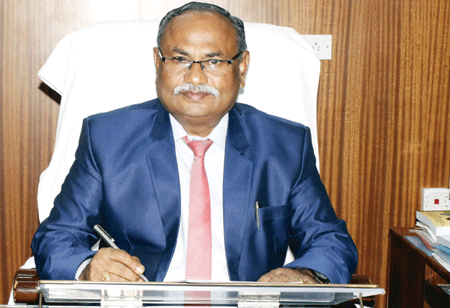 Dr. K.N. Kattimani, Vice-Chancellor, 0
Agriculture was the very fountainhead that sowed the seed of permanenet civilizations worldwide. No wonder, agricultural innovations have long been serving as the yardstick to gauge the progress of humans in a certain era or geography. In an era when farming is deemed as a science, an agriculture graduate plays a vital role in addressing the demand for food that's skyrocketing apace with ever-expanding population, whether he/she metamorphoses into an actual cultivator, entrepreneur, academician,researcher or an administrator at national level making policies. They can eradicate food poverty by innovating self-sustaining farming processes and soil sciences, as well as genetically modified crops. Agriculture being a significant contributor to greenhouse gas emissions, these professionals also shoulder the responsibility of reducing global warming.
The quality education these agriculture students receive will influence better research and the outcome of which will be carried-out for betterment of the farming community of India. Grasping the significance of this scenario, the premier institute in Kalyana-Karnataka region of Karnataka, the University of Agricultural Sciences, Raichur (UAS Raichur) is creating positive ripples with its mandate of conducting both basic & applied research that bridges the existing research gaps, developing novel crop diversification models together with integrated farming system to improve livelihood security.
"The predominance of small and fragmented land holdings is the major issue which needs to be addressed by assessing the economic viability of different alternative systems such as contract farming, integrated farming systems, promotion of farmers interest groups and so forth," remarks Dr. K. N. Kattimani, Vice-Chancellor, University of Agricultural Sciences, Raichur. The University came into existence on 2008 as the third Agricultural University in Karnataka through a Karnataka Act No. 10 of 2010 by the Governor of Karnataka and has started functioning independently from April 2009. Offering both UG & PG courses of Agricultural Allied Sciences, the University administers admission through either ICAR examination at national level or K-CET examination conducted by GoK.
What positions UAS Raichur at the higher end of the spectrum is the commendable qualification possessed by its research faculty. More than 90 percent of its faculty hold a Doctoral degree in their respective fields, and the rest are Post-Doctoral fellows (PDF) who have done their PDF research in renowned research institutes around the world, including University of LINCOLIN (UK), Magrahill University (Australia) and Massachusetts Research Institutes (US), among others. This expertise facilitates the university to carry-out outstanding research in line with the major research institutes of the world.
A Trailblazer Fostering Innovators
UAS Raichur is widely recognized as a trailblazer for releasing numerous high yielding varieties & hybrids in different crops over the years, many amongst which are popular at national level with consistent yield potential across years and seasons. In fact, the University has brought alive multiple inventions such as Groundnut variety Vijetha (R-2001-2); Greengram BGS-9; Sunflower varieties, namely RSFH-130 (Bhadra) and RSFV-901; Pigeonpea TS-3R; Paddy Gangavati Sona GGV-05-01; Linseed NL-115; Cotton RAHS-14; Tomato PTR-6; and Mango Khader New Chilli Hybrid JCH-42 & UARChH-42; Chickpea new variety GBM-2 since its inception in 2008.
As evidence to its innovations' success, look no further than the fact that the Transplanting method of Redgram & Pigeonpea, Direct Seeding of Rice, Use of Pulse Magic in Pulses, Nipping technology in redgram innovated by UAS Raichur have been adopted nationwide, whereas its Bt-cotton cultivation is widely adopted in the region and spread over to the pigeonpea & cotton growing regions in India. Likewise, the Integrated Pest Management strategies its scientists have developed in various crops have been very well adopted by the farming community of the region.
UAS Raichur has got several state-of-the-art-research laboratories such as Gama Radiation Unit, Laboratory for Climate Change Studies, Organic Farming Research Institute, Pesticide Residue and Food Quality Research Laboratory (NABL Accredited Laboratory with standards ISO/IEC 17025:2005), Centre for Nanotechnology and Laboratory for Post-harvest & value addition studies. These laboratories have churned-out some path-breaking technologies that are being adopted on a large scale such as e-SAP (electronic Solutions Against Agricultural Pests), Integrated Farming System for Rainfed & Irrigated Condition and Laser guided land leveling, to name a few.
A strong proponent of the power of collaboration, UAS Raichur has established MoUs with 22 organizations across the country, including Indian Council of Agricultural Research, New Delhi(Project on Management of Salt Affected Soils and use of Saline Water in Agriculture, Gangavati), IICPT, Thanjavur (Collaborative programme of Research, Training, Curriculum, Institutional Development, Information Dissemination and Exchange of Faculty, Students & Staff), Dow Agro Sciences India, Mumbai (Development of Talent and promoting Research & Development for Enhancing Crop Production) and GAAIA Technologies, Bangalore (e-Pest Surveillance), to name a few. The University also collaborates via MoUs with six international organizations, including Colorado State University, US and University of Saskatchewan, Saskatoon, Canada.
Striding into a Better Future
Operating with the mission of providing leadership in Teaching, Research and Extension in agriculture & allied sciences UAS Raichur has been striving to keep pace with new frontiers of science & contemporary challenges to be socially, economically and technically relevant. The University is committed to develop excellent manpower & useful technologies and their dissemination to the farming community of the state general and the University jurisdiction, in particular. UAS Raichur is en route to achieve this by further improving the learning outcomes of its students by establishing smart campuses, digitizing library with major research programme of the campus and establishing climate resilient study centre, e-SAP, food processing unit, nano technology centre and so on. However, its ultimate goal is a lofty one that entails uplifting the economy of Kalyana Karnataka region, and inturn, entire country's economy and our farmers' lives.
"We are passionate about deploying resource conservation technologies for the enhanced resource use efficiency & productivity via inter disciplinary problem
solving approaches as well as assessing anticipated climate change impacts, taking mitigation measures and developing technologies to overcome climate change policy," adjoins Dr. Kattimani. Not stopping there, UAS Raichur also lays immense importance in improving the regulatory framework on efficient use of natural resources, vulnerability to disaster and providing backward & forward linkages between public-private & market.
UAS Raichur aims to regularly monitor and evaluate the policy initiatives & programmes on agriculture for their efficiency and utility for sustainable development
Towards a Lofty Goal
Today's farmers tend to get information more through e-media and visits to the stations. UAS Raichur strongly believes that Universities should take-up the responsibility of providing such linkages for easy forward & backward flow of information between stakeholders and university. "Farmers should be provided services on soil health and recommendations based on it through e-solutions. Research Stations/ KVKs/AEECs shouldcater to the farmers' technological needs by arranging travel seminars, exchange of farmers to address capacity building on the regional-/agro-ecological-/crop-specific problems of the region. We endeavor to faciliate these by developing e-solutions keeping in view of the advancement of science for linking farmers with farm institutions," reveals Dr. Kattimani. The University also helps farmers to double their incomes via IFS, World Bank-aided NAIP, BARC, ICAR, DST, DBT, GOK, RKVY-GoI and other national & international agencies.
Furthermore, the University's research stations would remain as the future agriculture growth centers through facilitating education, conducting adoptive trails, testing technologies, assessing them and providing service (including seed, plant materials, information agro advisory services, market, intelligence & more) to seekers. UAS Raichur aims to regularly monitor and evaluate the policy initiatives & programmes on agriculture for their efficiency and utility for sustainable development, among others.
The University's future roadmap with respect to research revolves around genetic resource enhancement, breeding for specific biotic & abitioc stresses, breeding for climate change, breeding for quality improvement, biotechnology & bioinformatics tools, crop genomics for harnessing quantitative trait loci (QTLs), genomic resources & crop improvement, breeding of horticultural crops, diagnostics tools, natural resources management, organic agriculture, plant protection, farm mechanization agribusiness management and agricultural policy. UAS Raichur would also be vesting keen emphasis on the transfer of technologies through interlinking universities with farm clubs, farmers association, water users association, commodity groups and others by establishing community radio stations, and video conferencing through 4G & 5G technologies. With these pragmatic activities, UAS Raichur is taking great strides towards its vision of transforming Indian agriculture and conservation of bio-resources & environment by empowering human resources through agricultural education.
KEY MANAGEMENT:
Dr. K.N. Kattimani, Vice-Chancellor
Dr. Kattimani joined as the Vice Chancellor in the University of Agricultural Sciences Raichur, Karnataka on 17th October, 2018. Prior to this, he occupied various positions such as Dean (Horti.), Dean (Students' Welfare), Administrative Officer, and Registrar at the University of Horticultural Sciences, Bagalkot, Karnataka.
Dr. Kattimani obtained his Doctoral degree from ANGRAU, Hyderabad (Andra Pradesh) during 1999 with a brilliant academic record by bagging Gold Medal. He served for more than 35 years in different Agricultural/Horticultural Universities of Karnataka. He has developed several crop varieties and technologies on Medicinal and Aromatic Plants (MAP). He has published 128 Research papers, 07 Books, 20 Extension bulletins, 40 Extension articles, 35 Research reports and 65 Abstracts. He was pioneer in establishing M.Sc. (Horticulture) in Medicinal and Aromatic Plants Department at KRCCH, Arabhavi under UHS, Bagalkot and also a Founder Dean of College of Horticulture, Munirabad (Koppal district). He guided 15 M.Sc. (Horti.) and four Ph.D. students as a Chairman and 60 students as member of advisory committee.
Dr. Kattimani received UAS appreciation awards for Adhoc Projects worth of Rs. 168 lakhs, during 2004; Confederation of Horticulture Association of India (CHAI) has recognized him for his contribution in the field of Horticulture during 2013. He served as a member of Board of Management of UHS, Bagalkot during 2016-17 and Member Secretary for Board of Management of UHS Bagalkot during 2018. Considering his credentials and earnest contribution, his Excellency, the Governor of Karnataka, appointed him as the Vice Chancellor of UAS Raichur for a period of four years.
Location:
Raichur
Allied Institutions:
•Three Agricultural Colleges (College of Agriculture (Raichur, Kalaburagi and Bheemarayanagudi)
•One Agricultural Engineering College (Raichur)
•Seven Krishi Vigyan Kendras (ICAR-KVK at Bidar, Hagari, Kalaburagi, Gangavathi, Raddewadagi and Kawadimatti)
•Six Agricultural Extension Education Centre at Bheemarayanagudi, Lingasugur, Koppal, Hadagali, Deodurg & Nalavar.
•Four Diploma in Agriculture and Agricultural Engineering
•14 Research Stations (MARS - Raichur [est. 1932 & has a total area of 602 acres] ARS - Bellary [est. 1937 & has 192 acres] and ARS - Yadgir [est. 1981 & has 390 acres] among others)
•17 AICRPs
•Six Agricultural Extension Education Centres (Hadagali, Yadagir, Raichur, Koppal, Deodurga and Nalawar)
UAS Raichur in Spotlight
•Creating positive ripples with its mandate of conducting both basic & applied research that bridges the existing current research gaps, developing novel crop diversification models together with integrated farming system to improved livelihood security.
•More than 90 percent of its research faculty hold a Doctoral degree in their respective fields and the rest are Post-Doctoral fellows.
•Widely recognized as a trailblazer for releasing numerous high-yielding varieties & hybrids in different crops over the years, many amongst which are popular at national level with consistent yield potential across years & seasons.
•India-Today MDRA Survey places UAS Raichur at 28th position among Government Universities of the country for the year 2019-20.
•'The Best Institute in Agriculture' was the honour from corporate sector. The award was presented at the Taj Lands End Hotel, Mumbai on 12th February, 2020.