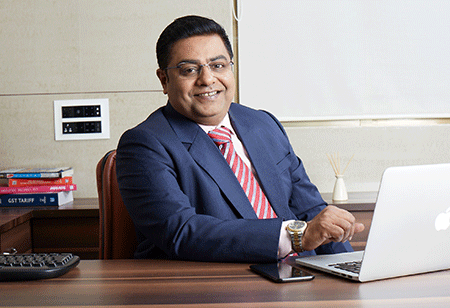 Dhiren Chheda, Director, Vinay Electricals Solutions, 0
With over 22 years of experience, Dhiren has profound knowledge in dealing with manufacturers, sellers and dealers in the industry. He specializes in IoT & Home Automation areas, and has even developed a home automation app VIBE, which enables users to control the switches, lighting, doorbell, and gas via WiFi and remote control.
IoT (Internet of Things) is one of the hot topics when it comes to digitalization and upsetting changes to traditional industries. Internet and automation have made our homes smarter, don't you think? When introduced in the industry, the big players in the home automation sector offered limited products, making them high end. Today in India, more brands are entering the market since the evolution of such advanced technologies. Keeping in mind the choices and cost options, the consumers now have a variety of products to choose from.
With the invention of technologies featuring IoT and AI, home automation has become a reality. One can manage several of their tasks with just a single command of verbal/touch instructions. These technologies can be used to build fully functional home automation systems and control smart home devices, including smart lights, air conditioning, and others.
While understanding how the devices operate can be a little complex, the main purpose of technology is to make life simpler and easier. Home automation seeks to be globally intelligent, functioning as a system that facilitates processes without unnecessarily complicating the user's life. Users can turn the lights on or off anytime, adjust the air conditioner to turn-on a few minutes before they get home, and so on. In inclusion to these prompt effects, control applications can also provide home information by generating detailed reports on materials that could be working better or spending less.
Today, many of us are familiar with the smart home basics due to the arrival of the Internet of Things (IoT) into many homes. The Smart Home is defined as a home system that is completely automated, and appliances can be controlled via a Wi-Fi connection remotely.
The future of home automation is waiting with a wide range of products to feed the pleasure of relaxation through technology.
Increased Security:
This is one of the important reasons why people opt for home automation systems. Information gathered from connected devices and motion sensors allows the system to understand when users are indoors and out, lock doors and gates, and various other aspects. Artificial intelligence can also be used to automate threat detection and alert us if something looks fishy, such as heat sensors and video cameras setting-off alarms and calling firefighters in the event of a fire. This type of technology can improve the efficiency of security systems and minimize false alarms.
It is critical to experience the benefits of home automation in order to understand its full potential and know which aspects will best improve one's daily life
Resource Saving:
Even though system installations can come at a high level investment, it can be costsaving in the long run due to the savings it can provide. Technologies such as thermostats and smart lighting connect to centralized control that can act on its own or be programmed to control energy consumption. Just as lighting and home security can be controlled by a single device, even the water bill can be impacted.
Make Life Smarter:
The capacity to automate constant house keeping can free time for more important things. For example, an internetconnected refrigerator can check for missing items and make purchases online. With smart devices, many home appliances can be remotely programmed that can work automatically or by your touch. One can be able to trigger almost everything through a smartphone. Still, most people who have experienced the life in an automated space will likely be uncomfortable returning to traditional systems. It is critical to experience the benefits of home automation in order to understand its full potential and know which aspects will best improve one's daily life.
No Limitations:
Apps are devised for almost any feature in your house such as door opening, water, lighting, and home stereos. You can even order the monthly grocery items through apps.
IoT will not only save money for us, but also make our lives comfortable. These are only some of the possibilities. We can only wait and see what these technologies will bring in the next few years.