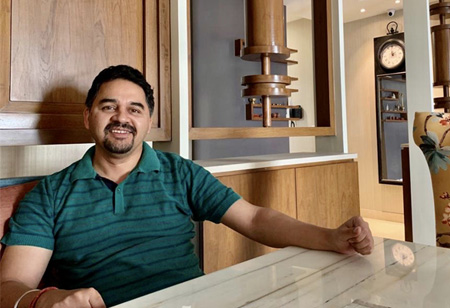 Madan Mewari, Senior Vice President, Birlasoft, 0
Holding nearly 27 years of experience in IT industry, Madan has played key roles in incubating and setting-up new practices around technology domains and leading products.
I read a quote somewhere - 'Little girls with dreams become women with vision'.
Few years back while vacationing in a small hill town, I got the opportunity to interact with an 8-10 years old girl whose father was the housekeeper of the small resort we stayed in. She looked at the cars parked outside and said - when I grow up, I want to have a big house and many cars. She added - I will buy a Red car for myself and will drive it on my own. I will focus on my studies and will go to college, work hard and become a doctor. She waited for few seconds and continued after thinking something - Will my father send me to big school and to college? Who will pay my fees? Whether there are any funds (scholarships) for girls…? She looked at me and then left with her father.
I remembered that little girl recently when I attended an inspiring session by a woman leader who is working for a large multinational company. In response to the question asked by a young girl on what has worked for her, she mentioned - raising hands for challenges, conviction, ability to take risks, hard work and prioritization. She also cautioned, don't try to act like a superwoman but build the support system around you that helps you to be successful in meeting your aspirations. Session was very motivating for young women attendees who are aspiring to become leaders as they found a role model in her.
Not sure where that little girl is now, whether she was able to follow her dreams (big house and many cars), her aspirations (owning the Red car and driving it herself) and the plan she had (study, work hard and become a doctor) or was burdened by external factors like lack of support from family, poor infrastructure, limited government support to continue her studies etc.
Even after reaching their organizations, many women employees need to put in extra effort to be seen at par with their male colleagues. They are required to continuously prove themselves on both - family and professional front. After all the education and years of experience working with women colleagues, we still have people with big 'male-ego', who are not willing to accept women as peers leave apart accepting them as managers and leaders. I remember an incident when one of the senior managers in my team approached me and asked for changing his manager because he didn't want to report to 'her' and was uncomfortable in telling his family and friends that his boss is a woman!
In my corporate life of about 27 years, I have worked with number of women employees as peers and also had the opportunity to work under women leaders that exposed me to the pressure and challenges they faced in order to be successful and respected as leaders. Most of the women I worked with, have been excellent in multi-tasking (seems to be a natural skill for them!), managing pressure situations, coming up with alternative solutions and capacity for empathy.
In India, every year we get to hear and read that girls have outscored boys in school examinations. What happens to these bright girls once they get into the corporate world or for that matter in any organization? Why is society not able to support them in their journey towards their aspirations? They need support not only from their male colleagues but also from female colleagues. Most importantly they must challenge themselves and off course others!
Last month I was talking to a group of women employees to know about their views on challenges and opportunities for them to grow as leaders. Almost everyone said that there is a need for mentors who could help them navigate the path; some of them already having mentors felt more confident to run with their aspirations than others. Many of them raised the need for support during important phases of the life e.g. maternity period and raising the young child. Organizations must have policies and processes to cover flexibility to work from home, limited hours or choosing the work hours, temporarily changing the roles for work life balance.
Most of the women I worked with, have been excellent in multi-tasking, managing pressure situations, coming up with alternative solutions and capacity for empathy
Over last couple of years, acceptance of women leaders has certainly gone up globally but there is a long way to go. Governments and corporates are working towards promoting the culture of equality and we are seeing examples and success stories around us. Many organizations are working on improving the diversity ratio, a major part of which is gender diversity, but along with critical parameters like top-line and bottom-line, organizations need to start measuring themselves on the improvement in diversity ratio as well. Along with the corporates, government and non-government social organizations must focus right from grassroot level on enabling the 'little girls' to freely dream, aspire and plan their future.
'Women must not accept; she must challenge. She must not be awed by that which has been built around her; she must reverence that women in her which struggles for expression'. - Margaret Sanger