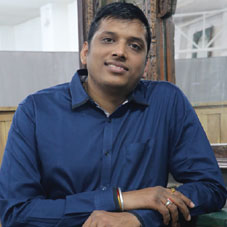 With the changes in lifestyles and mindsets, it's no surprise that more and more people are yearning for a sense of comfort, time lessness, or even a touch of nostalgia in their homes. We are witnessing people reverting to their ancestral roots with the desire to bring back some popular vintage designs to their furniture. Aayush Kothari, Founder, Woodsala is one of the very few leaders in the furniture industry who is able to bring to the market the most significant design trends inspired by decades past and honour Indian roots with the incorporation of antique pieces.
Aayush has been exposed to the world of woodworking since the age of eight when his uncle and father ran an export business of furniture. It is from that age he learned every nook & cranny of leading a business. Leveraging those early learnings from his childhood, he decided to establish Woodsala as an initiative to bring back traditional wood carvings and blend them with modern designs to create products that are made of completely solid wood. Under his leadership, the brand has been able to create a vast product portfolio where every product is unique in its own way. "The company's first and foremost priority while designing any product is to achieve something that feels classic and rich and at the same time be relatable to the contemporary trends", says Aayush.
Aayush's authentic design elements have given new life and a modern twist to today's furniture manufacturing, making them popular all over India. Below is an excerpt of CEO Insights' exclusive interview with him
Define Woodsala as an organization and what are the impacts delivered through your offerings?
We are a manufacturing firm headquartered in Jodhpur, Rajasthan, producing modern yet antique wooden furniture. We work very closely with traditional craftsmen who pay intricate attention to the quality of products. Our passion for woodworking allows us to offer the best craftsmanship creating durable, affordable, and elegant household interiors. Furniture with traditional designs is rarely available in the market, and even if they do, they are out of common people's reach. But what makes Woodsala different is our capability to create and offer old popular designs at an affordable price to our customers. Leveraging our years of woodworking experience, we offer a variety of products with an extensive range of customization options. We are 100 percent transparent and honest with our customers about our products and that is indeed the USP of our brand.
We believe in the concept of handcrafted & personal touch in our product leveraging which we enhance our offering and the quality of our products
Furthermore, we position ourselves uniquely in the market because of our handcrafted products. Our focus is to improve our products & services on a daily basis while learning from our everyday experiences. We believe in the concept of handcrafted & personal touch in our product leveraging which we enhance our offering and the quality of our products.
How is the team built? What methodologies do you follow to lead your craftsmen?
Our team is built with experienced craftsmen from various regions of India who have a passion for creating authentic designs and providing people with the best household solutions in a very traditional way. My designers are skilled in a way that they are able to mimic the most popular vintage designs, combining them with the latest style and creating something that is one of a kind. I also hire people who are willing to contribute
to the success of the brand and bring ideas that accelerate its profitability and reputation. I often indulge in communicating my vision, boosting the productivity of my people, and lifting their morale through effective coaching, cooperation, counseling, and correction. We have three-level checking for all our products. Every team member of every department of Woodsala understands the quality standards required for the manufacturing of products. We pay full attention to the feedback of the customers and try our best to serve them with our unique capabilities.

Moreover, I also believe, my leadership ability as a founder enables me to overcome difficult problems and take advantage of market opportunities. These skills are perhaps the most important factor determining the success of my business.

What is the future destination you are heading towards?
We want to solidify our hold on the E-commerce market and make Woodsala a household name by revamping our business structure and online retail operations. In the coming years, we are planning to open five more showrooms in India and also embark on an international journey with our brand.

What is your advice to budding entrepre neurs in this domain?
Customer trust is the foundation of every successful business and I believe, transparency is the key to creating that trust. This will enable every business leader to deliver better experiences, increase loyalty, and retain more customers. Also, serving the best quality product is essential for building business growth. In my experience, I have witnessed that customers tend to develop a higher level of appreciation and trust for businesses that serve them well.

Aayush Kothari, Founder, Woodsala
Having a rich experience in woodworking and business development, Aayush is making customized, intricate and affordable household furnishing available to customers giving them the best buying experience they deserve,

QUICK FACTS
•Favorite Cuisine: Rasam Rice
•Favorite Book: The Monk Who Sold His Ferrari