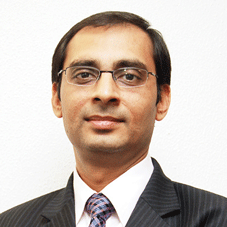 A first time entrepreneur, Pradeep holds years of industry experience, while his professional stint started with a family-owned textile business. Later his love for finance was all that transmuted his journey to being a finance wizard helping clients from across the segment to fulfil their finance needs.
Jon Bon Jovi, an American singer song writer, and actor, once said, "Don't get too comfortable with who you are at any given time you may miss the opportunity to become who you want to be".When Anand Rathi (Founder & Chairman, Anand Rathi Group) and Pradeep Gupta (Co-Founder & Vice Chairman, Anand Rathi Group) decided to break out of their comfort zone and create something beautiful, they gave birth to one of India's leading full services financial services firm. Today, the company serves almost every segment of investors and maps their requirements & objectives to the products & services the group provides.
Serving from retail, HNI, Ultra HNI to Institution clientele through its array of products & services such as equity, commodity, currency, derivatives, mutual funds, PMS, structure product and others, Anand Rathi Group's offerings revolve around customer centricity. Hence, the company builds customer centric advice based on needs along with imparting fearless advice backed by research and data.This along with complete transparency and trust, help cement the relationship with the clients. Pradeep delves deeper into the company's offerings and values in an exclusive conversation with CEO Insights
Tell us about the inspiring inception story of Anand Rathi Group.
Anand Rathi Group has a rich legacy of over 25 years built on the strong foundation of trust deep rooted values and customer centricity. Our core values are the basis and the foundation on which our group has been built. It all started in 1994 when my father in law, Anand Rathi, stepped down as the Senior President of Indian Rayon (Aditya Birla Group of Companies) to start his entrepreneurial journey by
obtaining membership of BSE under professional category.

During the same time I too ventured into the financial world by becoming a member of the NSE. The first few months of us obtaining our respective memberships we ran our business parallel. Soon, we discovered that we had similar values and beliefs which enabled us to collaborate together to provide better services and create actual value.

Our journey began with setting-up our research and institutional business along with the consulting arm. We later moved to investment banking business from 1994-2003. Initially we started our location presence via the BusinessPartner vertical, which became an instant success, thus giving us a base to expand and open our own branches. We opened branches in all of the major cities of India and built a strong footprint via business partners, and currently have over 900 business partners. We even expanded in select international locations such as Dubai.

Today, our line of business and services includes equity commodities, insurance broking wealth management and funding financing. We continue to pursue our quest of providing the finest customer service, maintain our valued colleagues who we work with and growing leaps & bounds.

That's a huge growth the company has experienced over the years. You must surely have beencaught between challenges. Can you divulge the strategies you under took to overcome them?
As an entrepreneur,I always had a penchant towards exploring diverse fields. In this quest I found the financial markets is an interesting place to venture into. I did have some initial exposure as a member of Jaipur Stock Exchange. This is where my curiosity took off and my love for capital markets began I took a step forward in the financial market by obtaining the NSE membership and the rest is history.

The finance market was new to me. So I got down to the basics and started working as a dealer and research analyst, and started meeting customers. This shaped and helped me understand the needs of the customers at different levels and also maintain good customer and employee relationships. Customer interaction is some thing I love, as I get to learn a lot from them. This aids in product creation and service delivery, suiting everyone's unique needs.

Financial market is a growing sector beholding huge opportunities. Tell us how is the Group prepared to grab it.
We have already bifurcated our
businesses to cater to the requirement of all set of customers'needs and objectives. Acquisitions and diversification are always being looked at, provided it suits our culture and is cost effective at the same time.

We have diversified into various segments like pure online business creation, venturing into one-of-its kind platform only for women, called LXME to make them financially more independent and stepping into Robo Advisory through DWM platform. We are further diversifying our NBFC by adding Construction Finance, SME segment, and much more. We are looking towards exploring opportunities internationally as well and catering to the needs of international segments through GIFT CITY.

The Group is a customer centric organization. Could you highlight on this aspect of the company?
We create a broad based plan only post a detailed profiling of the customer and suggest a strategy basis his objective and needs. We benchmark each of our portfolios and strive to create alpha on the port folio keeping the risk parameters in check. Our constant endeavour stands at ensuring we don't have a very high standard deviation on our portfolio. Each customer's portfolio is uniquely created by a very strong team of financial strategists supported by an equally strong research team.

We set a longterm portfolio plan create a strategy to support it, stress test the strategy, create a plan B, implement the same and keep track via reports reviews and fill gaps accordingly. Transaction and portfolio view is available on all our apps and web platform to provide transparency and ease of execution.

What innovations are in pipeline?
Our dedicated tech team of 150 members is constantly working and upgrading our technological platforms. We also constantly research and examine external environment and come-up with solutions and services based IT application which enables us to get the extra edge. As our future is technology and AI driven, we already have a robust roadmap ready to go. We are also upping our learning, while preparing and developing our internal systems to overcome any challenge.

Office: Mumbai
Offerings:
• Investment Services:
-Preferred Group
-Privilege vertical
• Wealth Management
• Investment Banking
• Insurance Broking
• NBFC