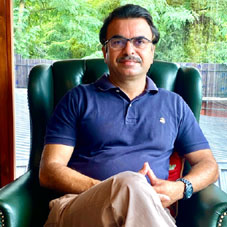 As Indian athletes begin to compete well with the best in business, it coincides with the excellent infrastructure that has come up in the recent past. Today, our country is making rapid progress in building cutting-edge facilities that can be termed world-class. Started as an Integrated Golf Course development company, SGDC after years of expertise in this domain has now ventured into the development of various other sorts of sports facilities that include multi-use sports fields. Headed by Anit Mehrotra, SGDC is the first ISO 9001:2000 registered Golf and other sports development company in the country.
Anit Mehrotra, a Golf enthusiast, started SDGC India in Gurugram, a One-Stop platform that primarily dealt with Golf Infra. An IIM-Kozhikode alumnus and a Business Development professional, Anit Mehrotra is holding extensive knowledge & experience in his field. Recently engaging in a one-on-one interaction with CEO Insights, An it shares more about his journey as an entrepreneur and more.
Tell us about your professional background and experiences. What inspired you to take up a profession in the golf and sports industry?
I have worked as a Financial Controller with the ITC group and was also involved in projects such as the first high-end condominiums in Gurgaon, The Laburnum, along with India's first international standard 27 holes Jack Nicklaus Design Golf Course, ITC Classic Golf Resort, till 2006. This was the time when I became more familiar with and passionate about sports which ultimately became my core profession. While exploring the division of Golf, I was able to discover the underlying factors that created the gaps in protocols, measures, and ethics of this business. My passion for sports and especially Golf led me to take a leap ahead in leading native and global brands involved with Golf within the
Indian Subcontinent to facilitate the right measures and practices that would enable them in building & managing golf infrastructure and growing the sport in the country. SGDC India, for me, worked as the core which helped in articulating a vision of Golf in India that was yet to be experienced by all.
Going forward, my immediate goal is to bring my current organization's digital & analytics maturity to a world class standard
Take us through the learnings and experiences that you acquired from IIM Kozhikode and how do you apply them in your current role?
The experiences were definitely incredible at IIM Kozhikode and I have learned various management techniques from very eligible, knowledgeable, and great Management Gurus of IIMK. As we all understand Management is a slightly complex subject and its learnings can only happen when applied in a practical way that is what I do in SGDC where I always apply theories of management studies as per the situation demands.
How would you define SGDC India as an organization and its position in the market?
SDGC India is India's Leading Golf Course Construction, Maintenance, and Irrigation Specialist which has been at the forefront of offering turnkey solutions for projects related to Sports Turfcare, Infrastructure & Irrigation for more than 15 Years. The Gurugram-based firm was born out of a market need to have an Integrated One-Stop-Shop Platform that dealt with Golf Infra in the country with all relevant and qualified skill sets, expertise, & commitment in place to deliver projects from the concept stage to completion. SGDC India is also the largest distributor and representative for the World's leading Golf Course and SportsTurfcare Maintenance Machinery and Golf Carts in India featuring brands such as Jacobsen, Rainbird, Ryan, EZGO, & many more to add to the list.
What are the unique services that are provided by SGDC India to its customer and what is the success mantra that constantly helped you in your successful journey?
The company's focus on every project is on the maintenance of an ecological balance to keep pace with nature. Therefore, it takes care from the earliest stages of a project to ensure that there is the least possible environmental interference & that the developments are capable of sustaining a healthy ecology while providing economic benefits to both developers and the local communities.

My Success mantra so far in my journey is to just focus on the company's vision and mission. It is to focus on quality, service, value, and not the lowest price along with employing the best people with the best experiences in the field. I am a firm believer that turbulence in business is important as they always keep you alert and provide resistance to going in your comfort zone and you always learn from such turbulences to become stronger to run a sustainable business.

What are the goals that you wish to invest in the future and how do you plan to take them further?
The right people in the right roles are pivotal to creating long-term value and it takes significant investment to build a winning talent engine from attraction & recruitment through development and retention.Similarly, Customers, employees, suppliers, communities, board members, & shareholders are all critical to an organization's success. When things turn bad for an organization it's usually because one or more of these stakeholder groups have been neglected for too long. I would like to invest in building a strong relationship with all stakeholders of SGDC India towards the strong & sustainable performance of the company.

Anit Mehrotra, Director & CEO, SGDC India
Anit is an industry leader in the field of Golf Course Infrastructure, Development, & Management within the Indian Peninsula with over 25 Years of Service catering to some of the best golf courses in India. He is a great negotiator, Business Planner, Team Builder & Sports enthusiast.

Hobbies: Social Golfer with a handicap of 11
Favourite Cuisine: Grilled Fish & Raan
Favourite Book: Atomic Habits
Favourite Travel Destination: Cape Town & Kashmir