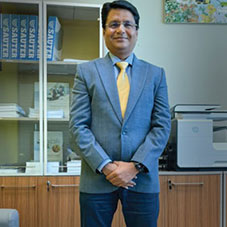 For something that first sparked as a luxurious form of enhancing our buildings, Automation has come a long way to use IoT at all levels of the systems in buildings. Ever since web and internet made it to the commercial spotlight, the demand for building automation systems (BAS) has been sky-rocketing across the global markets. Use of IoT technology for BAS made it seamlessly integrated with more widely used other IoT based systems like Home Automation, Security Systems , Central control and command centers and even the cars and music systems.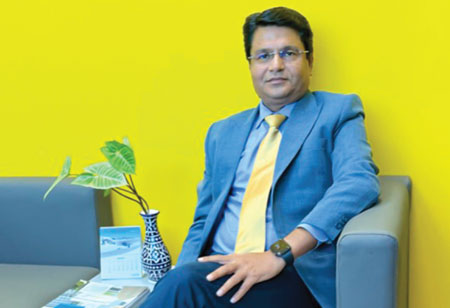 The Covid-19 pandemic became a solid tailwind to this trend, propelling building owners and developers to reimagine and transform their premises to offer the best-in-class work environment that protects the health and promotes wellness. One of the most significant examples of this is the flaring demand for touchless technology that stems from people being more reluctant to touch surfaces like door handles, elevator buttons, thermostats, and light switches. It's beyond any reasonable doubt that with sheer focus on safe & healthy indoor environments and the proliferation of building-centric IoT solutions, Smart Buildings represent the present and future of workplaces. One of the fastest-growing economies, the United Arab Emirates(UAE) have become an epicenter of automation solutions demand, thanks to the Arabian peninsula's intrinsic love for everything state-of-the-art. Piloting a mission to lead this futuristic technology revolution in the Middle East is Arvind K. Swarnkar, Managing Director, SAUTER Middle East - one of the world's leading building automation technology solution provider.
Hailing from small town in MadhyaPradesh, India Arvind kick-started his illustrious corporate career in 1994 after completing his Bachelor's in Electrical Engineering from Jabalpur Engineering College. In 2005, by the time Arvind moved to the UAE, he had left an envious professional career trail in India, spanning Like Ranbaxy, Siemens and ABB. He joined SAUTER in 2014 as the Managing Director of their Middle East office in UAE. CEO Insights engages in an exclusive interview with him to further explore his journey and the latest endeavors with SAUTER.
Tell Us About Your Journey So Far. After Close To Three Decades Of Professional Journey, What Drives You Today As An Industry Leader
I actually started my career as teaching staff in an engineering institute in West Bengal. It was a brief stint before starting my professional corporate career as a maintenance engineer at Ranbaxy Laboratories Limited in Delhi. That is where I learned about various building technologies including building automation systems for HVAC, MEP, and ELV controls and monitoring. While working there, I simultaneously completed my MBA in Marketing.
After those three years, I worked with core building automation companies Like SIEMENS and ABB (Using Automated Logic Corporation, USA products) as their sales head or business head, looking after pan India business. I remained based at Delhi NCR until I moved to UAE in 2005 to join Johnson Controls US' Abu Dhabi branch to spearhead their Building Automation and Extra Low Voltage systems business.
Discussions with SAUTER's Swiss office started in 2013 to join them as the Managing Director of their Middle East office in UAE. Since it involved partnership, along with some investment from my side to be their shareholder, I could join them in October 2014. Though SAUTER Middle East existed since 2009, it remained focused on some specific countries and selected projects as a strategy till 2014. My mission was to develop the business in the UAE and other Middle Eastern countries.
As a team in the Middle East
Switzerland, we enhanced our focus and grew the business and our market share rapidly. Today, we have distributors and solutions partners who have spread the reach of our products and systems in most countries in the region, including UAE, Egypt, Qatar, Kuwait, Saudi Arabia, Oman, Bahrain, Lebanon, Jordan, and the rest of Middle East. We have also replicated this model in African countries like Kenya, Ghana, Nigeria, Sudan, Libya and many more under SAUTER Middle East.
The experience I had while working in the industry for a long time in various countries and my passion for building controls & technology behind it kept me going for the last three decades. My incredible team spread across the Middle East and Swiss Germany offices were crucial in the growth of SAUTER's business. Each member associated with us has a passion for the subject and application.
Our R&D department always makes sure that all our products are technically miles ahead compared to our competition
How Would You Define Sauter As An Organization And Its Position In The Market? What Is The Unique Proposition That Your Organization Offers To Clients?
on our core business, Building Automation. We cautiously make sure that we are not indulging in other building systems, which might make us lose our focus. This ensures that we are leading the industry, innovating with the latest technologies, and offering the utmost quality of services. Customers' requirements and solutions to their various issues remain our priority.
On the other hand, our R&D department always makes sure that all our products are technically miles ahead compared to our competition. Currently, we are the only one who provides all products from field level to management level with IoT technology and is compatible to connect with the cloud using MQTT protocol. This helps us handle big data while maintaining at a good speed and also to integrate the systems. Our IoT technology at all levels makes sure that any IoT-based software or system is able to connect and communicate with our products/system.
To make this possible, we needed to ensure that our microprocessor-based controllers like Modulo 6 and field devices possess sufficient built-in memory and speed. Additionally, we incorporate the best IT security systems using blockchain technology and features like Augmented reality and communication over Wi-Fi/ Bluetooth. Of course, we made sure that we had gateways and communication modules to communicate with products/systems having conventional communication protocols. This helped us ensure that buildings having legacy building automation systems can also communicate with our IoT-based software and cloud using these gateways. We call them 'Cloud Connectors.' Companies like Etisalat which are into the business of digitalization of buildings to monitor them remotely are currently using our cloud connectors.
Today, most real estate developers, many government buildings, pharmaceutical plants data centers, banks, electrical substations, industrial plants, hospitals, educational institutes financial institutes, embassies, and shopping malls, among others, across the Middle East are using our products and services. We are undoubtedly amongst the top leaders in this business in the region.
How Do You Overcome The Challenges Associated With Such Big Projects? Also, Tell Us About Some Of The Major And Recent Projects.
The projects in regions like Nairobi-Kenya, Ghana, Erbil and many more including pharmaceutical companies, embassies for countries like Australia, and offices for companies like Facebook, were the most challenging ones due to various reasons. Our solution partners in these areas were our extended arms. We can't reach everywhere through our own team. It's essential to develop and train our solution partners in various countries.
Some of our mega projects are Habtoor City and Dubai Commerce City Free zone in Dubai, Stock Exchange buildings and Novartis pharma plants in Cairo, and Data Centers and govt buildings in
Kuwait. Recently, Sinopharm in Abu Dhabi decided to install our systems for its massive plant in Kizad. This will be the largest pharma plant in the Middle East for COVID vaccine development. SAUTER China is an integral part of this effort, striving to ensure that we are selected as the solutions provider for a Chinese pharma giant's UAE arm.

How Do You Maintain The Perfect Balance Between Your Personal And Professional Life? What Is Your Success Mantra?
I strongly believe that a healthy and creative mind lives in a healthy body and spiritually healthy environment. I devote at least one hour to exercise like walking, running, going to the gym, and doing yoga every morning. I try to choose a different exercise every day. I make sure that a light activity like yoga or swimming is done in the evening, followed by regular meditation. The weekend is for high-octane exercises like long-distance (50–100 km depending on time available) cycling on my road bike, kayaking or paddle boarding, tennis, and many more. This is followed by regular visits to my doctors and health instructors.

My family in Dubai(wife and two daughters) is my support system for maintaining good mental and physical health and balance at work. They are bliss at home like an ideal family. My extended family in India has been so supportive during all these years to make sure that my responsibilities to all family members are not so challenging to expedite.

I keep the four pillars of success strong and watered enough. These are physical and mental health, work and my colleagues at work, family & friends, and duties towards 'Mathrubhumi & Karmabhumi.' It needs a careful calibration of your time and efforts.

In The Future, What Are The Changes In Market Behavior That You Anticipate, And What Opportunities Do You Foresee?
While the rest of the Middle East will still have the construction business alive and thriving for decades the UAE will be more focused on industrial projects and Facility Management services for commercial/residential buildings. We are gearing up to provide Building Automation as a Service (BAaS) to connect buildings and cities centrally. This will help us offer central monitoring, maintenance & energy optimization services, and reports. Our cloud connectors and excellent management software are ideal means to facilitate the same.

What Advice Would You Give To The Budding Industry Leaders?
The need of the time is that building technology is introduced in engineering syllabi at engineering colleges. Students need to learn about it and its potential during their studies itself. It can be a common subject for mechanical, electrical, electronics & communication, and computer sciences engineering streams.

Leaders in the Middle East on the design and application side of BAS should not be afraid of using the latest technologies. maintaining the use of legacy technologies forces manufacturers not to be on the aggressive side of manufacturing the latest technology products. The Middle East is the land of large-sized projects, and we have more responsibility than the rest of the world.

Finally, we all in the building technologies business have a great responsibility to ensure that buildings are free from any uncomfortable and hazardous factors. It requires us to keep pace with continuously developing IT technologies and remain an integral part of it to use it as a carrier for related data and speed.

Arvind K. Swarnkar, Managing Director, SAUTER Middle East
A passionate Building Automation expert with over three decades of experience, Arvind hials from a small town in Madhya Pradhesh, India. After completing his Bachelor's in Electrical Engineering from Jabalpur Engineering College, he kick-started his illustrious corporate career in 1994. In 2005, by the time Arvind moved to the UAE he had left an envious professional career trail in India, Spanning elite organizations like Ranbaxy, Siemens and ABB. He joined SAUTER in 2014 as the Managing Director of their Middle East office in UAE.

Hobbies:Cycling using road bikes for long distances, swimming, sea sports like jet skiing, kayaking, and paddle boarding
Favorite Cuisine:Indian vegetarian and Lebanese cuisine.
Favorite Book:Autobiography of a Yogi
Favorite Travel Destination: Zermatt and Engelberg in Switzerland