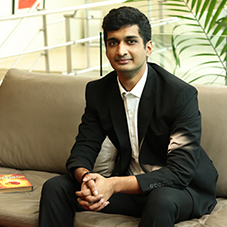 Delhi is emerging as one of the major startup hubs in India. Housing some of the biggest MNCs and witnessing a tremendous shift in leadership, the brands today are extending their reach and propelling business growth. While the city is paving avenues for startups and budding entrepreneurs, only a few among them are all set to be future unicorns of the business ecosystem. Having said that, business success is near to impossible without proper leadership and guidance. A visionary is required to achieve the dreams and map the success path.
In CEO Insights' quest for such a business owner with exuberant quality in services and efficiency in the market, we found Aryaman Vir - a leader who has explicable conveying skills and strategies. With years of corporate experience guide, he is able to guide through every thick and thin business proposition, marketing, customer engagement, and delivery at Myre. The combination of experience and skills is transforming him into a rapidly- growing entrepreneur in the finance sector. In an exclusive conversation with CEO Insights, Aryaman shares interesting aspects about his success journey.
As the founder of Myre Capital, what different roles & responsibilities have you been undertaking?
For a CEO, it is imperative to know every aspect of the business. This enables us to work with all verticals, have constructive contributions and innovative ideation. Only by understanding the intricacies of each role and responsibility can one truly understand the possibilities of that responsibility and accordingly innovate. My education, tech background, finance work experience, prop-tech experience allows me to work closely with my team and have an understanding of all aspects of the business including marketing, tech, sales, valuation, acquisition, HR, etc.
Identifying the issue and systematically addressing the concern from a multifaceted approach is my stewardship style.
Give a brief overview of your brainchild. Also, highlight the team that is meeting the organizational objectives under your leadership.
Myre Capital is a tech-enabled fintech platform that provides easy access, transparency, and liquidity to a curated selection of rent-yielding commercial real estate assets. Ventured by Morphogenesis, the platform is backed with 25 years of industry expertise, and our proprietary SOUL©process.
People management is one of my foremost responsibilities. I focus on accountability and responsibility without micromanagement and let the team members define their own
path and innovate/ideate as opposed to instructing them. At Myre, we strongly believe that our people and culture are the building blocks of the company. We promote diversity within a collaborative framework to optimize solutions from a multifaceted approach. Our strong team comprises of individuals with expertise in varying fields such as architecture, real estate, engineering, computer science, and finance. Diversity is our strength and is unified in our vision and passion for reshaping an antiquated industry.
Aryaman Vir envisions to double the team strength of Myre within the next 45 days and reach 250 Cr+ in assets under management by the end of FY2022
What were the initial challenges that taught you some of the basic lessons of managing the organization and how did you achieve success in the later phase?
The Perception of age was one of the biggest challenges. Being young in the industry put me on a back foot in terms of credibility and people taking me seriously. Initially, B2B partners refused to work with us as they thought age was the issue and wanted to wait to see execution capability. We changed our strategy to focus more on B2C. Once we showed success, performance, and overwhelming feedback, B2B partners that had previously denied us, approached us to work with us. Today, we have on-boarded more than 100 esteemed B2B partners pan India. We are constantly adapting our platform with technology to ensure that we offer the best service and partnership to our B2B partners and their clients – putting our partners and investors first has really helped us scale our platform. This experience helped me to understand that resilience, innovation, and performance is often the best way to change preconceived notions.
The second major hindrance was the lockdown. Commencing a business in the pandemic was difficult. Old companies have standardized processes – easy to transition to work from home. Startups don't have the same luxury. Initially, we had a lot of issues with lockdown and covid. Every other week a team member had Covid (2-3 weeks no work). We had 2-3 members in each vertical and hence this became very inefficient. Further, people had internet issues, connectivity issues, lockdown fatigue, etc.
We redesigned the strategies and transitioned from "work from home" to "home from work". All team members were flown to Bangalore. We booked a 5-star hotel floor for the entire team. We stayed together for the duration of lockdown, quarantined together, worked together. It was much more efficient with a lot of progress. The team loved the idea. Maintained the bubble to ensure no exposure. Our next destination is Goa! The team has worked hard and has decided to complete our next milestone from a villa on the beach.
In your opinion, what are the key requirements for success in the
corporate world?
For any leader, perseverance and flexibility are the two crucial factors to stride towards success.

The second reason for success is constantly listening to and acting on the feedback. We constantly collect feedback from investors/partners and have been actively updating our platform to integrate the same because investors/partners are the most important stakeholders as the product is for them.

Last but not the least; innovation helps us to stay abreast with the market needs. We are constantly testing new technologies and upgrading the platform to the latest specifications. When pioneering a concept/startup, it is important to know failures will occur daily. First persevere to overcome, and then innovate to find an alternative solution.

As I hail from a family of entrepreneurs, I have grown up watching what it is like to be a good leader. While perseverance and flexibility make the foundation of a good leader, what sets that leader apart is his ability to adapt to the worst-case scenarios and innovate.

Our success has been a contribution of the entire team's constant effort and dedication. We have put our customers first by constantly listening to and acting on their feedback. We collect feedback from our investors and partners regularly and have been actively updating our platform to make the product more convenient and secure for them to use.

We started developing our product in early 2020 and it took us 10 months from then to launch our platform on January 01, 2021. We have endured the brainstorming, the development challenges, and while being a bootstrapped company, managed to already be profitable. As we scale up and expand our business, we will continue to be measured and product oriented with our endeavor for innovation and disruption.

Last but not the least, innovation helps us to stay abreast with the market needs. We are constantly testing new technologies and upgrading the platform to the latest specifications. When pioneering a concept/startup, it is important to know failures will occur daily. First persevere to overcome, then innovate to find an alternative solution.

Aryaman Vir, Founder, Myre Capital
Educational Background:
• Masters in Systems Engineering, University of Pennsylvania, school of engineering and applied sciences.
• Bachelor of Science Engineering, Networks and Social Systems Engineering, University of Pennsylvania, school of engineering and applied sciences.
Recognitions:
• Mensa Certification – "Mensa is the largest and oldest high IQ society in the world. It is a non-profit organization open to people who score at the 98th percentile or higher on a standardised, supervised IQ or other approved intelligence test."
• The university of Pennsylvania, The Moore School Council Cwikla Award.
• National and international level recognition in Squash.
• Internationally ranked FIDE chess player.