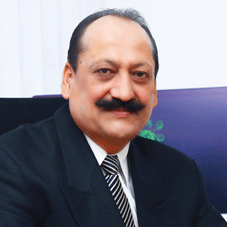 At the onset of operational excellence, data explosion and the rollout of data services like 4G & 5G, Indian firms have picked up an exclusive interest of investing in the industry. This eventually triggered theIndian Telecom Infrastructure industry to swim ahead of conventional business models and stay updated with the latest technological advances. Understanding the dire need while realizing India's potential at the cusp of a data revolution, the 2002-incorporated Telecom Infrastructure Company, Ascend Telecom Infrastructure Pvt. Ltd.(ATIPL), under leadership of Dr. Sushil Kumar Chaturvedi(CEO), commits to churn-out opportunities in the telecom sector based on its strong service excellence & quality background.
A telecom industry veteran with over 30 years of global experience, Dr. Sushil holds strong leadership skills and believes in achieving high standards of client satisfaction by delivering high-quality services and adding value to the clients. Dr. Sushil's vision is to make ATIPL the top preferred passive telecom infrastructure and allied service provider by exceeding expectations of customers & stakeholders. Explore the following snippets of an exclusive conversation of Dr. Sushil with CEO Insights to gain great insights on ATIPL services and other unique offerings.
Tell us about ATIPL along with its unique elements, which differentiate the company from other industry players.
ATIPL is an ISO 9001-2015 certified organization, highly driven and renowned for its best practices and innovation, adopted by a service provider. We provide end-to-end telecom solutions for large and complex projects, which includes services for site location, design, execution and maintenance of infrastructure for telecom network operators. We have steadily grown over the last 12 years to become the most preferred business of all Telco's, expanding their infrastructure footprint and operations excellence to all telecom circles. Today, we hold over 6,500 infrastructure sites and 12,000 tenancies spread across every geography of the country, including the distinctly challenging territories
like J&K, Arunachal Pradesh, Assam & North Eastern states.
With a diversified portfolio and strong focus on Operations Excellence using state-of-the-art technology, ATIPL has become the most preferred business partner of telcos. We are a Category-I Infrastructure Provider(IP-I) registered with the Department of Telecommunications (DoT), Government of India. We were also the first in the industry to comply with the 2015 requirements on risk mitigation in telecom.
With a diversified portfolio and strong focus on Operations Excellence using state-of-the-art technology, ATIPL has become the most preferred business partner of Telcos
The technology landscape in the telecom sector is becoming increasingly dynamic. What are your focuses while innovating?
ATIPL leverages on technology, focusing on automation and remote site management with a state of the art central Tower Operations Centre (cTOC) that employs a powerful hosting facility (iTOC) that monitors the entire gamut of sites, and provides all vital data of the functions through the web-based interactive dashboards of the sophisticated mobile-based platform called mTOC. This ensures proactive maintenance of network with best in class SLA performance. We possess a very powerful and fully integrated ERP, iTOC and mTOC platforms to automate our functions, which provides a stable & competent platform to ATIPL. Our technology empowered offerings enable us to meet the exact needs of our clients at the optimum cost. Besides, the technology tools to monitor progress and ensure the quality of roll out delivery also helps us to reduce the TAT helping our customers accelerate their GTM opportunities.
What opportunities do you foresee in the current telecom infrastructure industry? How are you moulding your company with the same?
The Indian telecom industry has evolved a lot and the teledensity has improved significantly. With the introduction of 4G networks, and 5G on the anvil, a host of new services are on the edge for being rolled out. Also, the introduction of newer technologies in the telecom industry has been disrupting the needs and designs of infrastructure, making them more CAPEX & cost-sensitive. This is where the Telecom Infrastructure Companies will play a pivotal role.
We as a service provider have already started identifying and incorporating newer designs that meet the customer expectations on the cost basis and we are also rendering business viability as a continuous requirement. Besides, we are actively engaged in developing new markets in emerging business on areas of 4G network infrastructure with 5G compatibility, and smartcity programs with sharable infrastructure.

ATIPL adhere a focused approach on Green Energy. Tell us about your initiatives and philosophy behind it.
Our philosophy on being green in operations, and sustained investments and technology interventions has given us the advantage of adding to customer delight. ATIPL's green initiatives with intervention on sites through solar & wind energy has reduced the dependency on diesel and achieved the reduction in cost, thereby making us the undisputed lowest TCO leader. Our sites are maintained forever young by upgrading the energy assets with state of art batteries, green initiatives bouquet of distributed solar & wind chimney and remote energy management with inbuilt artificial intelligence. Ascend is on target in line with the Regulatory guidelines of reducing dependency on fossil fuels and carbon emission.

Tell us about the ATIPL team along with the company's future roadmap.
The ATIPL team comprises of highly motivated & committed professionals with combined experience of 300+ years. Has handled prestigious National/International/Defense portfolios. It is the team behind the ideas, leveraging which the management has steered the business development with growth, sustainability and profitability

Talking about the roadmap, we will continue to pursue both organic and inorganic growth by way of accretive acquisitions as done in the past. The goal is to add new portfolios of IoT companies, Fibre companies, and ISP companies in addition to pure play tower business, to enable ATIPL to become a one-stop solution for all the infrastructure needs of telcos.

Dr.Sushil Kumar Chaturvedi, CEO
Dr. Sushil(V.S.S.M)is Group CEO, leading Ascend Telecom since 2012. He is an accomplished Telecom professional having led National and International Telecom organizations. Dr. Sushil has been awarded with the President's Medal(V.S.S.M)for distinguished Telecom services.

Key Management
Office: Bangalore
Offerings: Telecom Infrastructure services including site location, designing, execution, maintenance of infrastructure and more