Chandana Ranasinghe: A Renowned Visionary Strategist With Illustrious Industry Experience Across Sectors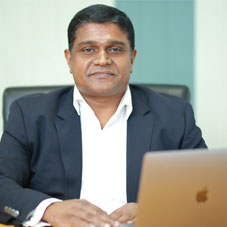 In an exclusive interview with CEO Insights, Chandana sheds some light on his humble journey that has been instrumental in his run-up to being one of the best CEOs in Sri Lanka.
Tell us about the journey so far at Acentura. What are the major challenges faced by you in your professional journey so far and how did overcome those to evolve as a business leader?
The first major challenge for me during my professional journey was back in 2014 when I co-founded Auxenta. We had to double down on the focus of the company where we wanted to be known as a partner to support and implement products that transform technology. With my experience in product development, we not only overcame this challenge, but moved to the enterprise solutions spaceand led a few multinational enterprise accounts as well. Another challenge I encountered at Auxenta followed by Acentura, was meeting customer expectations. We took a firm step to develop our operational excellence where we support customers by providing world class quality at the fastest possible time to market at a very affordable cost. To accomplish all this, we also needed to bring together a talented team. At Acentura, I focused on creating a leadership team with diverse skills. We built on this foundation where we created a tech team made up of the best talent brought-in from Sri Lankan universities and lateral hires with a can do attitude, all of whom were competent and constantly on a trajectory of learning and growth.
With over 20 years of experience in multiple industries in diverse areas, how does your vast experience help you to chalk-out business operations for Acentura?
I strongly believe that we must have a good team within the company to
be able to do great things outside the company. To this end, I handpicked a leadership team made up of individuals who are trust worthy, masters in their own realms and most importantly, gelled well together. When you take the Acentura team as a whole, we focus on what we are good at, constantly strive to build and sharpen those skills, and emphasize on a culture of empowerment and fair work ethics. When every employee is a proud ambassador of the company, drawing in customers and keeping existing customers happy becomes second nature.
We spearhead digital transformation journeys to create smarter businesses for clients across the globe
What are the differentiating factors of your organization that separate you from the others in the global market? Explain your USP.
Our operating model is very high touch when it comes to customers. Regular customer feedback is a critical component of maintaining our high Client Delight Index standards. This is an index we take very seriously in our work. To support our operating model, there are multilevel engagement points in place backed by highly proficient team members working in collaboration with customers. Our team's years of experience has been instrumental in creating a mature delivery model along with tools and frame works, where distributed teams successfully practice agile development and testing best practices tailored to customer needs. In addition, Acentura is great at integrating onsite/offshore presence throughout project execution and maintaining strong momentum till the completion of the project. Our executive leadership team steps in to provide consulting, implementation and transformative services across project engagements. Acentura takes pride in its robust global delivery operation, which leverages automation wherever possible, coupled with powerful tools to retain project knowledge within teams, thereby creating an evolving hub of knowledge.
Kindly enumerate the technology deployed in your services and what your plans are to innovate your offerings further?
We always try to introduce cutting edge technologies to projects and keep our teams abreast of the latest trends in tech. Innovation is at the core of our company, and when it comes to our projects, we adopt a 3-phase approach to innovation, consisting of ideation, construction and pilot phases. Ideation involves focusing on ideas based on market needs and customer requirements that are beyond existing solutions. This often includes an intersection of the latest technological trends such as cloud, social, mobile, local and many more. Under the construction vertical, we have assembled an in-house team of technology and business requirements. Apart from utilizing Acentura's technology tools and frame-works, we also seek leadership guidance from the company management team and advisors. Acentura team pilots the idea within the designated market segment, and after evaluating the market response, making necessary
modifications, and sufficient traction is received, our established core team proceeds with the enhanced product.

How are you placed in this market and what are your strategies to leverage this vast opportunity? How are you adapting new tool/technologies to revolutionize your services to be at par with current industry standards?
As the current market demand is at a peak for new services such as Cloud, CRM, IoT, and Blockchain, we have successful partnerships with large enterprises ranging all the way to startups, catering to domain specific services and products. To remain rel evant in the current fast paced industry, we prioritize learning and development opportunities for our employees where by there is a systematic and methodical training structure promoting tech certifications such as AWS, Azure, Appian, TOSCA, UiPath, and others, domain certifications in theTelco, Insurance, Apparel, and other relevant spaces, and process frameworks such as ISO 9001, 27001, CMMi Level 3, etc.

In your journey so far, which are the mile-stones that resulted in the most satisfaction both as an individual and a CEO?
Co-founding Auxenta with Prasath Nanayakkara and Dr. Shahani Markus will always be my first significant milestone. Auxenta went on to become the best software startup in Sri Lanka in 2016 validating its success. Together with my leadership team, Acentura was born as a spinoff of Auxenta in 2019 and has come so far in its journey that it will always be something I am truly proud of and honored to have founded.

What is the growth scope of the global market and what are the opportunities you see in the market and the steps that you take to stay industry ready?
With the current global situation, we are witnessing an upsurge in demand for services such as ours. We are planning to open Acentura offices in the UK, Australia, and the East Coast of the US soon. With expansion of our services to Cloud, IoT, and Block-chain, our client portfolio has also gradually evolved to Europe, Middle East and APAC regions.

Chandana has completed his Bachelors in Computer Engineering from University of Moratuwa and holds an MBA from the Postgraduate Institute of Management (PIM). He is currently pursuing his Ph.D. in Change Management from Open University Malaysia. Chan dana started his career at Virtusa as a software engineer and later went on to lead an entire practice with a 700+ member team and $25+ million P&L within a 12 year period. As the Head of Process Improvements andlean manufacturing at Brandix, the largest apparel manufacturer in Sri Lanka, Chandana led a transformation program impacting $300 million in business, 10,000+ workers and 1,000+ staff. He co-founded Auxenta, and led the company as its Chief Operating Officer and VP of QA for six years, after which he founded Acentura with a passion to provide smart tech solutions across telco, insurance, lifestyle, learning management and hightech segments. Acentura has expanded its operations since its inception, across multiple countries with more than 100 associates over 100+ successful project deliveries.